Salomon Synapse BOA Review And Buying Advice
Where To Buy
No obligation, but these links & ads support the site.
Salomon Synapse BOA 2015 - 2013 Review by The Good Ride
The Salomon Synapse BOA is the Synapse with a different lacing system for those that must have BOA
The 2015 Salomon Synapse BOA boot has a more reduced footprint that isn't amazing but it's much better than past years and closer to the Salomon F-Series.
Ethics Statement: We don't get paid by the manufacturer to write these reviews.  No one is perfect and we do make money from the "Where To Buy" links below, but this is our best attempt at an honest and objective review from an average riders' perspective.
Days: 2
Riders: James, Mary
Bindings:  Burton Cartel
Boards:  Jones Mountain Twin

Size 9 
Fit: Felt like it was really close to fit true to size and I felt in between a size 9 and a size 8.5.  I think both could work and as the 9 packs out I'd just add a little boot fitting foam in the toe and/or heel.
Flex:  Same med/stiff flex that borders on stiff when it's out of the box.
Turn Initiation:  Nice quick edge to edge transitioning that makes for a good boot for those that want a lot of response but want to stay a shade away from the ultra-stiff ultra responsive boots that can get a bit twitchy if you ride an easier turning board.
Comfort:  Mary loves this comfort and I felt it was pretty good but a little behind the F-Series in terms of feel.
Heel Hold:  I have felt some boots like K2 lock in the heel a little better but this is really good. Salomon boots have a unique contour inside that really focuses on keeping your heel in place and the Focus BOA locks it in.
Adjustability: The Synapse Focus BOA is not the most adjustable boot. The upper and lower share almost the same area in the center so it's more about "focusing" the grip around your heel/ankle.  So if you are freaky about heel lift this is a good boot to try.
Flex Retention:  Not bad but it slowly breaks down over time.  It doesn't pack out a lot of noodles out quickly so this is more than fine for the 100 day a year rider.  It will just be softer at the end of the year than when it started. I actually like the Powerlock lace Synapse for flex retention over the Focus BOA because it has some articulation at the ankle where the BOA doesn't.
Shock Absorption:  Very solid shock absorption.  The EVA foam on the Synapse BOA seems like it's more firm than the F-Series boot.  It feels like it's more for better response edge to edge, a more damp ride, and bigger landings.
Traction:  It's always good to have an all rubber sole instead of many boots going to single mold EVA foam but it doesn't have very diverse tread.  It's good in most conditions though.
Footprint: Much better improvement.  Before it looked like the Salomon boots were full size or bigger than the Salomon F-Series boots like the F 3.0 and 4.0.  Now it looks more like 1/2 size bigger than the F-Series boots.  The really good improvement this year.  Also, you still can take your liner out where you can't with the F-Series boot.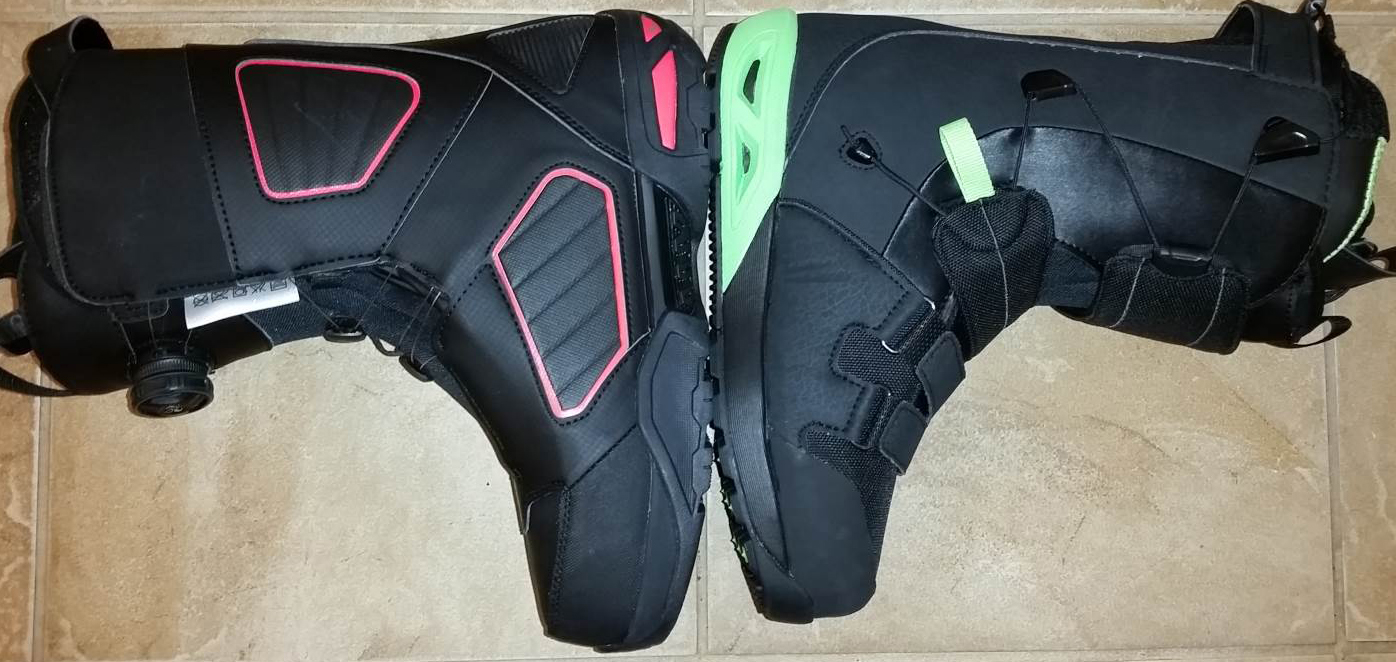 On & Off Ease:  Mary loves BOA and many riders do as well but I found BOA to take a lot longer to get on than the F-Series Lacing and even longer than Speed Lacing systems like Burton has.  It just takes a long time to twist that dial until it's snug (not tight but snug).  Getting BOA off is really fast though.
Salomon Synapse BOA Past Reviews

2014 Salomon Synapse Review

Same performance, same large bulky non reduced footprint and the same aggressive edge to edge performance. The only difference is adjustability and the ability to crank down around your ankle. Salomon took one of their most popular boots and expanded on it with Focus BOA.  So we wish the upper and lower BOA system was completely separate. Like many focus BOA boots the upper and lower both tighten around the ankle.  This makes for great heel hold but very little separation between upper and lower when adjusting.  Still its a great boot for those looking for the best in heel hold from Salomon.
Salomon Synapse BOA Images
Salomon Company Information
Salomon Synapse BOA User Reviews
---
---
Salomon Synapse BOA Review And Buying Advice
SKU
UPC
Model
Salomon Warranty Sucks!
Apr 16, 2019
by
Mary Adam
Ability Level: Advanced •
Riding Style: All Mountain •
Days You Ride A Year: 10 •
Height, Weight And Boot Size (for Boards, Boots & Bindings): 5'9" 175, size 9
I really loved my lace up Synapse, but when I transitioned to the Boa, I wasn't impressed. They have limited ability to tighten in the right places and I constantly have to tighten them as the day goes on. Much more so than other boots that I would just tighten midway through the day. I also had heel lift. My biggest complaint is that the boa broke outside of the 2 year warranty and Salomon won't fix it even though I offered to pay them. The boots have a lot of life in them and now they will end up in a landfill. This is a poorly thought out policy and I wish more companies would take a page out of Patagonia's playbook - they fix anything, always. I don't mind paying for the fix and it's a shame to have to purchase new boots all because of a broken tiny plastic piece that's not easily repaired as it's sewn into the boot.

---
Apr 01, 2013
by
Jason
Ability Level: Advanced •
Riding Style: All-mountain •
Days You Ride A Year: 7+
I just bought these and wont get a chance to use them now that it's spring but these are very comfortable boots. I have skinny feet and they fit well enough. great heel hold.

The only bad part I've seen so far is that the lower BOA ratchet is more low profile than the front and it makes it a little more difficult to tighten if you like a really tight boot. I expect this to become less of an issue as the boot breaks in though.

The main reason I wanted to leave a review is to say that the upper BOA does not tighten from the ankle. the lower BOA tightens from the ankle and the upper BOA tightens from the top, where the BOA ratchet is.

---
If you can't buy through the links above, you can support the site with: