Nike Vapen Snowboard Boot Review And Buying Advice
Where To Buy
No obligation, but these links & ads support the site.
Nike Vapen 2014 - 2012 Review by The Good Ride
The Nike Vapen is basically a watered down Zoom DK that has a softer and less responsive more forgiving ride. It's a great entry level boot but also not a bad boot for those advanced to expert riders on a budget.
Ethics Statement: We don't get paid by the manufacturer to write these reviews.  No one is perfect and we do make money from the "Where To Buy" links below, but this is our best attempt at an honest and objective review from an average riders' perspective.
Days: 2
Riders: James
Bindings:  Burton Cartel, Burton Cartel Limited
Boards:  Jones Mountain Twin, Lib Tech TRS,

Flex: Nice Medium to medium/soft flex.
Comfort:  Nike makes very comfortable boots and even their entry level boot is almost there with their higher end boots.  Nike knows how to create a comfortable boot around your foot so even if you don't like them in the snowboard industry you can't knock the craftsmanship.
Heel Hold: My ankle was very secure and I've never had issues with any Nike boot.  Some might want more of a secure feeling that you can get from cranking down a BOA boot.
Adjustability: We like the little lace cinch mechanism that's on the higher end Nike boots but for 2 bills it isn't that bad without it. You can still use mountaineers not to secure the bottom and the top locks pretty well.
Flex Retention:  There is a nice neoprene notch in the ankle and it makes for great articulation.  The flex lasts pretty long for a $200 boot.  I only had 3 days on it but I have had a lot of feed back from people who have ridden these boots for more than 2 years.
Response:  Pretty good middle ground response that isn't too aggressive and pretty forgiving.
Traction:  Very good traction and it's fine in the parking lot. Most boots cut costs and do single mold EVA foam at this price which has almost no traction so it's nice to see a rubber sole.
Shock Absorption:  Very good shock absorption. It's got a lot of EVA foam at the bottom
Footprint: This is the only gripe we have with this boot.  On the inside, it fits similar to other brands like burton but on the outside, its footprint is a full size or even more than most Burton and Ride boots.  That can be a problem with people who are in between binding and board sizes. For example, if you are a size 10 you might not fit into medium bindings made for size 8-10 boots or you might have toe drag if you are riding a board with a more narrow waist width.  Here is a size 9 Burton Ruler (similarly priced) vs a size 9 Vapen footprint comparison from the 2013 season. Both fit my size 9 feet correctly on the inside.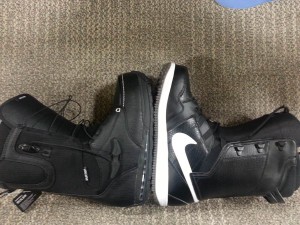 On & Off Ease: It's not going to compete with Speed Lace and BOA but the inner and outer lacing is really good and quick for traditional lace. Nike has some of the easiest traditional lacings out there.
We at The Good Ride were not enthusiastic about Nike entering the snowboard market but they sure won us over. We like their boots and feel they are worth a shot.  They have a smooth and very comfortable feel. Not much has changed over the years since the Vapen came out and our only true complaint is we wish they would reduce the footprint.
Nike Vapen User Reviews
---
---
Nike Vapen Snowboard Boot Review And Buying Advice
SKU
UPC
Model
Built to Last
May 27, 2020
by
Caleb
Ability Level: Intermediate •
Riding Style: Freeride •
Days You Ride A Year: 20 •
Height, Weight And Boot Size (for Boards, Boots & Bindings): 9
I've been using these boots since 2012 and still haven't had any problems with them. They have really kept up through the ages, 2020 now.

I've been begging for an excuse to buy new boots, but really the only reason I can find to do so is the tiny amount of heal lift, though that's mostly due to the fact that I'm more of an 8.5/9 (closer to 9 in size) and I went with a 9.5 since I have a wide foot.

I Never had any issues with heat or dryness, and the flexibility was exactly what I wanted in a boot.

---
Nike vapen 2015
Sep 19, 2016
by
Tom
Ability Level: Intermediate •
Riding Style: Park, all mountain off piste •
Days You Ride A Year: 30 •
Height, Weight And Boot Size (for Boards, Boots & Bindings): 175cm 70kg size 10US
Bought these boot because nike were going to stop making them
They are a great boot being nike it was true to fit the size was correct. Initial thoughts were really comfortable soft flexing boot great for presses and cruising all mountain.

Would not recommend for charging response i would look at another boot

Downside i would say i had issues with heel lift nothing some j bars couldnt fix and being a lace system getting it right is abit of a hassle

I rate these boots a 7.5 great for park riding and rainy days or wet snow water does seem to seep in through the toe area.

---
Nike Vapen lace Desirn flaw
Jan 12, 2016
by
Mark
Ability Level: Advanced •
Riding Style: Freestyle/All Mtn •
Days You Ride A Year: 50+ •
Height, Weight And Boot Size (for Boards, Boots & Bindings): 5'9", 160, size 10
These are comfortable and well made except for that plastic lace keeper on the liners. The thing broke after a couple days. Now it doesn't tighten very well, and am waiting on the other side to fail the same.

---
If you can't buy through the links above, you can support the site with: