K2 Cosmo Womens Snowboard Boot Review
Where To Buy
80% of outdoor sports products are not listed or sold online.
Our team has relationships with hundreds of local snowboarding and outdoor sports shops.
We'll call the shops and email you a list of stores along with pricing and availability.
---
Not sure what to buy?
Get custom advice from Good Ride editors James and Steph.

Get Advice
K2 Cosmo 2024 - 2023 Review by The Good Ride
This is a look at the K2 Cosmo women's snowboard boot. The Cosmo boots are a softer flexing, traditional lace boot that could fit well with freestyle riding or mellow all mountain terrain.
Ethics Statement: We don't get paid by the manufacturer to write these reviews.  We do make money from the "Where To Buy" links, but this is our best attempt at an honest and objective review from an average rider's perspective.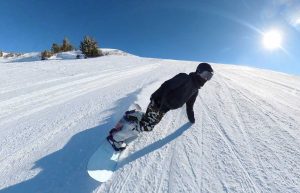 Time Codes
00:00 – Intro 00:27 – Flex 00:41 – Lace Up System 00:46 – Sole & Traction 01:14 – Durability 01:29 – Out Of Box Fit 01:47 – Laces 02:16 – Inside The Boot 02:50 – Ankle Harness 03:30 – Shell 03:45 – Liner 04:13 – Comfort 04:25 – On and Off 05:09 – Boot and Binding Fit 05:33 – Overall
How This Review Happened:  Steph owns these boots
Size: Women's 7.5
Days: 4
Conditions: Mostly mid winter conditions, some ice here and there, I didn't test them in Spring snow yet. 
Riders: Steph (5'3″, 108lbs, Women's 7.5 boot)
Boards: Rossignol Diva, Rossignol After Hours, Never Summer Infinity
Bindings: Union Legacy (M), Arbor Sequoia (M/L)
Sizes Available: 6, 6.5, 7, 7.5, 8, 8.5
I like that the come in some small sizes, would be nice to see a couple larger sizes as well.
Flex
The K2 Cosmo boots come with a 4/10 flex. They are pretty soft right out of the box, and held their flex throughout the season for the most part. The lack of upper lacing in the liner makes the boot feel softer. If it had a better inner liner lacking system or an inner power strap, I feel these boots would flex a lot nicer.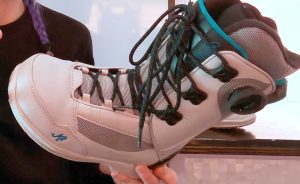 Lace Up System
These boots are mostly a traditional lace boot, but they do have a boa system for the ankle harness as well. The laces are easy to tighten, but I wish they came with a slightly different type of lace. They have round laces similar to the type you see on hiking boots and they don't stay that tight. I had to tighten the boots down a couple times a day as I rode. I've since traded the laces out for a softer version that work much better and are also easier on the hands when tightening the boot down.
Sole & Traction
The Cosmo boots come with a nice amount of rubber on the sole. They have really nice traction in icy conditions.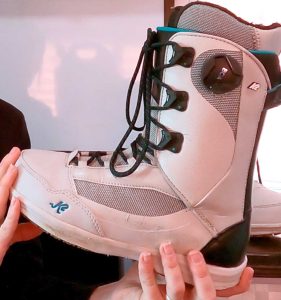 Durability
The durability isn't bad for the price point of the boot. But I did start to see significant wear on the outer liner after just two months of use. This mostly had to do with the outer shell showing wear and tear at friction points on the boot. Everything else seemed to hold up nicely.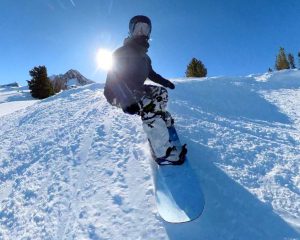 Comfort
These felt great right out of the box, the break in time was about a week. But the flex felt fine right away. So if you are looking for a boot that you can use comfortably right away, this would work for that. Other than that, the rest of the boot was comfortable as well. I did have one hot spot that eventually went away after a week of use.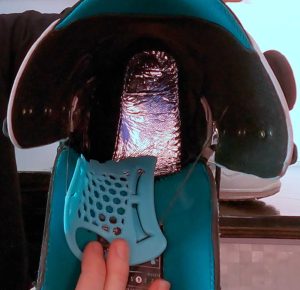 The K2 Cosmo boots are warm enough for average winter temps, but not too great from really cold winter conditions. They were a bit cold when I rode them in MT in some pretty chilly temps. But they do come with a reflective layer in the footbed to help with warmth as well.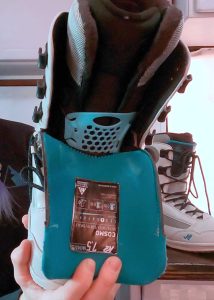 Ankle Harness
The boa ankle harness on the inside helps a bit with heel lock. It also helps hold the inner liner together. I found the system somewhat functional but lacking in some ways as well. This boot is more of a relaxed fit boot that is somewhat free flexing for the most part. The upper part of the boot loosens up throughout the day and it is pretty challenging to get it to stay tightly cinched down with just the outer lace system to work with.
I feel the heel lock would be more effective if the rest of the boot held together better. But it fits well and is comfortable when it is cinched down.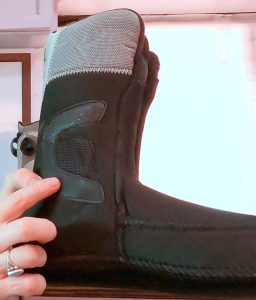 Liner
The intuition liners feel great. They have a little bit of a molded liner to help lock in the ankle. There's velcro at the top of the liner cuffs to help hold the tongue in place. But other than that, there's nothing else to cinch up the liner itself except for the boa ankle harness.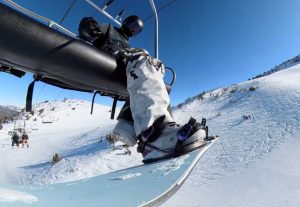 Overall
The K2 Cosmo boots fit into the freestyle realm of riding. They could be good for someone that likes a soft flex, traditional lace boot at an affordable price. They aren't too waterproof, so they are a better fit for more mild winter weather. But are very comfortable right out of the box, and have a good amount of traction from the rubber sole. They could be a good fit for an intermediate to advanced rider looking for this style of boot and lacing system.
l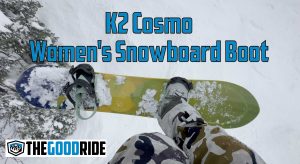 Want to snowboard with Stephanie?
Sign up for one of her camps or ride days!
Check out her company Altitude Attitude below
Website: www.altitudeattitudesnow.com
If you can't buy through the links above, you can support the site with: