Deeluxe Dan Brisse Snowboard Boot Review
Where To Buy
No obligation, but these links & ads support the site.
Deeluxe Dan Brisse 2015 Review by The Good Ride
The Deeluxe The Brisse Snowboard Boot has got a very versatile boot that feels like it can work with a lot of different boards. It's been a long time since I tried Deeluxe boots and the liner and over all fit/feel has improved since then.
Ethics Statement: We don't get paid by the manufacturer to write these reviews.  No one is perfect and we do make money from the "Where To Buy" links below, but this is our best attempt at an honest and objective review from an average riders' perspective.
Days: 1
Riders: James
Bindings:  Flux DS, Union Factory
Boards:  Rossignol One Magtek,  Capita Totally FKn Awesome.
Weight– 2.6 Lbs each
Size: 9
Fit:  The size 9 Brisse fit just like a size 9 should.  It's a tiny bit big from fitting my size 9 feet perfect but I wouldn't want to size down to a size 8.5.  I'd rather just add boot fitting foam as they pack out.
Flex:  It's pretty mid-level and has an easy forward flex. It feels pretty supportive around the top.
Flex Retention:  There is pretty decent articulation around the ankle and I although I won't have this boot for long it seems like it will retain its flex for a good amount of time.
Turn Initiation:  The Deeluxe Brisse turned both boards rather well and felt like they would be fine with a more aggressive board with good bindings down to a pretty easy park board with mellow bindings.
Comfort:  These boots are super comfortable and the liner is pretty cush and puffy.  I felt little to no break in pain on the first and only day.  Not bad at all.  It also has a nice inward lean that doesn't make it tough to put your knees closer together when your riding.
Heel Hold:  I've never had real issues with heel hold but it feels like there is a pretty good grip around my ankle.
Adjustability:  Now the adjustability is kind of weird and I'm not completely used to it.  It's two set's of 2-speed lace areas that tighten 3 zones and then on top of that, there are 2 velcro straps.  It's kind of weird and not easy right out of the box.  However, after playing around with it for a while, I can dial it out for myself.
Shock Absorption:  Nice shock absorbent padding on the sole.  Also, there are Footprint Insole Technology insoles which is pretty cool.  They aren't as good as the aftermarket Footprint Insoles you can buy but they are good enough to see if they work before upgrading.  Normally I'd say throw the stock insoles out but this time check these out.
Traction:  Nice use of rubber throughout the entire boot.  I'd say it's pretty good to above average traction.
Footprint: Not the best-reduced footprint here. That liner is so damn comfortable that I'd be cool with something thinner so maybe they could reduce the footprint more.  It looks like it's about a full size longer from heel to toe than all the Burton boots I own.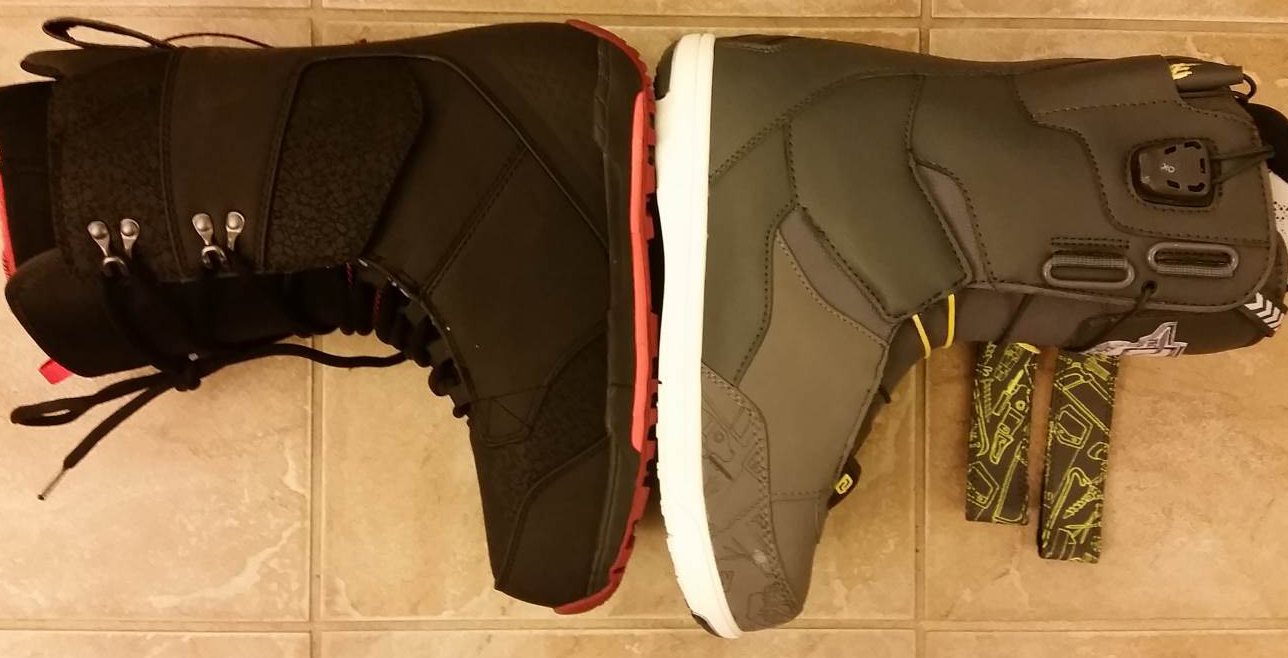 On & Off Ease:  I'm getting used to this speed lace and the velcro straps but It's not super quick like many speed lace boots.
So all in all The Deeluxe The Brisse is a super comfortable mid flexing boot that will work with a wide variety of boards. Other than the quirky lacing system and the not so reduced footprint this is a pretty solid boot.
Deeluxe Dan Brisse Images
Deeluxe Company Information
Deeluxe Dan Brisse User Reviews
---
---
Deeluxe Dan Brisse Snowboard Boot Review
SKU
UPC
Model
Save your money for something else.
Jul 26, 2017
by
Guillermo
Ability Level: Advanced •
Riding Style: All-mountain •
Days You Ride A Year: 180
Nice and comfy boot but..

Run 1/2 size bigger.
Adjustability: When you tighten the laces, the straps get loose. When you tighten the straps again.. guess what? I have to retighten the boots every after 2-3 runs. That didn´t happen to me with traditional laces.
After 10 days, the FLD lacing system from one boot just broke. I wrote the company to get the replacement part. They told me they would send it, then, that a distributor would contact me. None of the two happend; I´m still with a broken new boot...

---
If you can't buy through the links above, you can support the site with: