Decathlon Women's Endzone Snowboard Boot Review
Where To Buy
80% of outdoor sports products are not listed or sold online.
Our team has relationships with hundreds of local snowboarding and outdoor sports shops.
We'll call the shops and email you a list of stores along with pricing and availability.
---
Not sure what to buy?
Get custom advice from Good Ride editors James and Steph.

Get Advice
Decathlon Women's Endzone 2022 - 2021 Review by The Good Ride
The Endzone boots from Decathlon come with a playful, freestyle flex that is comfortable right out of the box. They have a lot of great ankle and heel locking features, are lightweight and have a great price point.
Ethics Statement: We don't get paid by the manufacturer to write these reviews.  No one is perfect and we do make money from the "Where To Buy" links below. But this is our best attempt at an honest and objective review from an average rider's perspective. 
How This Review Happened:  We borrowed this for an extended demo and then returned it
Riders: Steph
Boot Size: Women's 7.5
The 7.5 boot fit my foot really well right out of the box. I didn't ride them for an extended period of time. But I'm thinking if they pack out over time I would probably size down the the size 7. I have quite narrow ankles though, and that's why I'd rather have a tighter fitting boot than a loose one.
Bindings: Union Milan (Med)
Time Codes 00:12 First Impression 01:10 Snow Conditions 01:28 Features 02:01 Sizing 02:55 Flex 03:12 Traction / Sole 03:58 Liner 05:16 Ankle Boa 06:00 Ankle Harness 06:53 Who Is This For?
First Impression: Boots are difficult to test. They usually take time to break in, and it is hard to tell how exactly they will ride over some time. The Endzone boots felt really good right out of the box. I could flex my ankles enough to control the board in a fine tuned way. I only had a couple moments of that "new boot" feel throughout the day. If you want a boot but don't want to deal with the break in time, these could work well for that.
Features: These Decathlon Endzone boots come with a lot of great features that I personally like.
They are traditional lace but not a "beginner" boot. It seems more and more the only traditional lace boot options for Women come only in beginner level boots. So I love that these have traditional laces and the dual zone tightening system. This way you can custom tighten the bottom section vs the top section of the boot.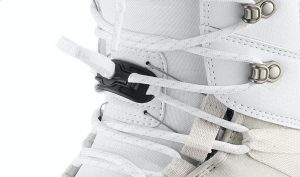 They come with a boa ankle system that you can tighten down to create more ankle support, or loosen up to have a more freestyle, flexible ride.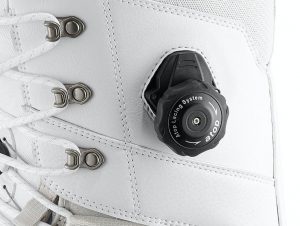 The Endzone Boots come with an interior ankle harness that wraps around the inner liner and is attached to the boot. You can tighten the harness down around your ankle, and it helps keep your ankle in place.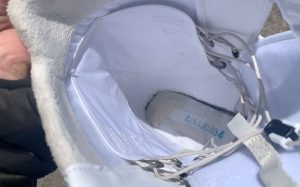 The inner liner has two velcro strips along the top section of the liner. This keeps the tongue of the liner from slipping around while you ride. It also comes with an ankle mold that is pretty comfortable and helps to keep your ankle in place too.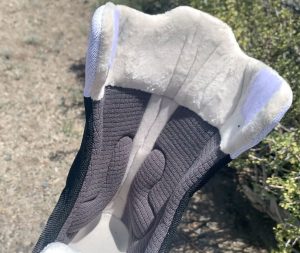 Flex: Decathlon has the Endzone Boots rated as a 5/10 flex. I felt they were a little bit softer than that. But if I tightened down the ankle boa, they started to feel more like a 5/10. They have a pretty freestyle friendly flex that allows you to butter and tweak when riding freestyle.
Traction / Sole: These boots come with an EVA sole. There are pros and cons to this.
Pros: They are lightweight, shock absorbing, and insulating.
Cons: The traction isn't as good as a boot with a rubber sole, and they can tend to slip out on you when skating through icy conditions, or one footing off the lift.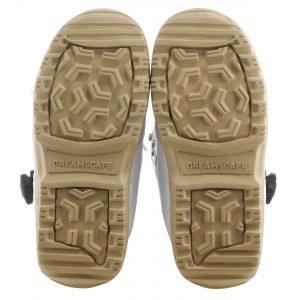 The Endzone Boots come with PU foam under the midsole for added shock absorption.
Overall / Who Is This For?
The Decathlon Endzone boots are comfortable right out of the box, have a freestyle friendly flex. Come with traditional dual zone lacing, and boa support. These could work for a rider who doesn't want to deal with the break-in commitment of riding a new boot. These felt pretty good right away. They are comfortable, and have good ankle and heel lock features to them. They are friendly enough for a beginner rider, and could also work well for that intermediate to advanced rider who wants an all mountain freestyle boot. If you don't mind the sometimes slippery traction of an EVA sole. I think some rubber on the soles, and a power strap on the outer liner could improve the functionality of these boots as well. But overall they are a well priced boot, with some good adjustability and comfort. And they come at a price that won't break the bank.
Decathlon Women's Endzone Images
Decathlon Women's Endzone User Reviews
If you can't buy through the links above, you can support the site with: