Burton SLX 2008-2023 Snowboard Boot Review
Where To Buy
80% of outdoor sports products are not listed or sold online.
Our team has relationships with hundreds of local snowboarding and outdoor sports shops.
We'll call the shops and email you a list of stores along with pricing and availability.
---
Not sure what to buy?
Get custom advice from Good Ride editors James and Steph.

Get Advice
Burton SLX 2023 - 2008 Review by The Good Ride
 Burton SLX 2021-2023 Snowboard Boot Video and Written Review
Thanks for coming to my site to chek the Burton SLX Snowboard Boot Review from an average rider that's ridden a ton of boots and has an exceptionally objective perspective.
Update 2023: The Burton SLX I reviewed in 2021 has not changed so the 2023 review still stands. 
Turn Ons/Swipe Right: Fits Medium to Wide Feet Well, Great upper/lower adjustability, Great Flex Retention
Turn Offs/Swipe Left: Not good with Narrow Feet and Ankles. Not for those that like tightening around the ankle. Flex longevity isn't what it used to be.
The Burton SLX isn't the practically perfect ultra long lasting boot it was a decade ago but still has a lot of flex longevity and some unique features that might justify the price.
Ethics Statement: We don't get paid by the manufacturer to write these reviews and this is our unfiltered opinion.  We do make money from the "Where To Buy" links, but this is our best attempt at an honest and objective review from an average riders' perspective.
A Breakdown of How It Rides And Who It Is For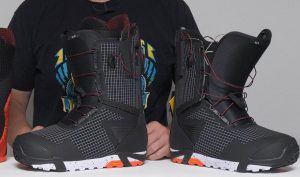 How This Review Happened:  We spent our precious Good Ride dollars to buy this and review it.
Days: 1 but many more coming when the snow falls
Size Tried: 9 US
Riders: James (Size 9, 5'10" 185-195lbs)
Insoles: Footprint Insole Technology Gamechangers
Bindings: Union Atlas
Boards: Burton Kilroy Pow Camber (review coming)
Similar (but not the same) Boots: Adidas Tactical ADV
James' Foot Specs
Foot Size: 9 US
Foot Width: E
Arch Length: Right 9.5 and Left 9
Calve Circumference: Top of boot 17" & Bottom of boot 12"
Sizing/Fit
The Burton SLX fits true to a Brannock Scale which is the thing you find in most shoe stores. It favors a medium to wide foot like C-E widths but it can work with a little wider and a little narrower depending on the foot. For me, having a size 9 E matches up really well with Burton boots and it allows my feet to naturally flex in the boot so I can properly turn and control the bindings/board without having to over crank. Speaking of don't over crank your boots! You will ruin your feet up over time.
Construction/Flex/Flex Retention
The construction the last few years has not been as burly as it used to be. Burton is going more for day one comfort than longevity so that is the trade off these years. This used to be the 200+ day a year boot and Jimbo once put over 400 days on a pair. That was probably 100 days too many but it just shows how it used to be built. Still, the 2021 Burton SLX is no slouch longevity wise and should serve you well past 100 days. At least it is much more comfortable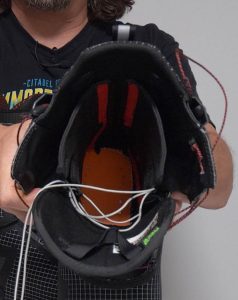 Adjustability/Heel Hold
So if you like that extra wrap around your heel and ankle that some boots can this might not be the boot for you. It doesn't have anything more than J-Bars to help lock in the ankle. You can use boot fitting foam to secure it more which works really well but it takes a little time and work on your end. If you want that out of the box tight wrap around, lets say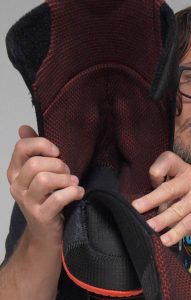 a narrow ankle, this isn't the boot. If you want complete autonomy between your upper and lower laces this is the boot for you. You can leave the top loose and make the bottom tighter or vice versa. Same goes for all Burton Double BOA boots.
Response/Turn Initiation
The response is medium to medium fast with most board/binding combos but I used to get a little more response out of this boot when turning boards. The softened flex has dialed back a little of that response but the X-Wing hard rubber part of the sole seems to help get a little bit back. It is more responsive than you would think by flexing it in the shop though.
Shock Absorption/Board Feel
The black hard Rubber X's at the heel and toe of each boot help with response but they really detract from the old cushy feel that the older pre X-Wing models had. There isn't much shock absorption compared to other Burton soles.
Traction
There are three materials in the Burton SLX sole. The hard plastic X-Wing we talked about above, a white semi-soft almost rubbery feeling EVA foam and then some orange Vibram sole which does all the grip work. Owning this same sole on past models I can say that it sucks if you get most of the X-Wing on an icy patch. I have found that it sticks out more than the other rubber for the 2021-2023 model I have making it lead with the hard plastic of the X tech instead of the ultra grippy Vibram sole. I'm slipping a lot more than I have with other boots I've tested recently, including the Burton Ion, Burton Tourist and Burton Kendo. I might sand down the X tech so I stop slipping.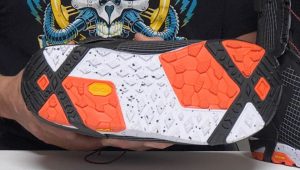 Footprint
One of the best footprints in the industry with the Burton SLX and all Burton boots for that matter. It might be a touch shorter than the Ion and Tourist but it's really close. It is really consistent in footprint reduction throughout the entire line. This is great if you are a 12.5 boot but want to fit better into a mid-wide and it really helps reduce toe/heel drag on a carve or in steep terrain. Toe/Heel drag can be dangerous so we would rather sacrafice a little warmth instead of a hospital bill for a broken collar bone or wrist or the dreaded TBI!
On & Off Ease
The Burton SLX is faster on than Double BOA but a little slower off but not by much. The speed laces can get tangled an in the way but overall they are much easier to manage than traditional laces. I still personally prefer this over double BOA boots and the laces last forever these days. They used to have a 50-75 day life but they now seem to last as long as the boot if you treat them well.
Conclusion
So the Burton SLX isn't any easy price to handle for most but it could be worth it if it fits you well and you like a boot that should keep a medium flex for a very long time.
If this review helped, we'd appreciate if you:
Burton SLX Past Reviews

The Burton SLX can arguably retain it's flex longer than any boot we have encountered. It also has a response/flex that will work with a wide variety of boards.  If you are willing to part with all that cash you generally get your money back over time because of how long this lasts. It's just a lot of cash up front.

The 2017 Burton SLX is still a great boot but the liner has changed.  It's softer and has less flex retention but it is more comfortable.  You can still buy the Infinite Ride Liner this year separately and make the boot just like the 16 if you want.  It's just really expensive to do so.

Ethics Statement: We don't get paid by the manufacturer to write these reviews.  No one is perfect and we do make money from the "Where To Buy" links below, but this is our best attempt at an honest and objective review from an average riders' perspective.

James' Foot Specs
Foot Size: Right 9 and Left 8.75
Foot Width: Right and Left between a D/E
Arch Length: Right 9.5 and Left 9
Calves (Widest Point): 17"
Calves (At top of boot): 12"

The 2017 Burton SLX has the same outer shell and sole but there are a few changes/differences from last year on the inside:
There is a new liner that's softer and more comfortable but doesn't have the customization and not quite the longevity that the old one does. Still, comfort is hard to argue with and the softer flex is more than acceptable with us.
The overall flex no longer feels medium/stiff but more like a medium flex.
One thing is the footprint isn't the smallest out there anymore.  Burton boots didn't get bigger but Adidas boots actually got smaller in some sizes.  If you are in the 10+ size range Adidas and Burton are pretty close in size but if you are in the 9 or smaller size range Adidas boots are actually a good bit smaller.
2016 Burton SLX Review
So this year the 2016 Burton SLX had a few major changes.  The ride is still very similar but there is definitely a little tweak to the personality and materials.
It's not as sturdy/scratch resistant as before and doesn't have the scratch resistant Schoeller tech. Instead, it's more of a rubbery plastic kind of covering.
The Rad Pad isn't as Rad. It's not a thick rubber but instead seems like a laminate that isn't as good as keeping the tongue from folding.
There is some exposed EVA foam but still enough real rubber to keep the traction almost the same as before.
There seems to be more shock absorption but the black strips of really hard rubber seem to keep you from really feeling the shock absorption to it's fullest. It does seem to give you more response though because it's positioned near the heel and toe.
The Dual Density Cushioning doesn't seem to work as well as the 2015 model.  There isn't as easy of an inward roll as before and the toe side of the sole actually looks concave. The 2015 SLX had a much better role to the inside of the bindings that weren't as good as the Ion but still pretty good. Now it's not very good at all and after putting some time on these boots I could feel more strain on my beaten down joints than almost any other Burton boot.  So that could be the deal breaker for those looking to a Burton Boot for Joint Relief.
The 2016 SLX fit's more true to size and it's just like the other Burton boots I own. Last year it was about 1/4 size smaller inside than other Burton Boots.
It feels more comfortable than last years SLX and the break-in time should be shorter.  I'm still going to heat mold the Liner though.
The newer lacing system seems to have a little better wrap around my foot than last years model and your foot more integrated with the boot. Nice improvement over last year
So all in all the 2016 Burton SLX the only real complaints are the cheaper Rad Pads and lack of much lean to the inside of the bindings AKA better joint alignment.  Other than that the fit is better, lacing is better and the boot still is made to last a long time.
2016 SLX Weight is the same as 2015 at 2.6lbs per boot and 5.2lbs per pair.
2014 Burton SLX Review
Days: 2 days on the 2014 but hundreads on past models.
Riders: James and Jimbo
Bindings: Burton Cartel, Burton Cartel Limited, Burton Diode, Union Force, Flux DMCC, Flux SF45,Burton Genesis, Union SL, Union Contact Pro, Burton Cartel EST, Burton Malavita EST , Burton Diode EST and many many more
Boards: Jones Mountain Twin, Gnu Impossible Series, Yes Greats, Rossignol One Magtek, Lib Tech Burtner Box Scratcher, Never Summer Proto, Never Summer Cobra, Lib Tech TRS, Lib Tech Lando Phoenix, Lib Tech Hot Knife, Arbor Coda, Burton Barracuda, Burton Nug Flying V, Gnu Space Case, Gnu Riders Choice, Slash ATV,Yes Jackpot and many many more.
Regarding Reduced Footprint: The Burton SLX has a reduced footprint that is more reduced than the rest of the Burton line. Most Burton boots are a full size smaller on the outside but with the SLX a size 10 boot is more like a size 8.5-8.75 on the outside with the SLX. I haven't come across a boot with this kind of reduction and it's even evident in the pictures. It looks so stumpy.  It's coming to the point where it's hard to recommend a boot without a good reduced footprint because for most in the size 10+ range there is such a huge advantage because suddenly a guy with a size 10.5-11 boot can now easily fit into most medium bindings and ride normal waist boards with minimal heel or toe drag.
Flex:  So the flex of the SLX is medium/stiff but unlike most boots out there it never really gets much below medium even after 100+ days. Even boots like the Driver X start out stiff but eventually they will become soft.  The SLX doesn't.  It also has a nice supportive feel.
Comfort:   Incredibly comfortable. Jimbo and I felt like we have been wearing this boot for months the first day we put it on.  It's one of the easiest boots we have ever had a first time wear.  I can't guarentee you will have the same expereince because every foot is different but my guess is most will have the same easy break in free experience. One thing I would like to see with the SLX is the Auto Cant that the Ion's have so it's a little easier on the knees and hips but this is a nit pick.  I've personally enjoyed the fatigue free auto Cant and angled design of the Ion's and Imperials that I mainly ride those boots these days but the SLX is still an amazing boot.
Heel Hold:  The SLX really wraps around your ankle and doesn't let your heel rize very easy.  It doesn't have that cranked down feel of BOA boots but it hold really well. It's very close to excellent.
Adjustability:  Same great BOA lacing system as all their boots but the SLX usually has the strongest laces in the line.  The last few years the laces we had held up for the life of the boot.  When you combine speed lace with the articulating cuff
Flex Retention:  This is what separates the SLX from other boots out there. I have had SLX's in my quiver for many years and so has Jimbo. If I don't have injuries I get to about 100 days but Jimbo can break 200 days on a good season in Mammoth. Jimbo rides the SLX exclusively and only rides other boots when I make him.  He often uses the same SLX for 2 seasons. There are many other great properties about the SLX but it's ability to retain it's flex as long as it does without turning into a sock is pretty incredible and we haven't seen anything like it.  If you ride a lot or want to keep one boot for a long time the SLX is a great choice.  So the 2014 Burton SLX upped the flex retention even further with the new insole that breaks down even less than the 2013 and below boots. Before it would start out medium stiff, break down a bit and hold at medium for a really long time.  Now it seems like it might not break down to far from it's original flex for the life of the boot. We can't say for sure but it seems like a nice improvement. This combined with the articulating cuff make this boot exceptional when it comes to flex retention.  This is why I think Burton can get away with this excesssive price tag because this boot really performs twice or 3 times as long as most boots.
Response:  This has smooth but excellent response that has almost an auto complete to the turns you make. It's very hard to describe but the SLX makes turning easier.  It's very quick edge to edge. It starts out a little less responsive than the Driver X but after about 50 days this is the more responsive boot. So it goes back to flex retention here. If you want a boot that will stay responsive throughout the life of the boot the SLX is the call. That is why you could easily argue that the SLX is the most responsive boot in Burton's line if you factor in flex retention.
Traction: Vibram soles are outstanding and it's easy in everything from icy parking lots to walking across frozen exposed rocks on a ridge line.
Shock Absorption:  The SLX has a pretty minimized sole but it still has pretty good shock absorption while still having a lot of feel underfoot.
All in all the Burton SLX is a very expensive boot but it's a really great boot. It's just too expensive to add to the favorites list but many people will enjoy this ride for a long long time.
2013 to 2008 Burton SLX Review
The design hasn't changed much but this year the Burton softened up the flex just a little bit making it a little more like the 2011.
If you ride allot and/or have allot of money then the Burton SLX of the best boots you can ride.  After 200+ days on this boot we haven't found any major flaws and it continues to ride close to how it was when it was new. It's taking snowboarding to the skiing price levels.  Another issue for some but not for others is the shrinkage tech with this boot.  If you are a size between 11 and 10 then the SLX is awesome to  help you fit into a smaller board and binding.  The SLX has a low profile so a size 9 shoe looks more like a size 8 wich makes a difference if you have big feet.
Flex:They are not supper stiff and now they are on the medium side. In the old days before 2010 the SLX was pretty stiff.  The 2010 boot was the first attempt at making the boot soft and in our opinion it was a time for learning.  This is the only year we won't back this boot.  The tongue would fold on a forward lean causing a pressure point on the front part of your ankle which should never happen for a boot of this price.  In 2011 and 2012 this issue was fixed with a little stiffer flex and rubber guards on the liner where it use to fold.  We were skeptical with this tech but after close to 100 days in 2011 we aren't any more.
Comfort: The Burton SlX really fits like a glove and is pressure point free on the first day. This goes for every year we tried except for 2010 and aside from that one pressure point the boot was very comfortable.  You don't have to bring your old boots up on the first day like you do with many other new boots because most riders will not have a break in period with them.  In 2012 the SLX has newer tech to make this break in period even easier. No matter how hard you crank the laces down it seems to have the least pressure points of almost any boot we have ever tried so if you like to crank your shit down then you will be ok here.
Heel Hold:For all burton boots the heel hold has vastly improved from past years but the SLX was always pretty awesome when it came to keeping your heels in place.  Before you needed the J-Bars to completely eliminate heel lift but now you almost don't need them unless your ankle is really tiny. It allows the Burton Boot to cater to many different riders.
Upper and Lower Adjustability:The dual zone lacing system is the best out there so you can pretty much adjust the upper and lower however you would like.  The only thing you cant do is individually adjust the top rungs like you can with some traditional lace boots but this is pretty minor because the SLX's lacing is so good you won't really think about that. The 2011 and 2012 models laces are much more durable.  The 2009 SLX's laces had to be replaced every 50-70 days but now the new laces are good for at least 100 days without any sign of wear.
Response:This boot can adapt to many different conditions depending on how you tighten it. The edge to edge response is incredibly predictable.   It doesn't have the Ion's almost magical create the next turn for you kind of feeling but it really is a joy to turn with these.  There isn't a boot out there that can respond like these. The only boot that could have better edge to edge transitioning is the Ion but its a coin toss and up to your personal preference.  The rebound rods in the boot liners are actually worth mentioning.  They are supposed to help you transition from edge to edge.  We put an older Burton liner without rebound rods in the boot and noticed a huge difference in edge to edge transitioning and realized his is not a gimmick.
Traction:This boot's traction does fine in any type of snow or ice but will not perform as well as the driver x if your hiking back country. This boot is also really light compared to other boots.
Sole Cushioning: The one complaint for these boots is the sole cushioning. It is no where near as cushy and forgiving as the Ions but that is not their intention with this boot.  They want more feel but they have made improvements over the 2009 and below models when it comes to cushioning.  They are no longer using an air bag and cover the entire foot bed instead of just the heal.  Good choice but this isn't made to be super soft.  It's made to be low to the board and provide shock absorption when needed.  They aren't chattery or tough on the feet but they just aren't super paded.
The Burton SLX boots of almost any year integrate perfectly with any bindings and any board.   If you have the cash or can find a closeout go for it.  I haven't met anyone yet who has been dissapointed with the boot except from people who had the 2010 model.  You'll get some looks and comments but it's worth the social bullshit.
2012 Burton SLX– They have have improved comfort, a slightly lighter design, dryride liners and a new sole.  The ride is still like the SLX of 2011 but just has the latest and greatest tech.
2011 Burton SLX– Burton stiffened it back up a bit and added some plastic/rubber reinforcement in the liner to counteract that pinch that happened in the 2010 models. The lacing was also improved as well as a bit of comfort
2010 Burton SLX– The SLX became so soft they would fold and pinch at the flexing point of the toungue.  This is one of the only years we wouldn't back this boot.
2009 and Below-the Sl's had a rather firm supportive feel and no heaters
Burton SLX Images

We try to get as many images of the Burton SLX, but forgive us if they're not all there.
2021
2020
2019
2018
2017
2016
2015
2014
2013
2012
2011
2010
Burton SLX User Reviews
---
---
Burton SLX 2008-2023 Snowboard Boot Review
SKU
UPC
Model
How to screw up best boot on the market
Sep 02, 2021
by
Max
Ability Level: Expert •
Riding Style: All mountain / freeride •
Days You Ride A Year: 20+ •
Height, Weight And Boot Size (for Boards, Boots & Bindings): 9.5
Ive been riding SLX since 2009, it used to be the best boot on the market, now its not.
2009-2013 SLX had imprint 5 liner in it which was good but in 2014 Burton changed the liner to infinity ride liner 5 which was even better. It was a stiff boot that retained its flex for 3+ seasons.
In 2017 they introduced new life liner which is supersoft and does not hold heel at all. Longevity is very short as well now, I saw reviews when people claimed that new SLX died after season one. Add this to a crazy price tag which absolutely does not match its performance and longevity.
I will not buy SLX again until Burton change their liner back to infinity ride liner or to a better one.

---
The Brilliance of the Burton SLX
Mar 19, 2019
by
Craig64
Ability Level: Advanced/expert •
Riding Style: All Mountain/Freeride/Powder •
Days You Ride A Year: 20+ •
Height, Weight And Boot Size (for Boards, Boots & Bindings): 191cm/93kg/Goofy/US13/Genesis/Genesis X
Well I grabbed a pair of '19 Burton SLX (US13) a few months ago after they had just landed down under here in the Australian stores. We only have low import numbers in Australia with Burton products compared with the USA so you need to move fast to prevent missing out for an item in your particular size. I upgraded from my previous '16 Burton Imperials which had served me well over 2 seasons.

My son has a set of '17 SLX and I've been a bit jelly since I grabbed them for him over the last few years and really wanted to score a set for myself. I didn't go much on the look of the '18 with the white base/sole…., however the '19 SLX looks pretty sweet.

So I'll start with the major problem with the SLX…., it's a frigging shockingly expensive boot. Burton lists the SLX at $Au699.99 RRP ($US599.95 RRP). I was lucky to minimise this pain grabbing this boot on sale at 25% off RRP and with the added assistance of selling my previous Imperials, was only up for a $Au250 ($US175) outlay to step into Burton number 1 boot.

Burton Australia sent me a couples of sets of Velcro J bars that stick to the Velcro pads inside the outer shell on both our SLX's and they are brilliant in locking tight in around your heel.

Only one place to break these babies in is with a couple of weeks in glorious Hokkaido powder. So how did they perform……, honestly, absolutely brilliant. The Burton SLX feels so damn nice on your foot. I did a heat mold a few weeks prior to Japan and they snugged up perfectly. No foot pain from new at all out of the box being comfortable day after day. The J bars are a really essential accessory and lock in my heel super snug giving zero lift.

The SLX looks and feels so damn bullet proof with absolutely zero moisture problems. The outer lining has a tough fabric feel that's probably not as sexy as my sons '17 SLX snake skin look but they still look pretty damn sic'. I'm riding with a new set of Genesis EST (Fish/Dump Truck/Archetype) and can't see any wear areas on the exterior. The SLX feels moderately stiff and perform really good as a high performance all mountain/freeride/powder choice.

Well these are the best snowboard boots I've ever had.

Such an easy 5 stars *****

---
I like them
Oct 14, 2018
by
jonathan kosyjana
Ability Level: Intermediate-advanced •
Riding Style: All mountain •
Days You Ride A Year: 6 •
Height, Weight And Boot Size (for Boards, Boots & Bindings): 5'7 137 pounds size 10
I live on the east coast away from the mountains so I don't get to go as much a I like. I copped a pair of 2013 slx for $140 used,but basically new, they were a perfect fit, whoever had them before me had a similarly shaped foot. The only way I see the laces ripping is after holding my board up on the lift or falling on a shaping rail or snagging a tree. Otherwise, they should be fine. I used them about 6 days last year plus on hikes in the snow and shoveling my snow an no sign of laces ripping, just gotta be careful. they were a no-brainer for the price i got them but i would never pay full price for these

---
Good boot crap lace system
Oct 12, 2017
by
Jon
Ability Level: Expert •
Riding Style: Backcountry/sleds •
Days You Ride A Year: 100+
Great performing boot and comfortable but I go through at least one pair of laces and one pair of these boots per year, which is ridiculous for the price! Either the laces, locking system or soles wear out every year. The flip side is when they're working they are comfortable and preform well. I'd look at k2 or well, any other boot

---
Crap cord system
Jan 07, 2016
by
EDOUARD
Ability Level: Advanced •
Riding Style: Free ride •
Days You Ride A Year: 30 •
Height, Weight And Boot Size (for Boards, Boots & Bindings): 1.80, 80, 44
Nice comfortable boots but the strapping systems using cords is a nightmare. However you pull the external boot is not tightly fit, the clipping of the cord keeps unlocking, making the boot get loose, and worst of all, after one day ride one of those blockers broke, not only is it badly conceived but it is not even solid. Too bad as all the rest is true, apart from that vital locking system it is great boots. But I would not buy them again

---
SLX Boot
Oct 02, 2015
by
Stephen Allen
Ability Level: Intermediate - Advanced •
Riding Style: Natural •
Days You Ride A Year: 15-20 •
Height, Weight And Boot Size (for Boards, Boots & Bindings): 5'7'', 80kg, 9.5.
Had boots for three seasons, are extraordinarily comfortable, easy to put on and remove, great flex, clever lace locking, though lacing system does freeze which is a pain. Toe tip delaminated, which was a disappointment, but since rectified. Strongly recommend. Few seasons still left in them.

---
Burton SLX
Nov 10, 2014
by
Jeremy
Ability Level: Intermediate - Advanced •
Riding Style: Freeride •
Days You Ride A Year: 20 - 40
I've had this boot now for 3 yrs now, going on 4.
I was lucky to find it on sale (paid just under $500 taxes in).Boot started out stiff, really stiff (compared to the slop I wore before). I was just becoming an intermediate level rider prior to the SLX and since, the snug, firm feeling has given me greater confidence in taking the edge of the board to greater speeds and extremes (riding actual mountains [Powder Highway!] likely helped too).
As stated by TGR, if you can afford this boot, grab it. Or you can go to the cheaper, less durable boots numerous times, spending more money overall.
Love the boot, love the snow, love the life it gives!!!

Questions?
Just ask
Happy riding all!

---
If you can't buy through the links above, you can support the site with: