Burton Imperial 2011-2018 Snowboard Boot Review
Where To Buy
80% of outdoor sports products are not listed or sold online.
Our team has relationships with hundreds of local snowboarding and outdoor sports shops.
We'll call the shops and email you a list of stores along with pricing and availability.
---
Not sure what to buy?
Get custom advice from Good Ride editors James and Steph.

Get Advice
Burton Imperial 2018 - 2011 Review by The Good Ride
The Burton Imperial is a pretty decent balance between price, tech, and performance. While it's not perfect it does a lot of things right and it's a very recommendable boot for a wide variety of riders. While the overall design hasn't changed much from 2016-2018 there are some minor changes like the elimination of the rad pads and a varying flex year to year.  2016 and 2017, to us, were a little softer but 2018 seems like its a touch on the stiffer side.  It feels like it matches more of Burtons flex rating.
Ethics Statement: We don't get paid by the manufacturer to write these reviews.  No one is perfect and we do make money from the "Where To Buy" links below, but this is our best attempt at an honest and objective review from an average riders' perspective.
2018 Burton Imperial Snowboard Boot Review
James' Foot Specs
Foot Size: Right 9 and Left 8.75
Foot Width: Right and Left between a D/E
Arch Length: Right 9.5 and Left 9
Calves (Widest Point): 17"
Calves (At top of boot): 12"
2016 and 2017 Burton Imperial Snowboard Boot Review
There is little that's changed from 2016 to 2017 and the boot feels very much the same from either year.
Size 9 Weight: 2.0 Lbs per boot and 4lbs for the pair. Same weight as the 14 and 15 models.
There are some changes for the 2016 Model.
There is a new shell that doesn't really have any articulation.  The old one had neoprene in the area where the boot folded the most.  It seems like this shell could articulate if it wasn't sowed in and we'd love to see this get the same articulating ankle cuff as the SLX or Fiend as it looks like it's close in design already.
The Rad pads lost a little radness. They are no longer Rubber but instead some sort of thick laminate and it doesn't stop the liner's tongue from folding as well.  Kind of a bummer.
The sole seems a little bit more shock absorbent.  It's not that there is more but that the EVA foam and gel underneath the Vibram soles seem a bit softer. It's nothing crazy better but just seems a touch softer.
The new lacing system wraps a little better around the foot than the old which is nice.
Days: 10+
Riders: James and Jimbo
Bindings: Burton Cartel, Burton Genesis, Burton Diode, Union Atlas, Union Contact, Flux SF, Flux DS,
Boards: Yes Optimistic,  Rossignol One Magtek, Never Summer West, Capita Mercury, Lib Tech TRS, Never Summer Funslinger, Gnu Space Case, Burton Flight Attendant, and some others.
James' Specs Relevant to Boots
Shoe Size: 9 with most boots/active shoes and 10 casual.
Calves (Widest Point): 17"
Calves (At top of boot): 12"
Foot Width at Widest Point: 4"
Mid Foot Width: 4"
Heel Width: 2.5"
Foot Height (Highest Point): 3"
Widest Point Around My Ankles 11.5"
Flex:  The flex feels a little softer than years past but it's still in the medium range.  

Comfort:   Same very comfortable boot however this year the boots took a few days to break in where usually they are comfortable day one.  It might be the tighter heel area in the liner.

Heel Hold:  Definitely an improvement over previous years with the tighter liner in the heel and the improved speed lace.  I'm not sure it will win over people who had issues with heel hold in the past but if in the past it felt like it almost could work now it probably will. I've never had a problem with heel lift with these boots.

Adjustability:  Same great adjustability as always.

Flex Retention:  My biggest issue with this years model There is no more articulation in the ankle and it's starting to get some wear points after only 10 days. The flex hasn't changed much yet but I'm expecting it not to hold up as well as it did in the past. I really wish they had the same articulating cuff like the Burton Fiend and Fiend LTD. If that was the case these boots would last a long time.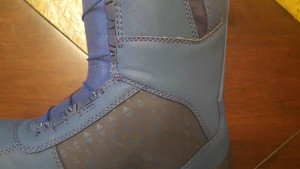 Response:  Just about the same response as we have always experienced with these boots.  Nice medium to the medium plus response.

Traction:  Great traction.

Shock Absorption:  Really would like to see just a little more shock absorption here.
Footprint: The 2017 line has not changed in footprint but a lot of the industry has caught up with it and Adidas has passed Burton's footprint by up to 1/2 to 3/4 an inch for my size 9 boot.  It's still very reduced but it's just not the leader any more when it comes to reducing toe and heel drag.
On & Off Ease: Super easy on and off.
So all in all despite the lack of articulation this year and the less than adequate rad pads that detract from flex retention, the Burton Imperial is still a top choice for those looking for a good 50-100 day a year all-mountain boot.
Burton Imperial Past Reviews
The 2014 and 2015 Burton Imperial Snowboard Boot Review.
The Burton Imperial has changed a bit in 2014 and it's even a better boot than before. For us this offers a lot of solid performance and higher end tech at a reasonable price point. It's one of the better boots you can get at this price point.
The 15 and 14 Burton Imperials are almost exactly the same.
I use to ride Burton Ions but after last the more I rode the Imperials the more I fell in love with them. Yes the Ion's are still a better boot but for the price the Imperials offer up a very comparable ride and offer up a little more shock absorption which is important to me.
Days: 50+ We'll be getting many more days on this because a few of us are using this as their primary boot.
Riders: James (owns it), Stephen (owns it), Tim (owns it) and a few others
Bindings: Burton Cartel, Burton Cartel Limited, Burton Diode, Union Force, Flux DMCC, Flux SF45,Burton Genesis, Union SL, Union Contact Pro, Burton Cartel EST, Burton Malavita EST , Burton Diode EST
Boards: Jones Mountain Twin, Gnu Impossible Series, Rossignol One Magtek, Never Summer Proto, Never Summer Cobra, Lib Tech TRS, Lib Tech Hot Knife, Gnu Space Case, Slash ATV,Yes Jackpot
Approximate Weight: Size 9 Imperials are 4 lbs for the pair of boots so 2lbs each.
Fit: A size 9 boot fits my size 9 feet perfectly. The toes barely touch standing up and then barely don't touch on a forward lean. They also don't pack out much over time so you don't have to start out with a smaller size and stretch it out to fit. Also the toe box is a touch wide. Not ideal for wide feet but it gives you a little room width wise to let your front foot stretch out width wise on a forward lean. I've also never felt my toes go numb in these thanks to this little smidge of space.
Flex: The flex of the Burton Imperial 2014 feels a little stiffer and more supportive than the previous years models. Also the toe box seems to be stiffer too so hopefully it won't break down as fast.
Comfort: For most riders Burton has some of the most comfortable boots in the market. Hey every foot is different but many find Burton boots very comfortable. Also Burton Imperials have a nice angle in the upper part of the boot that is more in line with the stance you have when snowboarding. It's similar to an auto cant in the Ion and Hail and reduces fatigue when riding. It's also not weird or over canted when riding on a canted binding. The 2013 Imperial use to have a little extra padding in the cuff of the liner that caused some pressure until they broke in. The 2014 has a smooth much more comfortable liner this year.
Heel Hold: Most of us here have found that Burton's heel hold has improved a lot over the years and it's not that necessary to use J-Bars. Still that option is there but for most this will be fine. If you are one of those riders that have difficulty getting their heels to lock J-Bars might help get this to excellent. Burton's boots aren't there Toe to Toe with many double BOA boots but they are pretty close and most will be more than fine with Speed Lace and this boots hold. All of us are.
Adjustability: Double BOA boots might have a little more heel hold but they often overlap and don't really create separate and lower adjustability. With Speed Lacing from Burton the Upper is completely separate from the lower and they don't share the ankle. This way you can have the upper be tight and the lower be loose. If you tried that with most Double BOA boots the Ankle would be tight even if the lower was loose. Some don't care about separate adjustability but for those that do Speed Lace is the call. Also one great thing about the Speed Lace these days is it doesn't fall apart like it did in years past. Now Speed Lace is getting better to lasting the whole life of the boot. In the early days it might only last 50-100 days before starting to frey and break apart.
Flex Retention: There is a little bit extra articulation in the ankle of the boot this year that will help preserve the flex longer than previous years. That combined with some of the other tech in their liner and shell makes for a longer lasting flex. No boot keeps their original flex but this holds up longer than most. If you ride a lot of days the Burton Imperial 2014 is a great choice.
Response: The Burton Imperial 2014 offers up a little more support and the response feels like it's a bump closer to excellent. It's very easy edge to edge and can power most boards. It's best with moderate to semi-challenging turning boards but we had no problem with all other types as well.
Traction: Hiking in thick soft snow to walking in icy parking lots we haven't had any issues. Vibram outsoles are outstanding and it's nice to see this on a $300 boot.
Shock Absorption: This is my one complaint. I felt that the previous Models had better shock absorption. This still has great shock absorption but Burton has been moving more towards the skate shoe feel with all their boots and have been reducing the profile. If you come from a skate background you will love this but if you are like me (a guy who likes to preserve his body) you might not be stoked on it. Still it has more shock absorption than the Ion.
Footprint: Very reduced footprint and Burton has been the leader with this. My size 9 is more like a size 8 on the outside. This doesn't matter as much for riders with my size boot but it's a game changer if you are a size 10-11 US boot.
On & Off Ease: This is really easy. The only boot that is faster are the boots that have a BOA or speed lace on the inside. This is a great balance of speed and exceptional adjust ability.
2013 and Below Burton Imperial Review.
The 2013 Burton Imperial has a lot more articulation in the ankle this year and it's definitely the call over the older models. There is also a leather version this year so for $59 extra that is a little stiffer you can get that but it's really close to the regular Imperial There is no real difference in performance. To us comfort can sometimes beat performance but you don't have to worry about either with the Imperial. It's a very safe choice.
One quick thing. Either the laces are more durable or the speed lacing was re-designed the last 2 years. Either way, the laces last a lot longer than the older laces.
Flex: It's on the Aggressive side of medium and for most all mountain riders near perfect. There is is more response than you would think for the flex and that is always nice and it plays well with Stiff to Medium flexing boards well.  We've even had fun with soft loose boards.
Comfort: Very comfortable except the 2013 model seems to have one little issue. The liner has a little extra padding in top of the ankle that can feel a little uncomfortable at first but after a week or so it packs out a bit. At first I thought it was a problem with the rubber rad pads but after more tinkering I discovered that it was the extra padding in the ankle that was causing the discomfort so disregard the review.
Heel Hold: Great heel hold and you can always put in J-Bars if you need more.
Flex Retention: There is a little articulation at the ankle to keep its flex but not as much as other boots we've seen like the SLX with full articulation from spine to ankle.
Response: The response is pretty good for a mid-level Burton boot and borderlines on excellent. It can easily initiate a turn on just about any stiff-flexing board with not too much trouble.
Traction: The imperial has the same Vibram sole and similar sole design as the Driver X so it's great for hiking in softer snow or climbing steep stuff thanks to the spikes in the toe, but it's better walking on ice on the way to the lift than the Driver X.
Shock Absorption: Really great cushioning without hindering too much board feel or response. If you want some padding then this is the call over the Ion.
The Imperial is one of those nice compromises in price for a serious all mountain to freeride rider that wants good response and support. If you want a boot that will perform well throughout a solid 100 day season this is one of our favorite choices.
Burton Imperial Images

We try to get as many images of the Burton Imperial, but forgive us if they're not all there.
2019
2018
2017
2016
2015
2014
2013
2012
2011
Burton Imperial User Reviews
---
---
Burton Imperial 2011-2018 Snowboard Boot Review
SKU
UPC
Model
2016 Burton Imperial
Apr 17, 2018
by
Alec
Ability Level: Intermediate •
Riding Style: All Mountain •
Days You Ride A Year: 12 •
Height, Weight And Boot Size (for Boards, Boots & Bindings): 6'0", 175lbs, 11.5
I was super excited to try these boots out. Most expensive boots I had ever purchased so I had high expectations.
The boots are OK but I think you can find a pair with much better value out there.
First, they run a bit small. Typically wear 11.5 and in this boot my pinky toe rubs.
The inner liner fits very well. Snug and formed to fit.
Heel comfort is good with minimal movement and rubbing.
I dislike the speed lacing system. Can never seem to get the boots as tight as I want them no matter how hard I pull. IMO it takes more effort to get the boots on and off with the speed laces than it does with standard boots. Kinda ruins the whole point of "speed" laces.
All in all, not that impressed given the price. This is my 3rd pair of boots since I started snowboarding. My last was a $40 pair of Salomon boots that were way more comfortable than these burtons, although they were quite bulky.

---
Good Boot
Feb 18, 2018
by
Flo
Ability Level: Advanced •
Riding Style: All Mountain Freestyle •
Days You Ride A Year: ~40
I had the 2015 model, which I thought, was the best boot i had so far. It was confortable, low-profile and had a great flex. I loved it so much that I bought a second pair in the end-of-season-sale a year later, despite mine was still in great condition.
So the boot served me well for about 2,5 seasons which were about 100 days. So this season I wanted to switch to the newer model only to see that with the new shell, the boot got quite a bit bigger. The footprint got at least half a size longer. But the bigger problem for me was that it got quite a bit bulkier and it doesnt really firt into my M Cartels nor my Union Contact Pros in M/L.
So i'm a little surprised that you guys didnt mention something like this, maybe its just regarding my size...
The inside fits quite true to size and i also tried the 10.5 model from the newer one in the shop and it was too short and was very unconfortable. I dont know why burton changed the shell because the older one was also much better as in sturdier and i bet the new one will not last as long as the old one did. I guess this was a marketing move because the 2015 Imperial was too good and it wasn't really necessary to pay more to get sth like the ion.
Anyways now I have to try to sell the Imperial because its not really fitting in my Cartels anymore (as you guys also got right, I think you mentioned this in the genesis x review) and I just bought a used pair of diodes in M as well, so im not willing to buy new bindings just because of the boots.
The problem is since the season is now ending in the shops there isn't really much boots around so i had to order online. I will try a adidas tactical adv in 10.5 let's see if that one fits.
As for you guys who want to buy the new model i agree with james that the speedlace-system has improved and in combination with the new integrated j-bars in the liner i get better heelhold also these were confortable right out of the box whereas the old model took about 3 days to break in but that was mainly because of the stiffer flex the older model had. Sadly the shell looks less sturdy and has no more articulation but if you get a good deal on it its still a good boot just be aware of the size if you have a bootsize 10.5 or greater.

---
Killing my ankle too!!
Jan 14, 2018
by
Mark Tiemeier
Ability Level: Advanced tree slayer •
Riding Style: Side country •
Days You Ride A Year: 50 •
Height, Weight And Boot Size (for Boards, Boots & Bindings): 5'9", size 10
I can only giver them 2 stars due to the terrible liner that is killing my left ankle only. It appears I have the same problem as stated by someone else in the reviews. The fit is not great but was in the beginning. They packed out after 30 days and now I'm getting these weird pressure points. The inside of the liner is overly firm too, and not conforming like 32s or Solomon. Really disappointed in Burton for making such a garbage pair of boots.

---
2016 Imperial
Oct 31, 2016
by
Craig
Ability Level: Advanced •
Riding Style: All mountain freeride •
Days You Ride A Year: 20 •
Height, Weight And Boot Size (for Boards, Boots & Bindings): 192cm, 90kg, size US14
2016 Burton Imperial US14

I've upgraded to these boots from 2014 Ambush. They are a little stiffer than the Ambush but really comfortable. I had absolutely no problems with the break in with these boots and they felt great from day 1. A big plus is the traction on these boots on icy areas is unreal and far better than the Ambush. My son has full leather Ions and they feel a little better in design but they only go to US13 so these are the best Burton boots I can get in a 13+.
These boots work well, perform, look and feel great on the Mountain. A great freeride boot. Truly recommend The Burton Imperial.

---
No that comfortable
Mar 15, 2016
by
Sergiu
Ability Level: Intermediate •
Riding Style: All Mountain/Freestyle •
Days You Ride A Year: 30+ •
Height, Weight And Boot Size (for Boards, Boots & Bindings): 188cm, 74kg , size 10 boot
The lacing system is great, the boot construction is good.

The boots are killing my ankle side bones, after a half day of riding my side ankle bones are hurting so much, i tried pushing the liners in that pressure points but they come back after 2 runs. They killed my ankle to the point i was so pissed i wanted to throw them in the forest. The imprint 3 liner sucks for me... i wanted to buy the ride tridents but they didn't had my size. I am so disappointed that i purchased these boots. For their price i should have not had this problems. My previous boots were flow ansr and i had no problems with the ankle , also i wore a lot of rented boots never had this problem. I deeply regret my decision to purchase these boots... wasted money

---
Best Bang for Bucks
Dec 16, 2015
by
Dominique
Ability Level: Advanced •
Riding Style: All mountain freestyle •
Days You Ride A Year: 40 •
Height, Weight And Boot Size (for Boards, Boots & Bindings): 5' 10", 190 lb, size 10 boot
My first impressions of the 2016 Imperials. (6 days of riding)

As soon as I put them on, they felted super comfy. Nice padded liner. After the first day, I did feel a few pressure points. The only one that bothered me was behind my "ankle ball" on a nerve. I got them molded the next day and they feel great now. The stiffness is really nice. It shows me how beatten down my old Ions are. The toe box is significantly higher on the outside and I seem to have a bit more room inside. The big difference is the tow box looks really rigid. I hope this will translate into longer stiffness retention in the toe area.

As for warmth, well its been a shitty winter till now, nothing below -5 deg C, so cant test that just yet.

I do still get significant cramps under my feet all along the exterior (a line from my small toe to my heel). I do crank down very hard on my bindings. I will try out a pair of aftermarket sole.

All in all, I love these boots. I will post another review after 25+ days

---
Nice and comfy boots with great flex
Apr 30, 2015
by
Tim Scheffer
These boots are just amazing. They are super comfortable and are really true to size. I don't know what type or kind of foot I have but I didn't have any heel lift. I do not use an aftermarket insole since I think I don't need any (never had any trouble with shoes)

The lacing of the shoes is just easy, simple and really quick. I love the dual zone lacing that way I can just loosen the bottom part of my shoe if I get any cramping issues. I used to have traditional laces and that was just a pain in the ass to do every time. Now it's just quick and easy.

The boot itself has great flex for aggressive riding and gives you fast turn initiation. The inner boot is easy to get out for drying purposes which I really need because I get hot feet very easily. You can also get some fans or boot dryers. All and all a very nice and comfortable boot with great flex and suitable for aggressive riding but also can be used to play around on a board

---
2014 Burton Imperial
Mar 27, 2015
by
TR
Ability Level: Advanced (directional) rider •
Riding Style: Surf •
Days You Ride A Year: 20-25
Fit: Imperial fits "true to size." I have a narrow ankle and broad fore-foot. No issues with heel lift, "squished/over-lapping toes", or extra volume to compensate for. Note that I do use an aftermarket insole. Highly recommendable given the flimsy insole included with boot.

Lacing: Easy system to work with. Inner-boot locks ankle down. Dual zone lacing system nice for cranking upper-cuff while giving lower-cuff zone some room to "wiggle" if necessary. No issues.

Flex: Good response for aggressive riding. Medium stiff overall with a little forward flex play at ankle - which I like for micro set-up turns and getting the "toes in the wax".

Alert: Inner boot always a bit "wet" after riding. Could be my feet running hot. Requires a bit of diligence drying to avoid stank.

Solid boot for aggressive rider. Enough flex in ankle to accommodate play time. Get an insole. Dry your boots. Very recommendable.

---
2013 Burton Imperial Leather
Mar 05, 2015
by
DCG
Ability Level: Advanced •
Riding Style: All Mtn •
Days You Ride A Year: 5-10
Great boots. I purchased a 9.5 thinking they would loosen up. Turns out I definitely purchased them a half size too small. Right boot was made a little smaller than the left. As a result my toes were going numb. I'm going to move up from a 9.5 to a 10. Heed the review in regards to sizing. Love the leather. Since they don't have the leather model this year I may get the Ion leather. If these were a 10 there is no doubt I would keep them. On warmer days (27-29F) my heal and ankle were getting wet. Not sure what was going on. This would be my only complaint. I don't remember having this issue in colder weather.

---
Burton Imperial 2012
Feb 16, 2015
by
Wren
Ability Level: Intermediated/Advanced •
Riding Style: All Mountain •
Days You Ride A Year: 10
This boot was great to learn and progress on. Gives enough flex to work through issues but enough support to be confident pushing limits.

I was getting heel lift issues passing one season but after contacting Burton they sent me free J-bar inserts. These give the boots a massive jump in support and responsiveness. It feels like little baby bear paws are holding your feet secure as you ride. I personally think Burton should ship them default with the boots.

In minus 16 and below I found my feet were getting cold but it could be I am running my bindings/boots too tight.

My only gripe is that even though the lacing system is fast to get the right tension, the putting away of the laces involves having to slowly wrap them and to tuck them away cleanly which is just a hassle if you want to adjust them or loosen them quickly. I probably will be going with dual boa boots next.

---
If you can't buy through the links above, you can support the site with: