Burton Almighty 2017-2018 Snowboard Boot Review
Where To Buy
No obligation, but these links & ads support the site.
Burton Almighty 2018 - 2017 Review by The Good Ride
The Burton Almighty is new this year and combined most things I loved about the SLX and Fiend but did it all with a softer flex. It's like a freestyle oriented SLX. Our only issue is the lack of traction with the mostly EVA Foam bottom. At least it has rubber in the key traction points or it would have been a deal breaker. The 2017 and 2018 are very similar, so the 2017 review stands.
Ethics Statement: We don't get paid by the manufacturer to write these reviews.  No one is perfect and we do make money from the "Where To Buy" links below, but this is our best attempt at an honest and objective review from an average riders' perspective.
Riders: James, 
James' Foot Specs
Foot Size: Right 9 and Left 8.75
Foot Width: Right and Left between a D/E
Arch Length: Right 9.5 and Left 9
Calves (Widest Point): 17"
Calves (At top of boot): 12"
Flex:  The flex feels on the softer side of medium.
Flex Retention:  We would have liked to see a little stiffer flex but the good part about the Burton Almighty is it's not going to break down quickly so the flex out of the box will last for a good while thanks to the fully articulating cuff and a little extra reinforcement in the liner. We would have liked to see some elements from the infinite ride liner from past years to give it a little stiffer flex and more longevity but it's hard to argue against the comfort.
Comfort: The new life ride liner, that's in all high-end boots in the 2017 line, is just plain comfortable. You sacrifice longevity but get soo much more comfort out of the ride from day one. I don't feel a single hot spot.
Heel Hold:  Nothing exceptional but It feels on the better side of the heel hold spectrum.
Adjustability:  The Burton Almighty has the same easy adjustability that also has separation from upper and lower lacing where most double BOA's don't.
Response/Turn Initiation:  There is more response than you would think for the medium soft flex and it provides a pretty smooth ride. If you want a dialed down SLX then the Burton Almighty can work for you.
Traction:  One of the only real issues we have with this boot.  We love the shock absorption but would really like to see more rubber than just the small patches in the heel and toe.
Shock Absorption:  Very good shock absorption.  It's not the best in the business but it's on the upper end for sure.
Footprint: The Almighty's footprint is very reduced but this year Burton isn't the leader in footprint reduction mainly because of the 2017 Adidas line has further reduced the footprint from even Burton.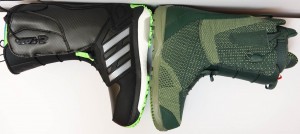 On & Off Ease: Speed lace is very easy on and off. It's right there or faster than BOA
Burton Almighty User Reviews
If you can't buy through the links above, you can support the site with: