Adidas ZX 500 2015-2017 Snowboard Boot Review
Where To Buy
No obligation, but these links & ads support the site.
Adidas ZX 500 2017 - 2015 Review by The Good Ride
The 2017 Adidas ZX 500 improved a lot from the past year models.  The deal breaker for me is the horrible traction of the single mold EVA sole.  If they put some rubber on the sole this would be a very recommendable boot.
Ethics Statement: We don't get paid by the manufacturer to write these reviews.  No one is perfect and we do make money from the "Where To Buy" links below, but this is our best attempt at an honest and objective review from an average riders' perspective.
Riders: James,
Size Tried: 9
Days: 2
James' Foot Specs
Foot Size: Right 9 and Left 8.75
Foot Width: Right and Left between a D/E
Arch Length: Right 9.5 and Left 9
Calves (Widest Point): 17"
Calves (At top of boot): 12"
Fit: In 2017 The Adidas ZX 500 has a fit very similar to a Burton boot when it comes to the overall foot bed's width and length.  A size 9 Adidas fit's my feet the same as a Size 9 Burton and I like that roomy toe box so my toes don't feel stuck together. It felt maybe a touch bigger but not too much
Flex:  There is a pretty medium-ish flex going on here and it's a good boot that works with a wide variety of boards.
Comfort:   Pretty comfortable but not that comfort at first try that some companies have.  I feel a little pressure on the top of the foot on a forward flex but not enough to be problematic.  I think after a few days it will conform to my feet.
Heel Hold:  Pretty good heel hold and it took me a good bit of effort to slide even up to a little.  The Adidas ZX 500 seems to have better hold than the Samba and Superstar mainly because it has the same or very similar material in the liner as the upper-end boots like the Boost and Blauvelt.
Adjustability:  Speed lace is great for separating between the upper and lower section of the boots.  It doesn't have extra upper options like traditional lace but it's a nice compromise between speed and adjustability. Most Double BOA boots overlap in the middle which helps the hold on the heel/ankle but doesn't really allow you upper and lower autonomy.
Flex Retention: Seems like it's not that bad for this price point and there is a little notch that's slightly similar to their flagship Energy Boost. It almost feels med/stiff when trying it on but it will break down to medium pretty quick.
Response:  It's pretty medium When it breaks in it will be pretty forgiving and good to ride for like 30 days or so. Then my guess is it will start breaking down a bit more and eventually turn into a sock-like all entry level boots do.
Traction:  Single mold EVA foam boot soles are soft and comfy but scary to walk on in icy conditions. If Adidas added rubber to the sole, even in strategic places it would make for a much more recommendable boot at this price point.
Shock Absorption:  Very good shock absorption but you expect that because there is only EVA foam underfoot with no rubber.  Still, I would easily give up some shock absorption for more traction.
Footprint: Man the footprint on the ZX 500 is really exceptional.  Burton used to have the market cornered when it comes to footprint but it looks like Adidas has it now.  Burton is pretty consistent from their high-end boot to low-end boot when it comes to footprint so even though this is a $200 vs. $450 boot comparison it would be the same if it was up against a boot like the Moto. So if you are someone on the border between regular and mid/wide or mid/wide and wide then this is a good boot to have if you want to fit into a more narrow waist and still not have heel/toe drag. As you size up from this size 9 vs. 9 comparisons in the pic you will notice that the Adidas boots aren't as small compared to Burton and other brands but it's still a little smaller and the heel/toe seem to be less likely to hit the snow based on the way they taper up from the sole.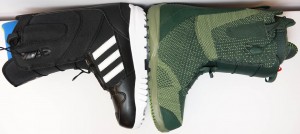 On & Off Ease: The speed lace is a lot like Burton's and very easy on and off.  It doesn't have that easy pull as it does with Burton Speed Lace but it's close and it works.
So all in all the Adidas ZX 500 has a lot of good things going for it and if it just had some rubber on the sole it would be a very recommendable entry level boot.
Adidas ZX 500 Past Reviews

The Adidas ZX 500 Snowboard Boot is a very light and affordable speed lace boot with a good fit and feel.  The only thing in question is it's flex retention and longevity.

This is the review of the 2015 ZX500 but it looks like the 2016 ZX 500 fixed some of the longevity issues I encountered. So the 16 might work.

This is the review of the 2015 ZX500 but it looks like the 16 ZX 500 fixed some of the longevity issues I encountered. So the 16 might work.

The first impression was these boots are really light. I weighed them and they came in at 1.8 lbs which is really light for it's price range. Most boots I've weighed are more like 2 lbs to 2.5 lbs.

Days: 1
Riders: James
Bindings:  Burton Cartel
Boards:  Jones Mountain Twin

Size: 9

Approximate Weight: 1.8lbs per boot and 3.6lbs for the pair.

Fit: This has that old familiar fit that most Burton boots have for my feet which is outstanding.  It fit's very true to size and my size 9 feet fit perfect in a size 9 boot. My toes barely touch and then pull back just a little bit when I lean forward which is perfect. It;s built really well around the ankle and back foot with just enough width n the front so it doesn't press your toes together. That same width allows the front part of your foot to expand wide with a forward lean which I feel gives me more balance/confidence.

Flex:  Nice medium flex

Flex Retention: With a forward flex the Adidas ZX 500 boot creates some folds a bit around the ankle and makes this interesting indention where the speed lace ends.  It sinks down on the roof of your foot (no discomfort though) and the toe box rises up. Here is a pic of what it looks like.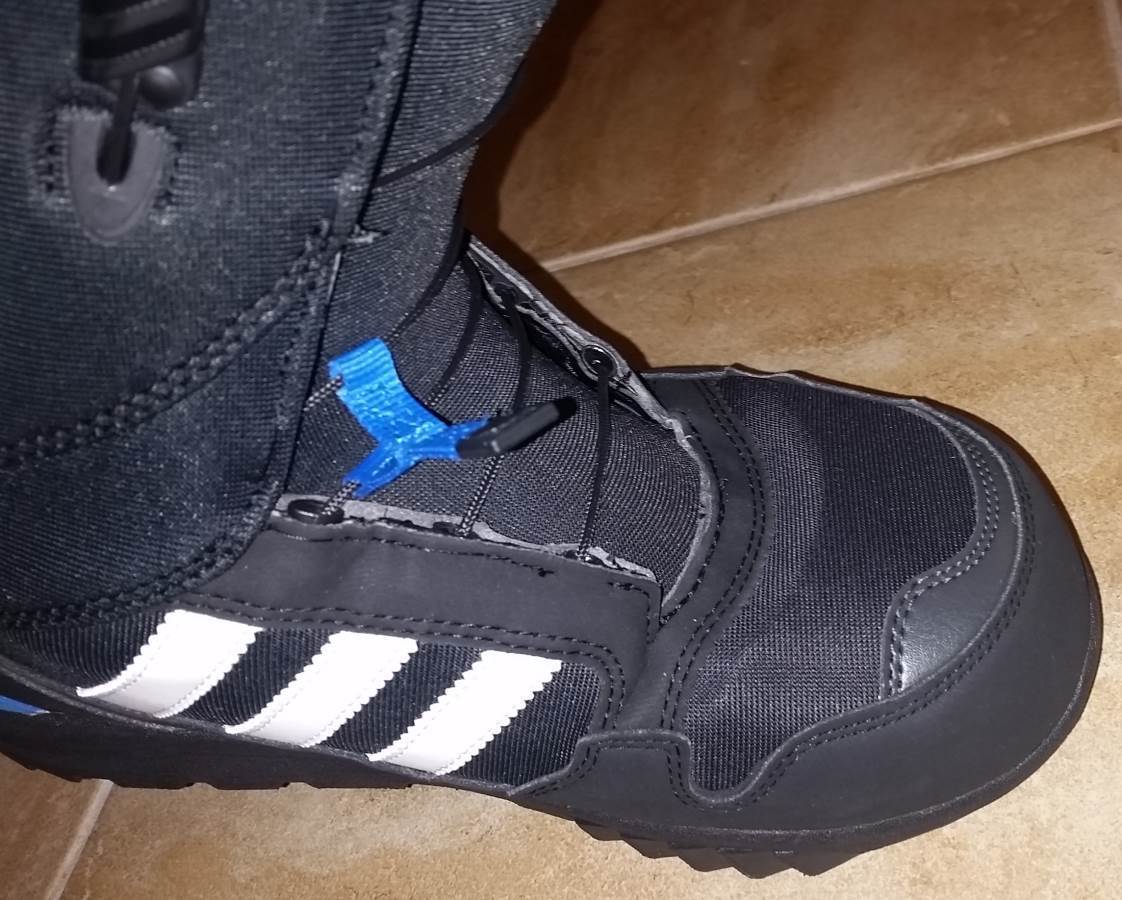 The part of the toe box that the toe strap goes over is relatively firm and hard to move but I'm concerned it might break down like the rest of the boot over time.  I'd love to see some extra flex retention tech built in like an Articulating Cuff or a bigger notch in the ankle as well as maybe a little something in the liner as well. I'd be happy to sacrafice some weight for extra durability/longevity.
Turn Initiation: Nice mid level forgiving turn initiation that can power most moderate turning boards edge to edge.
Comfort: Incredibly comfortable at first wear. This boot fits well around your foot and fits my feet just like a Burton boot.
Heel Hold: Great heel hold and when I wore it next to the Burton Ion it held my heel in better than it's much more expensive competitor.
Adjustability: This speed lace is just like Burton's speed lace and is great for separate upper and lower adjustability.
Shock Absorption: Pretty good shock absorption but it's not over the top.  It has a really good feel under foot that integrates well with bindings and boards.
Traction: There is a very disappointing single mold EVA foam sole that wears down quickly and doesn't have good traction in ice.
Footprint: What is interesting is the ZX 500 has a more reduced footprint than the Blauvelt which is much more expensive.  It's right there with the Burton Ion in size and maybe even a few millimeters smaller.  It's a little wider but not by much.  Well done!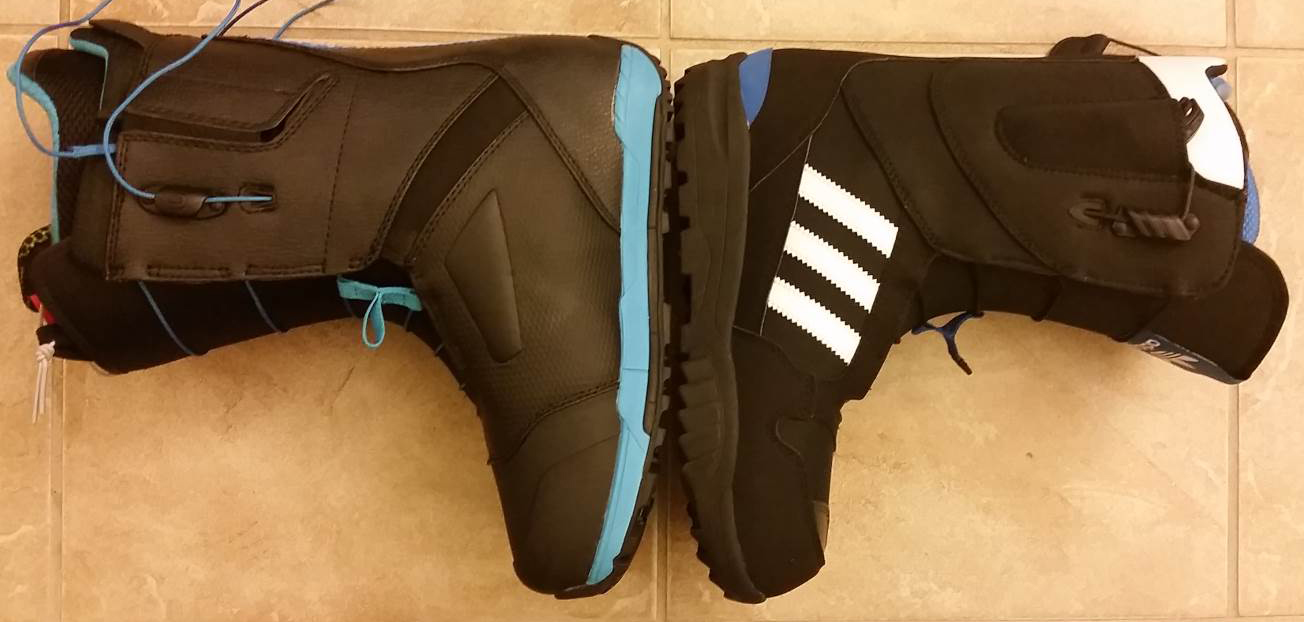 On & Off Ease: Very easy on and off and a little faster than most speed laces out there because it doesn't have any velcro on the liner.
So all in all the Adidas ZX 500 boot offers up comfort, a very light feel and a very reduced footprint which is huge.  The only drawback is the longevity of flex and the lack of traction with the single mold eva sole.  If you can live with those issues this is a really good boot.
Adidas Company Information
Adidas ZX 500 User Reviews
If you can't buy through the links above, you can support the site with: