Adidas Blauvelt 2015-2017 Snowboard Boot Review
Adidas Blauvelt 2017 - 2015 Review by The Good Ride
The 2017 Adidas Blauvelt Snowboard Boot has changed a lot since I first reviewed it.  It's a much better more reliable boot and the flex/construction issues seem to be minimized. There are still some issues and it's not perfect but better than it used to be for sure.
Ethics Statement: We don't get paid by the manufacturer to write these reviews.  No one is perfect and we do make money from the "Where To Buy" links below, but this is our best attempt at an honest and objective review from an average riders' perspective.
Riders: James, 
James' Foot Specs
Foot Size: Right 9 and Left 8.75
Foot Width: Right and Left between a D/E
Arch Length: Right 9.5 and Left 9
Calves (Widest Point): 17"
Calves (At top of boot): 12"
Fit: The Adidas Blauvelt has a very familiar fit to it and if you have tried Burton boots you will see the fit is the same.  It's got a good toe box that's wide with room for your feet to move and it's a touch wider than your regular fitting boot.  It's not wide but it feels a touch wider than regular.
Flex:  There is a very good mid-range flex to this that starts out on the med/stiff side and will probably settle in at a medium flex when broken in.
Comfort: The same pressure points I had on the roof of my foot weren't as prominent as with the Energy Boost and it feels a little more comfortable.
Heel Hold:  It was hard to get my heel to lift but I have slightly bigger ankles for my foot size.  Still, I like the design of the heel and it keeps your heel in place without you having to crank down around it.
Adjustability: The speed lace is just like Burton's so it has a complete separation between upper and lower. I like this soo much better than Focus BOA because I like keeping the bottom a little looser than the top.
Flex Retention:  The construction of the 2017 Adidas Blauvelt is much better and although it has zero articulation in the ankle to preserve it's flex it isn't showing the crinkles around the ankle like the 2015 and 2016 models.  It's still not the kind of boot you want to get if you want a similar flex for 50+ days but it will hold up much better than past years models.
Response:  
Traction:  It looks like single mold EVA but it isn't. It's got Continental rubber at the bottom and it grips well.
Shock Absorption:  If you want the best in shock absorption you need to go up to the Energy Boos or Tactical ADV as it's much better.  Even the Superstar feels a little more shock absorbent but it's still on the upper end of it all and it's a good fit for those that like a damp ride.
Footprint: The footprint with the Blauvelt isn't as reduced as the other Adidas boots but it's still a little less than Burton and Ride. As you can see my size 9 Burton is a little bigger than a size 9 Blauvelt and they fit about the same inside too.  One thing we are noticing is as you size up the boots are closer in footprint length but the Adidas is still a little smaller and has a lot less volume on the outside.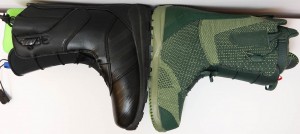 On & Off Ease: Speed lace is super easy to get on and off.
Adidas Blauvelt Past Reviews
2015-2016 Adidas Snowboard Boot Review
The Adidas Blauvelt Snowboard Boot has been pretty much shrouded in mystery.  No one has had access to them as Adidas hasn't really been into interacting with any media. These boots are from one of the Burton Boot designers and I've been dying to try them.  I've also had a ton of requests to review them so I sucked it up and bought them.
The 2016 Adidas Blauvelt boots have improved a lot over the 2015 models and the construction is better overall.  The boot doesn't wrinkle or indent as much after a day or two of riding like the 2015 did so it makes it a little more recommendable boot. The boot doesn't collapse where the laces meet the toe box either so that's better too. Still it's got a pretty big footprint and I still wouldn't recommend it for those that ride more than 40 days a year and want a boot to last a few seasons but it's getting closer. Here is a picture on a hard forward flex showing that the ankle still folds a bit but there is no indention where the lacing meets the rest of the boot like it did in 15.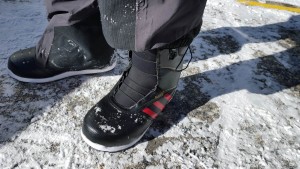 2015 Adidas Blauvelt Snowboard Boot Review
Days: 1
Size: 9
Riders: James
Bindings:  Burton Cartel
Boards:  Jones Mountain Twin
Weight– 2 Lbs even per boot.
My Initial impression about these boots is they feel light.  Most boots might vary slightly in weight but it never really prompts me to say hey these boots are really light like these did.  I decided to weigh them and the Burton Ion came in at 2.6 lbs vs 2 lbs at more than 1/2 Lb heavier so there is a little difference.
Fit: They fit true to size just like Burton boots except they seemed to have a better fit around the heel.  My size 9 feet fit absolutely perfect in the size 9 Blauvelt. They felt snug around the back with just enough room to not squish the toes together.
Flex:  Feels pretty stiff but it doesn't seem like it's going to last. Feels like it's going to start stiff and after about 20 days get pretty soft.
Flex Retention:  So the first observation when pulling them out of the box is the boot is really light.  It's feels lighter than every Burton boot I own and seems like it would be lighter than the Ambush. It's great to walk around in and it feels better attached to a board. Conversely it also feels like it's flex is not going to hold up compared to most boots out there.  You can see the boot wrinkle and break down around the ankle as well as in other places as you flex it for the first time when trying it on.  There isn't anything in the liner going on or in the shell to retain the flex.  The toes are pretty strong but I feel like they could break down as well over time.  As you can see from this image the way the boot wrinkles where the speed lace ends and folds at the ankle when flexed forward.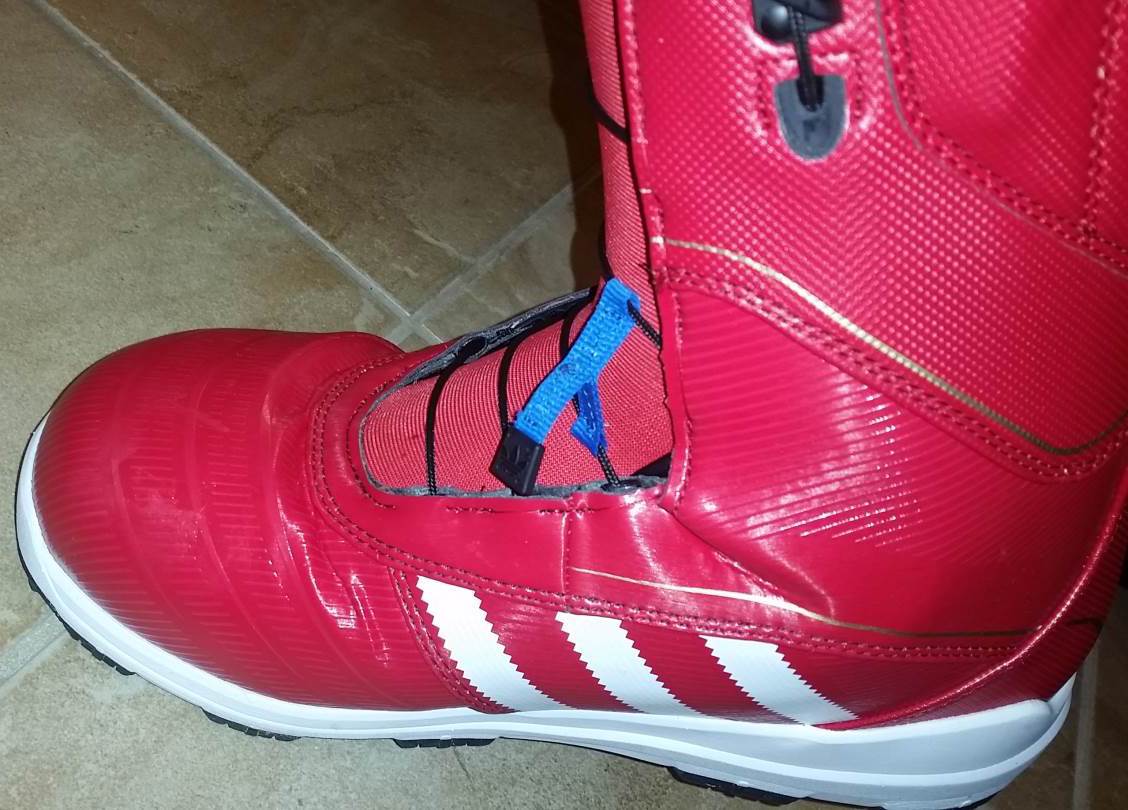 Turn Initiation:  Nice quick edge to edge transitioning and it makes a board turn well.  However as the flex leaves the boot I don't think the response will decrease as well. There is always a price to pay for going really light.
Comfort:   These boots are really comfortable and fit just like Burton boots fit my feet.  Almost instantly I felt like my foot was at home.  The liner is super comfortable for how thin it is and the boot feels like its been built around my foot.
Heel Hold:  Trying on the Burton Ion on my left foot and the Blauvelt on my right you could feel that the Blauvelt held the heel a little better and it's got a nice grip around the heel/ankle.
Adjustability:  Same great adjustability as Burton Speed lace.  I like the handles and the way they fit into the sides of the boot.  The separation between upper and lower is great without sacrificing heel hold.
Shock Absorption:  The sole is almost all EVA foam and there is a lot of it.  The good thing is they added some Continental tire tread below it but not that much to interfere with the feel under foot like some boots can do.
Traction:  The tire tread I mentioned in Shock Absorption is enough to help you walk but what makes it help the EVA foam do so well with shock absorption also doesn't make it exceptional for all conditions. So it's not exceptional but it's not bad at all either.  It's fine walking through an icy parking lot or hiking in soft snow.
Footprint:  So as usual I compare the footprint to Burton Boots (Burton Ion) which all have an excellent reduced footprint. As you can see the Blauvelt seems like it's 1/3 to 1/2 size larger but still has some reduction going on. It's also pretty wide compared to the other boots.  What was kind of surprising is when I compared the Blauvelt and the ZX 500 to the Burton Ion the ZX 500 was smaller in footprint and closer to the footprint of the Ion. I would of thought that this would of been the opposite.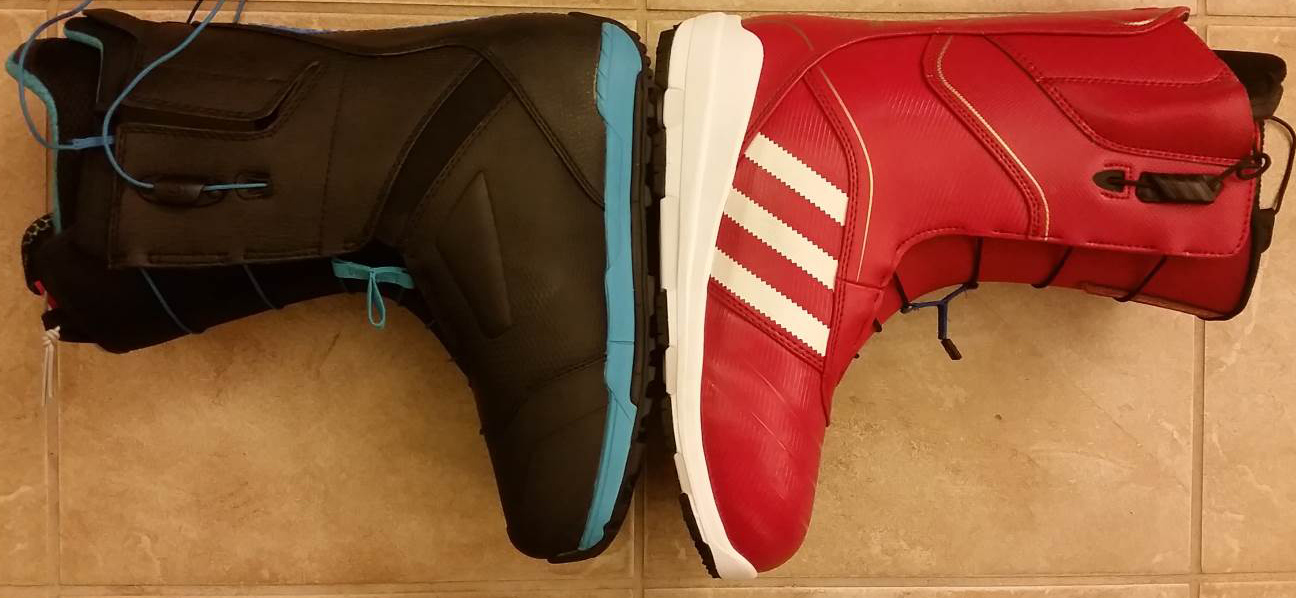 On & Off Ease: The Adidas Blauvelt has an easy on and off way about it that's a little faster than Burton boots because the liner has only one Velcro attachment instead of 2.   It seems like it will hold but there doesn't seem like a lot of Velcro
So all in all this is a really good fitting incredibly light boot but the only thing that worries me is the longevity based on how the boot held up for one day.  I think the Blauvelt is just a little flex retention tech away from becoming an amazing boot. I'd be fine with everything else and probably want to ride these all the time if they held up better.
Adidas Company Information
Adidas Blauvelt User Reviews
---
---
Adidas Blauvelt 2015-2017 Snowboard Boot Review
SKU
UPC
Model
Laces snapped
Feb 14, 2020
by
Ile Nenonen
Ability Level: Intermediate •
Riding Style: Freeride/freestyle/park •
Days You Ride A Year: 25 •
Height, Weight And Boot Size (for Boards, Boots & Bindings): 6.1, 170 lbs, 10,5 M-L
No real downsides before the lacing system snapped after probably 20 days of riding

---
Snapped lace
Feb 10, 2020
by
Barry D
Ability Level: Better than some •
Riding Style: Freeride •
Days You Ride A Year: 7 •
Height, Weight And Boot Size (for Boards, Boots & Bindings): 6'5", UK12
Laces snapped after four days of use, just like the previous reviewer.

---
Great..... for the first week.
Jun 18, 2019
by
Dan
Ability Level: Advanced •
Riding Style: Everything •
Days You Ride A Year: 100+ •
Height, Weight And Boot Size (for Boards, Boots & Bindings): 75kg, 185cm, 7.5UK
I bought the 2017 model. They were incredibly lightweight, comfortable and responsive. I have quite a low arch and a low volume foot and they were the best fitting boots I have ever tried. No heel lift and nice and stiff. I noticed how much higher I could pop the first day I rode with them.
This didn't last. The upper laces on the one boot broke after 7 days riding, and the other after 12 days. Around this time the flex deterioration became very noticeable. After 20-25 days riding the boots feel too spacious and soft, and they feel like they aren't flexing in the right shape any more. This is the first and last time I buy adidas snowboard boots cause of their appalling build quality.

---
If you can't buy through the links above, you can support the site with: