Union Juliet 2024 Binding Review
Where To Buy
80% of outdoor sports products are not listed or sold online.
Our team has relationships with hundreds of local snowboarding and outdoor sports shops.
We'll call the shops and email you a list of stores along with pricing and availability.
---
Not sure what to buy?
Get custom advice from Good Ride editors James and Steph.

Get Advice
Union Juliet 2024 - 2021 Review by The Good Ride
Union Juliet Women's Snowboard Bindings Video And Written Review
The Union Juliet women's snowboard bindings are a good affordable all mountain binding. They give you a nice medium response for all mountain riding, and a good dampness too. They are a little difficult to install because of the flip up foot-bed. But are a very adjustable binding that could fit a wide variety of snowboarding styles. If you are looking for an affordable all mountain binding, maybe the Union Juliet bindings could be a good choice.
Time Codes
00:00 – Intro 00:43 – Flex 01:00 – High-back 01:14 – Forward Lean 01:37 – High-back Rotation 01:51 – Adjustable Heel Cup 02:06 – Ankle Strap 02:42 – Buckles 03:07 – Ankle Strap Adjustment 03:38 – Toe Strap – 03:52 – Toe Strap Angle Adjustment 04:46 – Hinge System On Ankle Strap 05:12 – Footbed 05:35 – Set Up 06:01 – Full Size Disc 06:18 – Shock Absorption 06:43 – Boot And Binding Fit 07:09 – Sizing 07:33 – Overall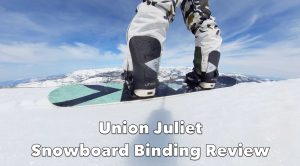 Ethics Statement: We don't get paid by the manufacturer to write these reviews.  No one is perfect and we do make money from the "Where To Buy" links below, but this is our best attempt at an honest and objective review from an average rider's perspective.
How This Review Happened: We borrowed this for an extended demo, and returned it to the company.
Days: 10 days
Size: Med
Riders: Steph

Boots:  Vans Luna (Women's 7.5)
Board: Yes Women's Basic, Arbor Veda
Set Up: 20" Centered 15 front -15 back
Sizes Available
The Juliet bindings come in S, M, L sizes.
The boot sizes they accommodate range from Women's size 4-11. A very wide range of sizes which is great.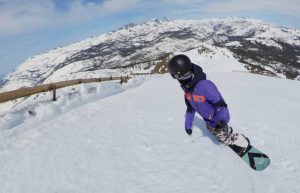 Flex
The 6/10 flex keeps the Juliet bindings feeling supportive and responsive but also nimble and even a bit playful. They are pretty easy to tweak and butter around on.  But when riding all mountain they do well for medium aggressive riding.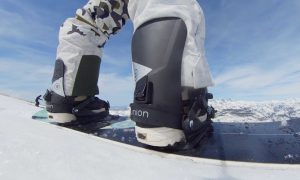 High-Back
The high-back on the Juliet comes with an asymmetrical shape, and is somewhat flexible from side to side. But it still offers good support when you leverage directly back on the high-back. This helps make freestyle moves easy and also helps with responsiveness on the heel-side at the same time. There's a bit of foam lining the top of the inside of the high-back for added shock absorption and comfort as well.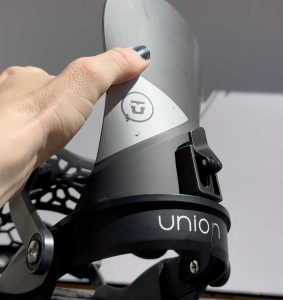 The forward lean adjustment is tool-less and easy to use, although there are better systems out there I think. But it offers a wide range of forward lean adjustment options and can be adjusted on the fly.
Ankle Strap
These bindings come with the Exo-Frame strap from Union. This strap is low profile and has a medium amount of boot support. It also has an asymmetrical shape and a tool-less strap adjustment. I really like how this strap fits around my boot, and the asymmetrical shape helps to offer support where you need it without too much bulk or weight. A comfortable strap with Union's aluminum buckles that are fluid and easy to use as well.
The ankle strap also comes with Union's hinge system. This is a flexible hinge at the base of the strap that lets the ankle strap flop out of the way while the binding is not in use. This system works great, unless the strap angle is too high, then the strap will just flop right to the center of your board and get in the way of skating.

Toe Strap
The Hexgrip ankle strap is a softer grippy type rubber that molds to the toe box of the boot really well. It stays in place and is very comfortable when in use. The toe strap adjustment is not tool-less. You need a screwdriver to remove it and adjust it, and watch out for the little washer as well, it is easy to lose.

Disc
The Union Juliet bindings come with a full size disc that is channel compatible as well. The full size disc minimizes board flex under your feet, but helps offer a more stable ride when all mountain riding.

Footbed
The canted footbed has a layer of foam on the top to help with shock absorption. It also has a bit of a toe ramp on it, and added foam under the heel as well. It is a pretty roomy footbed and I didn't get any pressure points on my boots when I was riding either. The only thing I don't like about the footbed, is how it flips up when installing the binding. It doesn't stay out of the way at all and is somewhat annoying. I think it would be a lot simpler if it was just fully removable. (maybe it is, but I tried removing it and couldn't release it from the binding.)
There is also an extra layer of foam covering 1/2 of the bottom of the base of the binding to help absorb vibrations from the board.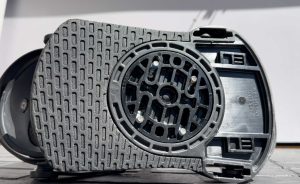 Adjustability
I love the amount of customization you can do with the Juliet bindings. The high-back is rotatable, the heel-cup adjustable, and the toe strap angle is adjustable too.

Overall
The Union Juliet bindings would make a great all mountain option for a beginner to intermediate or advanced rider. They are super comfortable, have a medium amount of shock absorption, a medium flex, and are pretty affordable as well.
If this review helped, we'd appreciate if you:
Want to snowboard with Stephanie?
Sign up for one of her camps or ride days!
Check out her company here: Altitude Attitude
Instagram: @altitude_snow
Union Juliet Past Reviews

The Union Juliet women's snowboard bindings are a good affordable all mountain binding. They give you a nice medium response for all mountain riding, and a good dampness too. They are a little difficult to install because of the flip up foot-bed. But are a very adjustable binding that could fit a wide variety of snowboarding styles. The Juliet bindings come with canted foot-beds, a Duraflex high-back, and a nice responsive ExoFrame Ankle Strap. If you are looking for an affordable all mountain binding, maybe the Union Juliet bindings could be a good choice.

Ethics Statement: We don't get paid by the manufacturer to write these reviews.  No one is perfect and we do make money from the "Where To Buy" links below, but this is our best attempt at an honest and objective review from an average rider's perspective.

How This Review Happened: We borrowed this for an extended demo, and returned it to the company.

Days:  3 days

Size: Med

Riders: Steph


Boots:  Vans Ferra

Board: Never Summer Proto Synthesis

Set Up: 20" Centered 15 front -15 back
Union Juliet User Reviews
If you can't buy through the links above, you can support the site with: