Nidecker Womens Supermatic 2023-2024 Review
Where To Buy
80% of outdoor sports products are not listed or sold online.
Our team has relationships with hundreds of local snowboarding and outdoor sports shops.
We'll call the shops and email you a list of stores along with pricing and availability.
---
Not sure what to buy?
Get custom advice from Good Ride editors James and Steph.

Get Advice
Nidecker Womens Supermatic 2024 - 2023 Review by The Good Ride
Nidecker Supermatic Women's Snowboard Bindings Video And Written Review
This is a look at the Nidecker Supermatic bindings from a women's perspective. They run a little big, so they are good for people with average to larger women's boot sizes, but not great if you have a smaller boot size like under a women's size 6.5/7.
The Supermatic bindings are a unique take on a quick release binding system that have decent response and are compatible with any type of boot.
Ethics Statement: We don't get paid by the manufacturer to write these reviews.  We do make money from the "Where To Buy" links, but this is our best attempt at an honest and objective review from an average rider's perspective.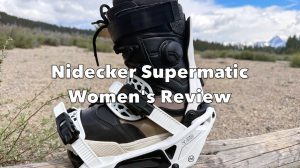 Time Codes
00:00 – Intro 00:30 – Sizes 00:56 – Flex 01:25 – Highback 01:40 – Highback Adjustment 02:06 – Canted Footbed 02:11 – Straps 02:50 – Strap Adjustments 03:14 – Locking Ratchets 04:14 – Drop In System 04:38 – Active Strap & Reclining Highback 05:02 – Heelcup Roller 05:08 – Heel Pedal 05:44 – Boot & Binding Fit 06:16 – Full Size Disc 06:31 – Footbed 07:05 – Binding Personality
Riders: Steph
Boots: Vans Luna
Snowboard: Yes Women's Basic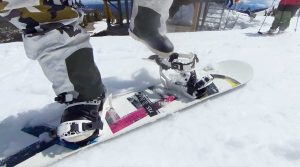 Sizes: M, L, XL
Since these are unisex bindings, they run a bit larger. So they aren't ideal if you have smaller feet. But if you have a size 6.5 and above, the sizes have you covered. Would be nice to see them offered in a small to add a few more sizing options.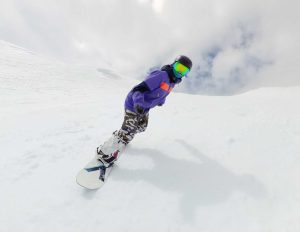 Turn Initiation/Response
The Supermatic bindings have a decent amount of response, I found them pretty quick to turn. More responsive when turning towards the heel side. I had a little play in my heel when I turned to toe side though. I'm wondering if it happened because women's boots are slightly more narrow than men's boots so the heel-cup might fit a bit different. Or that's just how they ride. But it wasn't too much play in the heel to effect riding that much.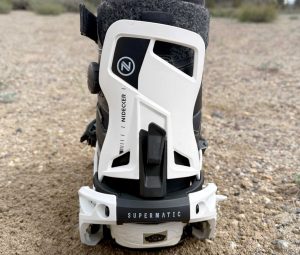 Highback
The highback is quite stiff if you leverage it straight back. But it has a little flexibility when moving side to side and twisting the high back. There's an easy tool-less forward lean adjustment. And comes with an asymmetrical shape as well.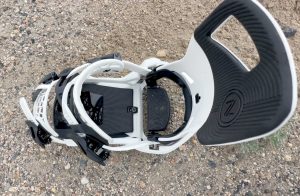 Shock Absorption
These bindings don't have too many features that help with shock absorption. Most of the foam is in the footbed part. There's a wider section of foam on the toe ramp, a thin layer under the foot, and a little layer under the heel as well. That's about it besides the little bit of foam on the back of the highback.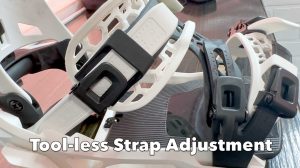 Straps
The Hybrid Exoframe straps do a good job of offering boot support. They seem to fit better than the Flow straps I've tried in the past. Less pressure points and more seamless fit around the boot. I like the tool-less adjustment option that it has. They also have numbers along the straps so you can dial in the boot fit on both bindings equally.
Ratchets
The locking ratchets aren't super smooth but they are meant to be set up once and forgotten.They have levers that you push down to lock in place and lift up if you need to get the bidding strap loose. I like the option of having both the quick release bindings and also the traditional dual strap system.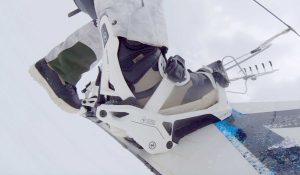 Adjustability
There is little to no boot to binding adjustability. That is just a problem with most quick release/step in bindings. There is some stance width adjustability if you are in the middle of the suggested sizing. If not you will have to turn the discs heel to toe on the board so you can center the bindings/boots to get an even turning experience.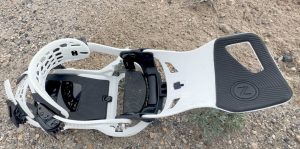 Drop In System
The quick release system is definitely different from other systems I've tried in the past. It is kind of neat how it works. The entire high-back folds down and moves the ankle strap out of the way as well. I found the Supermatic system to work more seamlessly than the Flow system. The heel-cup roller helps a lot with this to help prevent friction when you are stepping in.
The down side to this, is there is more moving parts and also more hardware in the bindings so they are not super light.
They still take a bit to learn how they work. Mostly the downward pressure needs to be quite a lot for someone light like me to engage all 3 clicks on the ratchet system. But once it is figured out it works well.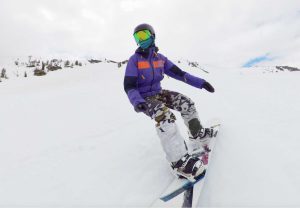 Overall
If you are looking for a quick release binding that works with any boot and is simple to use, the Nidecker Supermatic might work for you.
The adjustability isn't too great, and they are pretty heavy, but they get the job done, and they are honestly more comfortable for me than Flow or Step On binding systems.
They are a little weird to put on when standing on a slope, so not ideal for the beginner who is still working on their balance. But other than that they work well as a quick release, all mountain binding.
If this review helped, we'd appreciate if you:
Want to snowboard with Steph?
Sign up for one of her camps or ride days!
Check out her company below
Instagram: @altitude_snow
Nidecker Womens Supermatic Images
Nidecker Womens Supermatic User Reviews
If you can't buy through the links above, you can support the site with: