Nidecker Kaon W Binding Review
Where To Buy
80% of outdoor sports products are not listed or sold online.
Our team has relationships with hundreds of local snowboarding and outdoor sports shops.
We'll call the shops and email you a list of stores along with pricing and availability.
---
Not sure what to buy?
Get custom advice from Good Ride editors James and Steph.

Get Advice
Nidecker Kaon W 2023 - 2022 Review by The Good Ride
The Nidecker Kaon W bindings are an all mountain/freeride binding that is lightweight and has a responsive flex without being too stiff.
Ethics Statement: We don't get paid by the manufacturer to write these reviews.  We do make money from the "Where To Buy" links, but this is our best attempt at an honest and objective review from an average rider's perspective.
Timecodes
00:00 – Intro 00:24 – Flex 00:44 – Highback 01:07 – Highback Adjustment 01:52 – Heelcup 02:00 – Ankle Strap 02:27 – Ratchet 02:51 – Toe Strap 03:24 – Footbed 03:53 – Disc 04:08 – Overall Impression 04:34 – Shock Absorption 04:45 – Sizing 06:26 – Binding Fit 06:44 – Heelcup Fit
How This Review Happened: We borrowed these for an extended demo and returned them.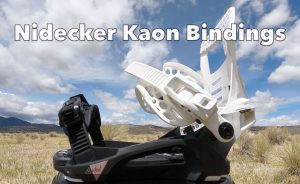 Days: 8
Size: Med
Riders: Steph

Boots:  Vans Ferra
Board: Nidecker Ora, Nidecker Venus

Set Up: 20.5" Centered 15 front -15 back
Sizes: S, M, L (Women's 4 – 13 boot sizes)
Snow Conditions: Spring conditions, ice, slush and chunky snow
Flex
Nidecker rates the Kaon as having an 8/10 responsive flex, and 7/10 for the lateral and heel to toe stiffness.
I felt they were more like a medium flex, maybe a 5/10. The highback is pretty flexible. But I do feel like the baseplate and ankle strap adds responsiveness and stiffness to the overall binding.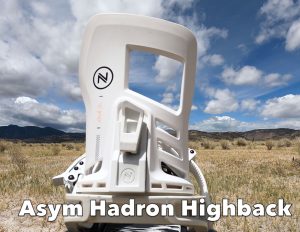 Highback
The Kaon comes with Nidecker's Asymmetrical Hadron highbacks. They have a wider top to the highback that has small wings on the outside of the highback as well adding a wider platform for leverage, butters, and turning.
The forward lean adjustment is tools and simple to use, and they come with a few degrees of forward lean already. You can't fully zero them out. This helps add to the response of the binding in turns. And they also fit well with Nidecker boots that have more forward ankle angle as well.
They also come with 3 different adjustments for rotating the highback depending on the angles you ride with.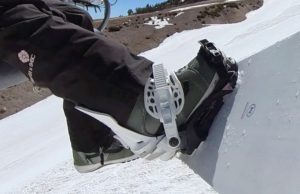 Heelcup
The heelcups on the Kaon bindings are quite large, and for this reason I think my 7.5 women's boot would fit better in the small. Because they are not adjustable, I wasn't able to accurately center my boot across the width of the board. And adjustable heelcup would really help in being able to customize the binding to specific boot sizes.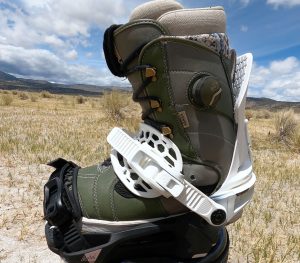 Ankle Strap
They come with Exoframe ankle straps that fit really nicely around my boot and had nice response and flex. They felt like they had a medium-stiff flex/response to them. But still left room for movements and playful riding.
The ankle straps and toe straps are both very easily adjustable using tool-less levers on the side of the straps. They even come with number measurements so you can get them exactly the same on each binding.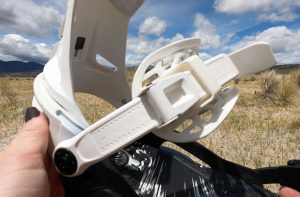 Toe Strap
They have Hexo Toe straps that conformed nicely to the toe box of my boot. They are made out of a flexible material that fits really nicely and stays in place while riding.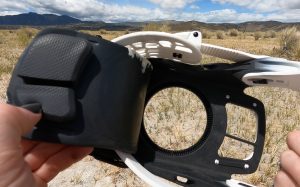 Footbed
There is a 2.5 degree canted footbed that comes with cushy foam padding under the heel and the ball of the foot. I found them comfortable while riding, and found the bindings to have a medium amount of shock absorption.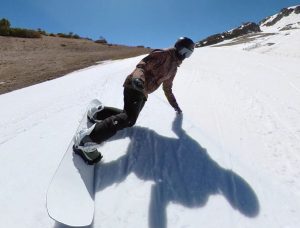 Overall
The Nidecker Kaon W bindings come with some good features, they are lightweight and comfortable. The sizing I felt was a bit on the larger size, so if you can find some to test out first before buying that would probably be best. They would be good for an intermediate to advanced rider looking for a comfy, all mountain binding.
Nidecker Kaon W User Reviews
If you can't buy through the links above, you can support the site with: