Flux XF 2017-2021 Snowboard Binding Review
Where To Buy
No obligation, but these links & ads support the site.
Flux XF 2021 - 2017 Review by The Good Ride
Turn Ons/Swipe Right: Amazing Suportive Straps, Ratchets, & Exceptional Response
Turn Offs/Swipe Left: Pretty much no shock absorption.
Summary
The Flux XF has no shock absorption, which is hard to get past, but is an incredibly responsive, supportive binding with amazing straps.
Ethics Statement: We don't get paid by the manufacturer to write these reviews.  We do make money from the "Where To Buy" links, but this is our best attempt at an honest and objective review from an average riders' perspective.
Flux XF Snowboard Binding Review- How it rides and who it is for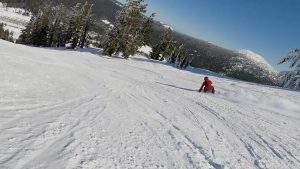 How This Review Happened:  We borrowed this for an extended demo and then returned it.
Days: 1
Riders:  James (Size 9, 5'10" 185-190lbs), Peter (Size 8, 5'11" 185lbs)
Boots: Adidas Tactical Lexicon, Adidas Acerra 3ST,
Insoles: Footprint Insole Technology Gamechangers,
Boards: Endeavor Pioneer
Similar (but not the same) Bindings: Union Atlas, Union Falcor, Union Force, Salomon Quantum, Salomon Highlander, Nitro Phantom Carver, Burton Cartel X, Jones Apollo
Approximate Weight
2.0 lbs with Screws and disc.- These are very light and you feel it.
Highback Flex
The Flux XF doesn't have much twist to it and has even less give when pulling back. It is very stiff but still has a snappy responsive feel to it.
Binding to Boot Adjustability
Adjustability is good but not great with the Flux XF. It isn't doable to center the boot in the binding for most sizes. However, you can adjust the heel plate and gas pedal to match up to the size of your boot.
Stance Width Adjustability
Most won't be able to get their boot centered in the binding. If you can there is limited stance width adjustability and you can only move it up and down a few millimeters.
Boot Support
The Flux XF has unreal boot support. The ankle straps are big and supportive. They were super comfortable too. They are also mounted inside the heel loop so they wrap better around your boot than other brands. The toe straps are some of the best in the business. We love them. They never come off and conformed perfectly to our toes.
Ratchet System
Really exceptional ratchets. You can crank down to the point of pain and it does so in a smooth way.
Flex Under Foot/Buttering
The Flux XF is made for response and to try to stiffen up the board underfoot so Buttering isn't made easier with this design. That being said it wasn't super hard either.
Turn Initiation/Response
The Flux XF is super responsive. It made the Union Atlas, which is pretty responsive, feel slow in comparison. Its one of the fastest bindings edge to edge we have ever tried.
Shock Absorption/Dampness
I think there is enough response to let go of some of it in exchange for some shock absorption. I really mean some because is literally none right now. You feel everything underfoot and it makes old or not 100% functional joints feel way worse. At the end of the day both Peter and I felt like we wanted to end the day way earlier than we normally would. Conditions were still good but it didn't feel that way with the Flux XF. This was a deal breaker for us and we even had some of the best shock absorbent boots and insoles in the industry on. It's a shame because they do soo many amazing things with the design of this binding.
Conclusion
No shock absorption was a deal breaker for us. We couldn't make it through a 100 Day season with the Flux XF. That being said, if you want all the response you can get out of a binding, this is it.
Flux XF Past Reviews

The Flux XF Snowboard Binding is great in terms of fit, support, and response but it comes with almost no shock absorption.  For us, no shock absorption is the deal breaker because it's hard on joints from young to old but if you are ok with that then the rest of the binding is really well done.

Ethics Statement: We don't get paid by the manufacturer to write these reviews.  No one is perfect and we do make money from the "Where To Buy" links below, but this is our best attempt at an honest and objective review from an average riders' perspective.
Flux XF User Reviews
---
---
Flux XF 2017-2021 Snowboard Binding Review
SKU
UPC
Model
Standout Bindings
Aug 15, 2017
by
PJ
Ability Level: Really high on myself. •
Riding Style: All-mountain •
Days You Ride A Year: 50 •
Height, Weight And Boot Size (for Boards, Boots & Bindings): 6'1, 170, size 12 boots
I had some Rome 390 bindings; they were bulletproof, but I was frustrated by how heavy and hard to adjust they are. Went to Union Contact Pros for lightness, but they felt super cheap and flimsy, and I gave up on Union. Since then, I have been a Burton binding guy, using the Cartel and Genesis models. Near the end of last season, picked up a set of Flux XF on sale, because I'd heard good things from some really good riders. I thought of Flux as some small player, and I'd never even considered Flux before.

I'm so glad I made the leap. The Flux are much more solid and responsive than either of my Burton bindings. The toe strap is a superior design that really holds the boot better, and the ratchets are bulletproof and allow you to really crank down—both of which made my old boots feel new. Even the ankle strap performs better due to the stronger ratchet, although the shape and material appear very similar to Burton's rubber webbing. It was really a night and day difference, in the best way. My board simply felt and worked better.

The Good Ride's review is spot-on about the XF not being super cushiony, but my boots are good so that's never been an issue. (Also, I live in BC where we're pretty blessed with soft snow; might be different if you deal with harder stuff.)

I've tried a lot of brands, and these are the best bindings I've used so far. If you want to be locked in and like a responsive ride, demo or just go buy the XF. Give Flux a try either way—I am very pleasantly surprised by their design and quality.

---
If you can't buy through the links above, you can support the site with: