Yakima Skybox 16 Review And Buying Advice
Yakima Skybox 16 2014 Review by The Good Ride
They Yakima Skybox 16s is a pretty big box but it can also fit on a smaller car like my Subaru Crosstrek. It pretty much changed the way I look at road trips and I've been able to fit 6 snowboards with bindings on without a problem.  Now I can carry more boards than people can fit in my car. I also had room for boots and other small things.
Miles: 6765
Conditions: All in winter. Clear skies to 70+ mph winds and a few white knuckle/white out mid-winter storms.
Ethics Statement: We don't get paid by the manufacturer to write these reviews.  No one is perfect and we do make money from the "Where To Buy" links below, but this is our best attempt at an honest and objective review from an average riders' perspective.
I don't have extensive experience with cargo boxes and as you can see this is the only review like it on the site so far but before I decided on this box I did some pretty extensive research and also went to a lot of stores to check out different boxes before going with this one.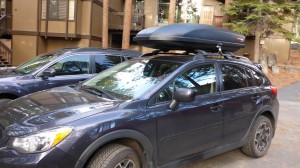 Things I liked about it.
– Less flimsy than most boxes out there and especially so when opened.
– 2 locks and it opens from either side.
– Mounts easily with my factory crossbars.
– Holds a shit ton of boards and snowboard gear. My record is 6 boards with bindings mounted in the car.  You can also fit boots and other smaller things in between the boards.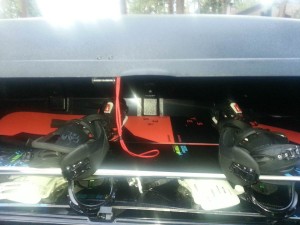 More review to come…..
Yakima Skybox 16 User Reviews
---
---
Yakima Skybox 16 Review And Buying Advice
SKU
UPC
Model
Skybox 16
Nov 30, 2017
by
Jason
Ability Level: Advanced •
Riding Style: Looking for powder •
Days You Ride A Year: 30 +
I love our skybox 16 on our suv it goes on in November and comes off in April. It fits my santa fe's factory bar's. It holds 6 boards with bindings plus a set of skis. I have had a 170 cm board in there as well. It let's me take 5 people plus gear on road trips. The longest is about 7 hours. I do loose 1-2 mpg.

---
Where To Buy
80% of outdoor sports products are not listed or sold online.
Our team has relationships with hundreds of local snowboarding and outdoor sports shops.
We'll call the shops and email you a list of stores along with pricing and availability.
---
Not sure what to buy?
Get custom advice from Good Ride editors James and Steph.

Get Advice
If you can't buy through the links above, you can support the site with: