Uberleben Tindar Wick Review By Steph
Uberleben Tindar Wick 2024 - 2023 Review by The Good Ride
Uberleben Tindar Wick Video and Written Review
This is a look at the Tindar Wick from Uberleben. A slow burning wick that makes lighting fires very easy.
Ethics Statement: We don't get paid by the manufacturer to write these reviews.  We do make money from the "Where To Buy" links, but this is our best attempt at an honest and objective review from an average hiker's perspective.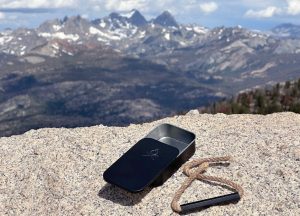 How This Review Happened:  We were sent this Tindar Wick from Uberleben to test out and review.
Testers: Steph
Days: 10+
Testing Environments: I tested this Tindar Wick while car camping, van life-ing, and backpacking. Also just randomly on day hikes throughout August. We had unusually humid weather for the Eastern Sierra this summer, so sometimes I was dealing with slightly damp kindling and wetter environments than normal.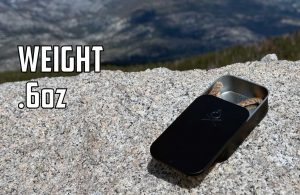 Weight
The Tindar Wick weighs under 1 oz. (Not including the box it comes with)
The box adds very little weight, but it is nice to keep the wick clean and dry while in the pack.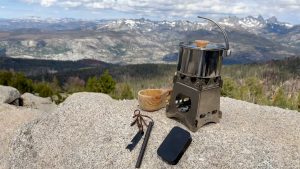 Gear Tested With
Uberleben Stoker Flat Pack Stove
Anodized Aluminum Sleeve
The Tindar Wick comes with an anodized aluminum sleeve that can double as a bellow for the fire and stays cool to the touch when the wick is burning. I mostly found it helpful to add structure to the wick when lighting the fire. It makes it so you can hold the wick at a bit of a distance and not burn the fingers while trying to light the kindling. The bellow is also helpful if needed to add extra oxygen to the fire, but the Stoker Stove burns so efficiently, that I didn't really need to use it.
Lighting The Tindar Wick
I mostly used Uberleben's Hexa Fire Starter to light the wick. It took about 3-4 strikes before the wick caught enough to create a flame. But it kind of depends on how much the end of the hemp rope is flared out. The more fibers you have at the end the easier it is to light. You could also use this wick with a normal lighter or match and it will work the same but a bit quicker for it to light if you are using an actual flame. It lit a lot faster than I was expecting it to.

Using The Tindar Wick
I mostly used this wick to light a fire in Uberleben's Stoker Stove. But it could be used in many different ways as well. I really enjoyed using this wick to light up the fire. I found it very easy to use. It burned way slower than I was expecting. And is supposed to last up to 1hr (which is comparable to a normal size lighter). But I felt the Tindar Wick stayed lit in a breeze longer than a lighter would.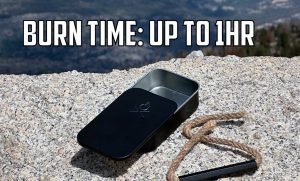 Conclusion
The Uberleben Tindar Wick delivered a consistant flame for lighting my stove and anything else I wanted to light on fire. I like that my hand doesn't have to be inside the fire while getting the kindling to burn. It is very light and takes up almost no space. And even if you use a lighter normally it is a great thing to bring along as backup if needed.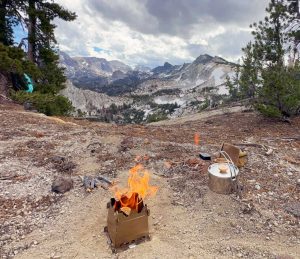 If this review helped, we'd appreciate if you:
Uberleben Tindar Wick Images
Uberleben Tindar Wick User Reviews
Where To Buy
80% of outdoor sports products are not listed or sold online.
Our team has relationships with hundreds of local snowboarding and outdoor sports shops.
We'll call the shops and email you a list of stores along with pricing and availability.
---
Not sure what to buy?
Get custom advice from Good Ride editors James and Steph.

Get Advice
If you can't buy through the links above, you can support the site with: