Uberleben Stoker Stove Review By Steph
Uberleben Stoker Stove 2024 - 2023 Review by The Good Ride
Uberleben Stoker Stove Video and Written Review
This review takes a look at the Stoker Stove from Uberleben. This lightweight stove comes in stainless steel or titanium. And packs down into a very small flat canvas bag. We tested the stainless steel version.
Ethics Statement: We don't get paid by the manufacturer to write these reviews.  We do make money from the "Where To Buy" links, but this is our best attempt at an honest and objective review from an average hiker's perspective.
How This Review Happened:  We were sent this Stoker Stove from Uberleben to test out and review.
Testers: Steph
Days: 10+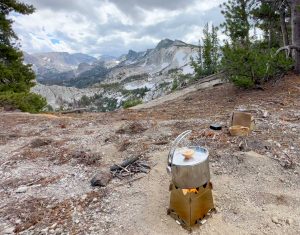 Testing Environments: I tested this Uberleben Stoker Stove while car camping, van life-ing, and backpacking. Also just randomly on day hikes throughout August. We had unusually humid weather for the Eastern Sierra this summer, so sometimes I was dealing with slightly damp kindling and wetter environments than normal.
Weight (Including The Canvas Pouch)
Stainless Steel – 15 oz
Titanium – 9 oz
Assembled Size
Height – 6.5", Width – 5.5"( at base) and 4.5" (at top)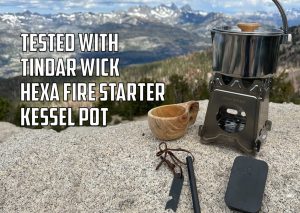 Gear Tested With
Assembly & Tear Down
Putting the Stoker Stove together is quite simple and self explanatory. The first time I assembled it I got a bit confused on the 4th panel. But you just have to twist the stove a bit to get the 4th piece locked in. I was worried about bending the little notches at the top of the panels, but it's built very sturdy and nothing happens if you twist it a bit to get the stove locked in.
Tear down is just a easy, you just have to wait till the stove cools off to take it apart. But once the fire burns out it doesn't take long for it to cool off. However, you have to be wiling to get your hands dirty a bit while taking the stove apart and putting it together. That's kind of 1/2 the fun though.
Stability
The shape of the Stoker Stove creates a nice stable platform for cooking on. It can support a good size pan, even bigger than what I was using. Very stable for a smaller camping stove as long as it is sitting on a level platform.
The cross beams at the top also help a lot with keeping the stove together and adding a nice platform for a pot or pan on top.
Burn Efficiency
The Stoker Stove takes very little kindling or pieces of wood to get a fire going. The whole bottom panel of the stove is ventilated, and the fire sits a bit off the ground as well. So once the kindling catches, it keeps burning pretty easily. It didn't take too much fuel for me to boil water and cook some breakfast. The only thing is it burns quickly. So you do have to keep an eye on it while cooking to make sure the fuel stays stocked in the stove. It burns really clean, and I had very few coals to clean up after using the stove as well.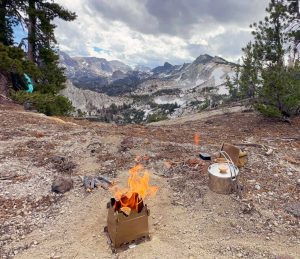 If the fire starts getting too big, it will start flaring out the sides of the stove though, so it has to be kept somewhat under control because it is so easy to get the flame going with how efficiently the Stoker Stove burns. Because of this, it may not be approved for areas that have fire restrictions. (I'm hyper aware of this because CA has a lot of open flame restrictions most of the time)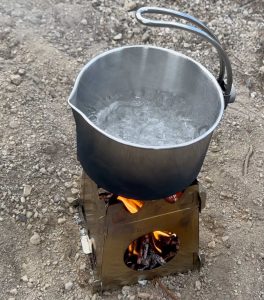 Water Boil Time
The Stoker Stove boiled water faster than I was expecting. It took about 4 min 40 sec to boil 1/2 liter of water in Uberleben's Kessel Pot. That's minus the time it took to light and stoke the fire up a bit. But the whole process was pretty quick honestly. And it provides that bit of nostalgia of building a fire that comes with camping.
Cooking On The Stove
Cooking was quite easy with the Stoker Stove. However, I found it to burn a little hot. So great for boiling water, making soup, or anything that requires a higher temp while cooking. Because of the efficiency of the stove's ventilation it keeps the fire burning hot. So no coal cooking on the Stoker. Mostly higher temps unless you find some slower burning hardwood pieces to fit into the opening of the stove.
Conclusion
The Uberleben Stoker Stove is a great way to cook over a fire while out on the trail or camping. As long as you don't mind slowing down a bit and kind of enjoying the process. It provides a very efficient fire that burns hot and clean. And it packs down into a very small canvas pouch.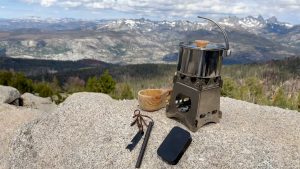 If this review helped, we'd appreciate if you:
Uberleben Stoker Stove Images
Uberleben Stoker Stove User Reviews
Where To Buy
80% of outdoor sports products are not listed or sold online.
Our team has relationships with hundreds of local snowboarding and outdoor sports shops.
We'll call the shops and email you a list of stores along with pricing and availability.
---
Not sure what to buy?
Get custom advice from Good Ride editors James and Steph.

Get Advice
If you can't buy through the links above, you can support the site with: