Uberleben Kessel Pot Review By Steph
Uberleben Kessel Pot 2024 - 2023 Review by The Good Ride
Uberleben Kessel Pot Video and Written Review
This is a review on the Uberleben Kessel Pot in HD 304 grade stainless steel. The pot has a 1.1 Liter capacity and weighs 11 oz. It also comes in a lighter weight titanium version.
Ethics Statement: We don't get paid by the manufacturer to write these reviews.  We do make money from the "Where To Buy" links, but this is our best attempt at an honest and objective review from an average hiker's perspective.
How This Review Happened:  We were sent this Kessel Pot from Uberleben to test out and review.
Testers: Steph
Days: 10+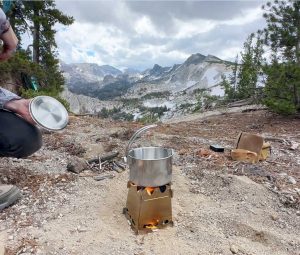 Testing Environments: I tested this Uberleben Kessel Pot while car camping, van life-ing, and backpacking. Also just randomly on day hikes throughout August.
Pot Weight (Not Including The Canvas Pouch)
Stainless Steel – 11 oz
Titanium – 7.4 oz
Canvas Bag Weight – 3.9 oz
Measurements
Diameter 5 1/2 in., Height 3 1/4 in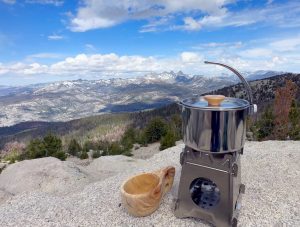 Gear Tested With
Cooking With The Kessel Pot
I found this pot great for boiling water on the trail for coffee or tea. It would also be great for soup, chili, or whatever else you want to use with it. The 1.1L capacity makes it large enough to cook for more than one person as well. I like that the shape has a wide base on it to keep it stable while cooking.
The pot is shaped kind of like a kettle. It has a pour spout and a rounded handle that makes pouring out liquid really easy.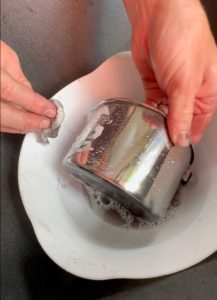 Clean Up
We tested the stainless steel version. And clean up was a lot easier than I anticipated. I cooked with this pot multiple times before I cleaned all the soot off. And with a little hot soapy water, most of the black came off with a wet paper towel. And the rest buffed out nicely with the scratchy side of a normal dish sponge.
I like that it comes with the canvas bag to help contain the soot if I want to put it in my bag before I'm ready to clean it up.
Handle
The Kessel Pot comes with a removable handle that can nestle inside the pot, or in the canvas bag as well, but outside of the pot. The handle also stays cool to the touch even while cooking. I love this feature. No towels or hot pads needed to move the pot around or pour some boiling water.
Lid
The lid is designed to not rattle when the water is boiling, and also has 3 steam holes that can double as a strainer as well if you want to pour off a little liquid without losing your food along with it. It also has a large wooden handle that stays cool to the touch while cooking also.
Conclusion
A great little pot to have a round for outdoor cooking. Well thought through design that functions great without any extra non-essential bells and whistles. It cleans up great, and has a nice cooking capacity as well.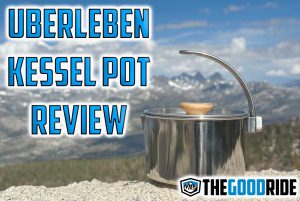 If this review helped, we'd appreciate if you:
Uberleben Kessel Pot Images
Uberleben Kessel Pot User Reviews
Where To Buy
80% of outdoor sports products are not listed or sold online.
Our team has relationships with hundreds of local snowboarding and outdoor sports shops.
We'll call the shops and email you a list of stores along with pricing and availability.
---
Not sure what to buy?
Get custom advice from Good Ride editors James and Steph.

Get Advice
If you can't buy through the links above, you can support the site with: