Uberleben Hexa Fire Starter Review By Steph
Uberleben Hexa Fire Starter 2024 - 2023 Review by The Good Ride
Uberleben Hexa Fire Starter Video and Written Review
This is a review on the Hexa Fire Starter from Uberleben. This flat, 6 sided fire starter creates consistent and reliable sparks for any outdoor adventures. It also works great when wet, and is rated for 20,000+ strikes.
Ethics Statement: We don't get paid by the manufacturer to write these reviews.  We do make money from the "Where To Buy" links, but this is our best attempt at an honest and objective review from an average hiker's perspective.
How This Review Happened:  We were sent this Hexa Fire Starter from Uberleben to test out and review.
Testers: Steph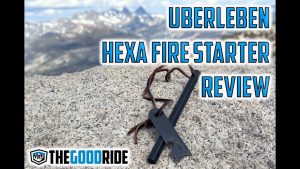 Weight
3″ – 2.2 oz
6″ – 4.2 oz
Sizes: The Hexa Fire Starter comes in two size options. 3″ & 6″
Days: 10+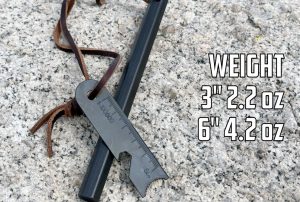 Testing Environments: I tested this Fire Starter while car camping, van life-ing, and backpacking. Also just randomly on day hikes throughout August. We had unusually humid weather for the Eastern Sierra this summer, so sometimes I was dealing with slightly damp kindling and wetter environments than normal.
Gear Tested With
Uberleben Stoker Flat Pack Stove
Shape
The unique Hexagon shape offers 6 separate flat surfaces to create a spark with. A lot more surface area when compared to a round version. It was very consistent in creating a nice spark on almost every strike. It took me about 3-4 strikes to light the Tindar Wick I was using this fire starter with.
The Hexa is rated f0r 20,000+ strikes. Although I'm not sure if that rating is for the 6″ or the 3″ rod. Either way, that's a lot of strikes.
Works When Wet
I tested this when it was wet as well. It worked almost the same as when it was dry. But it took a couple strikes in the same place to get a large spark. So only a little bit of added effort, but still better than a match (unless you get the waterproof matches) or trying with a lighter when it is raining or damp out.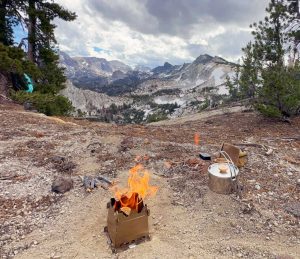 Conclusion
The Uberleben Hexa Fire Starter is a simple way to always have a reliable spark during outdoor adventures. Plus it is quite fun to use without adding too much extra work. It is compact and lightweight, and I love that it will work in the rain/wet conditions as well.
The hexagon shape is extremely helpful in creating the largest spark possible when striking. And with the 20,000+ strike rating, it should last a very long time.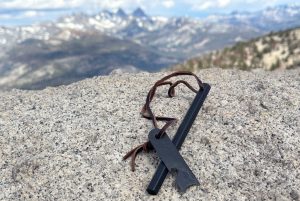 If this review helped, we'd appreciate if you:
Uberleben Hexa Fire Starter Images
Uberleben Hexa Fire Starter User Reviews
Where To Buy
80% of outdoor sports products are not listed or sold online.
Our team has relationships with hundreds of local snowboarding and outdoor sports shops.
We'll call the shops and email you a list of stores along with pricing and availability.
---
Not sure what to buy?
Get custom advice from Good Ride editors James and Steph.

Get Advice
If you can't buy through the links above, you can support the site with: