Spot X 2024 - 2023 Review by The Good Ride
Spot X 2-Way Satellite Messenger Video and Written Review
This is a review on the Spot X, a 2-way satellite communication device that comes with a full keyboard and a lot of different features.
Ethics Statement: We don't get paid by the manufacturer to write these reviews.  We do make money from the "Where To Buy" links, but this is our best attempt at an honest and objective review from an average camper's perspective.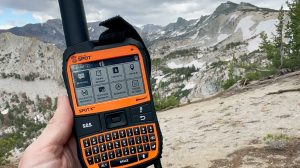 How This Review Happened: SPOT sent us the SOT X to test out and review.
Testers: Steph
Testing Conditions
Steph took this along on many day hikes this summer, as well as a multi-day backpacking trip.
Weight: 7 oz
What's In The Box?
The Spot X comes with a charging cable, a strap and carabiner, and a little stand for holding the Spot X upright while it sends and receives messages.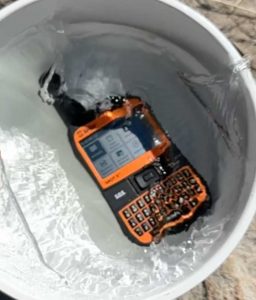 Water Resistant
The Spot X can be submerged in water for up to 1 meter and can last for up to 30 min. The buttons and everything also work under water, and it functioned just fine after sitting in water for 30 min.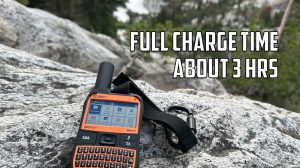 Battery Life
Spot has the average battery life of the Spot X listed as 240 hrs (10 Days)
I tested the battery by turning it on fully charge and sent 4 messages, and 2 check ins and the Spot X lasted  11 days for me.
When I tested the battery life in the field with more usage, tracking, and message sending it lasted a lot less time. I used 1/2 the battery in one day with tracking set for every 30min, and sending 6 messages, and receiving 4.
The battery life is fully dependent on how many features and messages you are sending, but it lasts a long time with minimal use.
It took about 3 hrs for me to charge the Spot X from completely empty to completely full.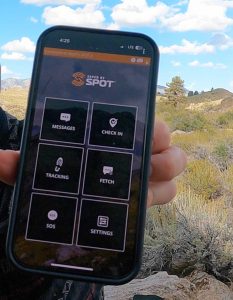 Spot App
The Spot X comes with bluetooth capability so you can connect it to your phone. The app has all the features the Spot X has. Once the two devices are connected via bluetooth, you can use the app to track, send messages, and everything else too.
However, I found it difficult to connect my phone to the Spot X if I was already out of service. So I started connecting them while I was still in service and that worked better.
Using the app makes the interface a lot easier to use as long as you can get the device connected to your phone. You can also sync any contacts in your phone directly with your Spot X as well via the app.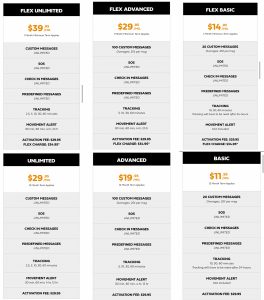 Service Plans
In order to use any of the features, you'll have to sign up for one of Spot's service plans. They come with different types of features and different price points. You can choose between monthly and yearly plans. There is a $30 activation fee as well.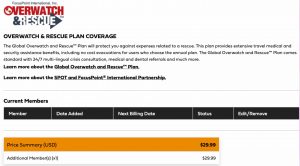 When you sign up for a service plan, you'll get the option to sign up for an Overwatch & Rescue plan as well. ($30) This insurance will cover you in case you do end up having to use the SOS button on the spot for rescue services.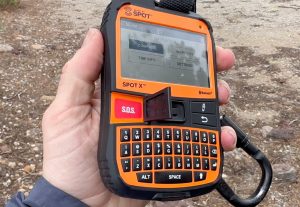 SOS Button
The Spot comes with a SOS button in case of emergencies. It is protected by a cover so you can't accidentally press it. But once you press it, the device will ping your location to your local rescue organization.
Messaging Option
You can send a custom message to any phone number or email with the Spot X whenever you want. There's also an option to include your location and elevation along with the message. It comes with a link that you can click, and will pin point your location on the map.
You can also simply send a check in location with no message, or a pre-defined message.
These features have been the most reliable features of the Spot X. Sometimes the tracking and navigation features didn't always work for me. But the messages and check-ins always worked 100% of the time.
Online Tracking and Maps
There are numerous different options you can do with the Spot X via the online portal/account. You can pull up past trips and tracking. You can see live tracking, and all sorts of other things.
However, the live tracking feature only worked for me when I was in service, and I activated it via the Spot App on my phone. But since the check ins always worked I could still leave breadcrumbs along the trail via a check in or message. Those also show up on the map.
Below you can see examples of both the live tracking (in blue) and the check ins (in orange).
Compass
The compass feature was very accurate on the Spot X. You can also somehow set up waypoints for navigating along the way, but I wasn't able to figure out how to set them. You can save certain waypoints via the online account and then sync them to the Spot X to help with navigation in real time.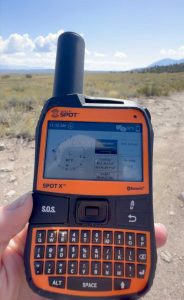 Overall
The Spot X 2-way statute communication device is very efficient for sending and receiving custom messages in areas with no cell service. I love the option of sending locations and elevations along with messages too. The option to view past trips online is also a great feature.
I found the interface to be a bit confusing at first, especially while trying to figure out the online features. The Spot X features themselves are very simple, but the tracking and blue-tooth connections didn't always work when I was out of service.
The battery life is really good as long as you aren't sending too many messages, or sending too many check ins. But if you bring along a charging device of some sort, this is not an issue at all.
I like that there are a lot of different service plan options for different needs and different budgets.
I also like the water resistant capabilities, so you don't have to worry if you need to send a message in the rain, or fall into the river or something during your adventures.

If this MoonShade Awning review helped, we'd appreciate if you:
Where To Buy
80% of outdoor sports products are not listed or sold online.
Our team has relationships with hundreds of local snowboarding and outdoor sports shops.
We'll call the shops and email you a list of stores along with pricing and availability.
---
Not sure what to buy?
Get custom advice from Good Ride editors James and Steph.

Get Advice
If you can't buy through the links above, you can support the site with: