Smith 4D Mag 2021-2022 Snowboard Goggle Review
Smith 4D Mag 2022 - 2021 Review by The Good Ride
Turn Ons/Swipe Right: Exceptional Field of View. Excellent Anti-Fogging. Easy Lens Change. Mag lenses don't fall off. Excellent Lens Choices.
Turn Offs/Swipe Left: Nose Bridge has minimal padding.
Summary
The Smith 4D Mag Goggle has an exceptionally wide and vertical field of view, excellent anti-fogging, easy lens changing and excellent lenses.
Ethics Statement: We don't get paid by the manufacturer to write these reviews and this is our unfiltered opinion. We do make money from the "Where To Buy" links, but this is our best attempt at an honest and objective review from an average riders' perspective.
Smith 4D Mag Goggle Review- From Several Perspectives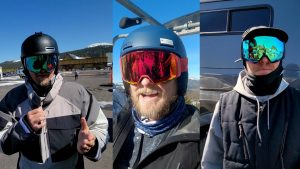 Fit
Normally a goggle this big won't fit me very well but it fit Peter and Nick just as well. Tim and Bernt (Web Team) felt the same. The only person it was small for was Davey but the sound didn't come out well for his take in the review.  The nose bridge doesn't have much foam and that was my only complaint. Recently Smith launched the 4D Mag Low Bridge fit that has more foam. I now own those and they fit me much better. Peter an the others were fine with the regular fit but I think I'm just on the border of being a low nose bridge fit guy to where I like that better. The foam isn't the best in the business. I'll give that to Oakley but the Smith 4D Mag isn't bad at all.
Field Of View
The Smith 4D Mag field of view is exceptional. It is very wide which is good good but that's nothing new. Where this is unique is how well you can look down. I can see my zipper and upper backpack strap when Drift Boarding or Split Boarding, Nick can see his Joint and Peter can see his Peter. So not only does it help with your field of view/make things safer on the mountain it helps with seeing down when fumbling with yourself, jacket or other gear.
Lens Choices
I have tested almost every Smith Lens from the IO Mag and these have the Smith 4D Mag  has the same lens colors. You have a lens for every condition and color preference. The detail with all of these, when chosen correctly for the conditions and your eye, are exceptional. Most lenses let one color through, great lenses let 2 colors through and Smith lets 3 colors through with Chromapop. That's as far as I want to go with their Chromapop company regurge but I'll say that we all felt like we could see much more detail with these lenses than any other. It also seems brighter than similarly rated VLT lenses that aren't Chromapop.
Anti-Fogging
I personally chose Smith Goggles a long time ago because of their Anti-Fogging. I think they are the best in the business. The Smith 4D Mag is even better than most Smith Goggles I've tried and are better than my IO Mags. I haven't come close to fogging them up. Peter fogs up everything and he did not fog these up either.
Conclusion
So the Smith 4D Mag was hard to take off after I tried them.
Smith Company Information
Smith 4D Mag User Reviews
If you can't buy through the links above, you can support the site with: