Sierra Designs Dridown Pillow 2020 Review
Sierra Designs Dridown Pillow 2020 Review by The Good Ride
The Sierra Designs Dridown Pillow made so you can use it as it comes, or remove the inner pillow and stuff it with your insulation layers while backpacking.
It has a comfortable topper to it that is soft and keeps you insulated for cold nights. It packs down fairly small, but not near as compact as some of the inflatable pillow options out there.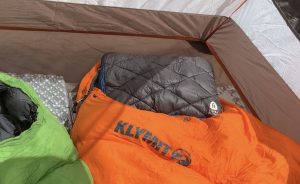 I found that stuffing my own things into the case to create a pillow was much more comfortable as opposed to using the provided pillow insert. It just doesn't offer that much support. When ground sleeping I'd like a little extra oomf to my pillow even if I am backpacking and trying to keep weight down. If I'm gonna sacrifice space in my pack for a pillow, I want it to be comfortable. What I ended up doing, was adding to the pillow insert that was already there, and it helped a lot.
But if I were to take this on future ground sleeping trips I will probably leave the pillow insert home to save space and weight, and just pack my own items into the pillow case to customize the thickness.
For ground sleeping, this pillow might be enough for some people who sleep on their backs. If you are a side sleeper, I doubt it would provide enough support.
However, I found the Sierra Designs Dridown Pillow the perfect size for a hammock pillow. It was just the right amount of thickness, and I enjoyed the added insulation that came from the Dridown. I will be using this pillow with my hammock set up instead of my ground sleeping set up.
Overall, the Sierra Designs Dridown Pillow could work if you are not a fan of inflatable backpacking pillows, or are sick of using your pack as a makeshift pillow. It does have that feeling of having a comfort from home out in the backcountry. It isn't the most compact option, but you can customize it to your preferred preference. And it adds a little extra insulation under your head while sleeping.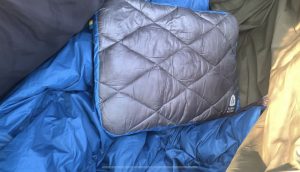 Paige's Perspective
The Sierra Designs DriDown™ Pillow is a great option for those seeking to add a bit of luxury to their camping experience. Whether you are seeking comfort out on the trails or for those looking to complete their car camping kit, this pillow is a great choice.
This DriDown™ Pillow is a nice alternative to inflatable pillows. It is extremely light and packable. Pack this pillow away in its stuff sack and it becomes about the size of a 1L Nalgene bottle, weighing a little more than 5 ounces. The weight and size of this pillow make it extremely versatile. It worked great to nap on during long car rides and didn't add extra clutter to the cab when it wasn't in use.
Overall this pillow is on the thinner side. I enjoyed the low profile, but those who like a thicker pillow you can add padding by stuffing a puffy jacket in the pillow cover. For those looking to shed ounces and go super light, you can leave the synthetic pillow insert at the car and simply add clothing to the DriDown™ pillow top when you are ready to curl up under the stars.
The coolest feature of this pillow is that the pillow top is made from DriDown™. DriDown™ is treated with a hydrophobic finish, which allows it to stay dry and/or dry faster than regular down, allowing it to stay loftier which in turn keeps you warmer. The treatment used for DriDown™ is third-party tested and is rated as non-hazardous to us as well as the environment.
Adding the Sierra Designs DriDown™ Pillow to your backpacking or camp kit is a great way to keep things comfortable without the additional weight that usually comes with luxury.
Sierra Designs Dridown Pillow Images
Sierra Designs Company Information
Sierra Designs Dridown Pillow User Reviews
Where To Buy
No obligation, but these links & ads support the site.
If you can't buy through the links above, you can support the site with: