Sea To Summit X Set 32 Review
Sea To Summit X Set 32 2023 - 2022 Review by The Good Ride
The Sea To Summit X-Set 32 is a very compact and lightweight cooking system that comes with everything you need to cook outdoors over a camp stove.
It comes with a collapsable kettle, pot, and frying pan. And weighs only 29oz. Good for car camping, backpacking and hiking.
Ethics Statement: We don't get paid by the manufacturer to write these reviews.  No one is perfect and we do make money from the "Where To Buy" links below, but this is our best attempt at an honest and objective review from an average camper's perspective. 

How This Review Happened:  We borrowed this for an extended demo.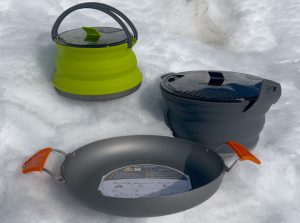 SeaToSummit XSet 32 Review Time Codes
00:00 – Intro 00:59 – Weight 02:37 – XKettle 04:12 – XPot 04:40 – Lid Strainer 05:49 – XPan 08:24 – Overall Impression 09:24 – Nesting Everything Together
Testers: Steph
Days: 1 week
What's Included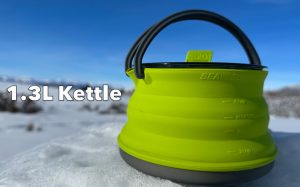 X-Kettle 1.3L / Weight 6.5oz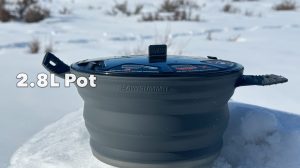 X-Pot 2.8L / Weight: 13oz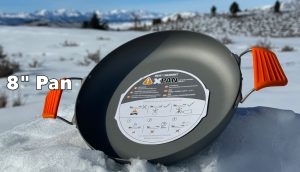 X-Pan 8″ / Weight: 8.6oz
Durability
The walls of the pot and the kettle are made up of BPA free silicone. I think as long as they are taken care of, they should hold up for a while. The pans are not designed to use with an open fire, or a large flame. So as long as the flame doesn't touch the silicone, it should last a while.
The metal part of the pans are made from hard anodized 5052 aluminum. I think with the nesting of the pans, one inside the other, it might be best to keep a layer between the two metal pans to protect them and add longevity to the pan surface.
Functionality
This set would be great for a single person or two people while camping. They are just big enough for around two servings.
Using all of the pans and the kettle is pretty straight forward and simple. Because of the collapsable silicone walls, a little bit of attention does need to be placed on how the pans are moved around when cooking with them. If they are hit wrong, they will fold down.
Everything worked as it should. The only feature I think that could be improved are the handles to the 8″ pan. They only work if you are holding both the handles. You can't just hold one of them, or it will collapse downward. This makes it a bit challenging when cooking and needing to scoop things out of the pan, or serve up a plate. If there was some sort of locking mechanism on the handles to keep them up when in use, I think that would help out a lot.
The X-Pan worked great when I was cooking eggs, pancakes, and also sautéing veggies. Nothing stuck to it. The Jetboil I was cooking with made it challenging to get the heat spread out over the whole pan. But the X-Pan did a great job and nothing really stuck to it.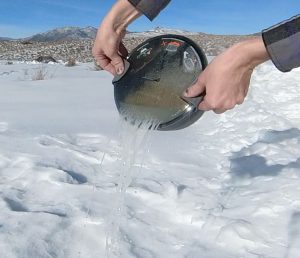 The X-Pot comes with a lid that can strain out water. This is useful when cooking pasta. It worked great when I made my spaghetti.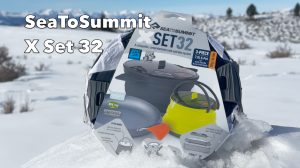 Packability
The coolest part of the while product is how compact everything gets when they are put away.
The packed dimensions of the pans are 9″ x 1.8″. Which is quite amazing how what is in that small package.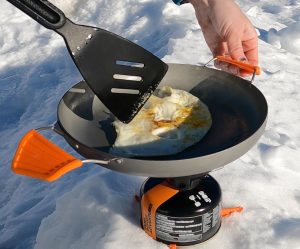 Clean Up
Clean up is quite simple with this pan set. The silicone makes it easy to clean. Food comes right off it when washing.
The metal also cleaned up well for me. I burned some butter on the X-Pan the first time I used it and was surprised at how easily it came off when washing.
I also liked the size of the X-Pot. It was large enough to double as a wash basin for me to do the dishes in afterward.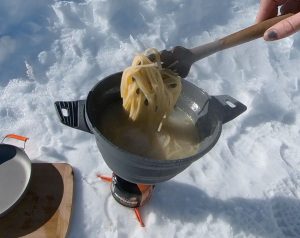 Overall 
This is a very compact and useful pan set that gets the job done. It opens up possibilities for cooking actual food on the trail, without sacrificing too much weight for carrying pans. They are a good size for one or two people to use. And take up almost no room in the pack. There are a couple quirks like having to be a little carful around the collapsable silicone, and the handles on the X-Pan take some practice. But overall, they would be great for the backcountry, camping, or even car camping.
Sea To Summit X Set 32 Images
Sea To Summit X Set 32 User Reviews
Where To Buy
No obligation, but these links & ads support the site.
If you can't buy through the links above, you can support the site with: