Sea To Summit Ether Light XT Insulated Sleeping Pad Review By Steph
Sea To Summit Ether Light XT Insulated Sleeping Pad 2024 - 2022 Review by The Good Ride
Sea To Summit Women's Ether Light XT Video And Written Review
This is a look at the Sea To Summit Women's Ether Light XT Insulated Sleeping Pad. This insulated pad comes with an R 3.5 value, is 4″ thick, and comes with an Airstream stuff sack for easy inflating. This is a look at the women's sleeping pad, but it also comes in men's (unisex) sizes.
Ethics Statement: We don't get paid by the manufacturer to write these reviews.  No one is perfect and we do make money from the "Where To Buy" links below, but this is our best attempt at an honest and objective review from an average camper's perspective.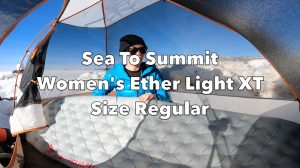 Sea To Summit Women's Ether Light XT Insulated Sleeping Pad Review Time Codes
00:00 – Intro 00:30 – Sizing 00:36 – Pad Weight 00:43 – Stuff Sack Weight 01:36 – Airstream Stuff Sack 01:47 – Inflating The Pad 03:18 – Sleeping Experience 04:02 – R-Value 04:40 – Sleeping Bags Tested With 05:08 – Packability 06:05 – Overall
Testers: Steph
Days: 1 week
Sleeping Conditions: I tested in low 20F nights. The mornings were quite humid, with a freezing fog that came in around 3am. I also tested it while sleeping on the floor of a van in low temps around 15F.
Steph's Specs
Height – 5'3″
Weight – 108lbs
Shoulder Width – 16"
Hip Width – 17.5″
Size: I tested the Regular size. It also comes in Long.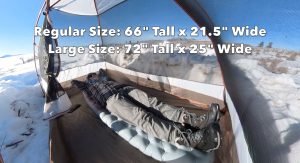 Sizing Specs
Women's Regular
Length 66″
Foot Width 21″
Shoulder Width 21.5″
Height 4″
Weight 17.5 oz
Women's Long
Length 72″
Foot Width 24″
Shoulder Width 25″
Height 4″
Weight 21.2 oz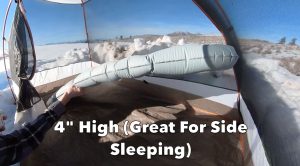 I tested the Ether Light XT Insulated Sleeping Pad with two different sleeping bags.
Sea To Summit Flame IV 15F
Sea To Summit Spark III  28F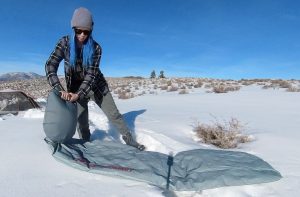 Inflating
The Ether Light XT Insulated pad comes with their Airstream pump sack. It makes it so easy to inflate the sleeping pad. One of the reasons I quit using inflatable pads on backpacking trips, was because I hated blowing them up. Using the Airstream sack that comes with it, it took me only 3 breaths to fill the entire sleeping pad up. It is very easy to use and doesn't sacrifice that much weight or space in the pack to bring it along.
Women's Specific Construction
The shape, insulation and construction of the Women's Ether Light XT is specifically created for women. Some of these features include "higher-density Thermolite® insulation (compared to the unisex model) to prevent convective heat loss, laminated to Exkin Platinum® – which reflects radiant heat" . The shape is slimmer in the shoulders and wider in the hips and knees.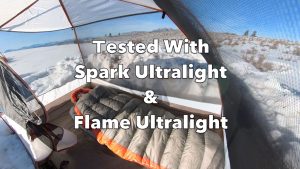 Comfort
I found the sleeping pad to be very comfortable. It is thick enough for side sleeping, and heavier people as well. There is plenty of support and comfort, and I didn't have the bag deflate on me at all throughout the night.
The effect of the insulation and the radiant heat was very apparent. If I moved slightly off the bag during the night, I instantly felt the cold air coming up from the ground. It made all the difference when sleeping on cold ground, or a cold van floor.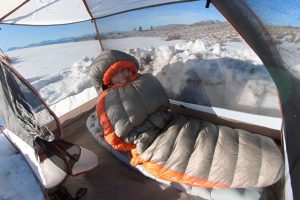 Warmth
I tested the sleeping pad with two other Sea To Summit bags. The Women's Flame IV 15F, and the Spark SpIII 29F. In both cases, the insulated pad helped add warmth and comfort to the sleep system.
I normally run very cold during the night and just have learned to deal with it while camping. So, I always sleep in a down jacket, and put a hot water bottle at my feet for added warmth. I did neither of these when testing these sleep systems. And I was quite nervous to sleep without my backup warmth but committed to sleeping in normal layers to see if everything kept me warm. It was amazing to actually be comfortable most of the night. The only time I got cool feet, was at 3am when the fog rolled in and temps dropped for a couple hours. But I still stayed warm enough to continue sleeping.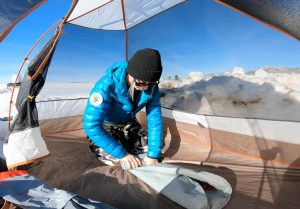 Packability
The pad is really easy to deflate. The air comes out quickly and easily once the air plug is pulled. It rolls up nicely and takes minimal effort to fit it back into the stuff sack.
Overall
The Sea To Summit Women's Ether Light XT Insulated Sleeping Pad provides a very comfortable and warm option for sleeping outdoors in colder temps. It would be great for side sleepers, or campers who want a pad light enough for backpacking without sacrificing comfort. I love that it comes with a stuff sack that inflates the pad easily. It packs up to a pretty compact package for being an insulated and thick sleeping pad. The material it's made out of seems durable enough to withstand some abuse and shouldn't be punctured easily. But if it does happen, it comes with a patch kit as well.
If this review helped, we'd appreciate if you:
Sea To Summit Ether Light XT Insulated Sleeping Pad Images
Sea To Summit Ether Light XT Insulated Sleeping Pad User Reviews
Where To Buy
80% of outdoor sports products are not listed or sold online.
Our team has relationships with hundreds of local snowboarding and outdoor sports shops.
We'll call the shops and email you a list of stores along with pricing and availability.
---
Not sure what to buy?
Get custom advice from Good Ride editors James and Steph.

Get Advice
If you can't buy through the links above, you can support the site with: