Sawyer Squeeze Water Filter Review By Steph
Sawyer Squeeze Water Filter 2024 - 2023 Review by The Good Ride
SAWYER SQUEEZE WATER FILTER REVIEW
This is a look at the Sawyer Squeeze Water Filter. An easy to use, lightweight filter that is great for camping, backpacking, hiking, or travel. The set comes with everything needed to filter water on the go.
Ethics Statement: We don't get paid by the manufacturer to write these reviews.  No one is perfect and we do make money from the "Where To Buy" links below, but this is our best attempt at an honest and objective review from an average hiker's perspective.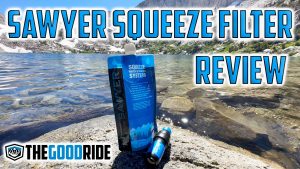 Testers: Steph
Testing Environments
Steph took this filter on multiple hikes around the Eastern Sierra. She filtered water from lake, streams, and rivers along the way.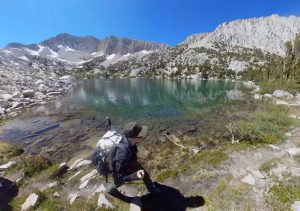 What's In The Set?
The Sawyer Squeeze Filter comes with two 32oz water pouches, a lightweight filter that can attach to the water pouches or any other standard water bottle, a hose to integrate the filter into a water reservoir or gravity filter set up, and various caps and nozzles. It also comes with a backflush plunger for cleaning out the filter.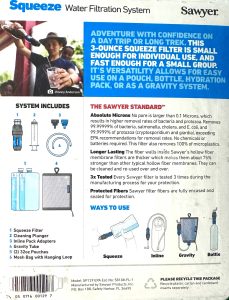 Filter Type
0.1 Micron Absolute Hollow Fiber Filtration
Weight: 2.5oz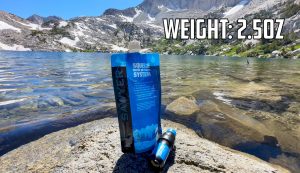 Flow Rate
Sawyer listed the filter as having a 1.7 Liter per min flow rate.
It took me 1min 5 sec to filter the entire 32oz water pouch.
The water also flows through the filter without any squeeze pressure also. So this filter can be used easily as a gravity filter, and also easily attaches to a bottle so you can drink directly from the filter itself.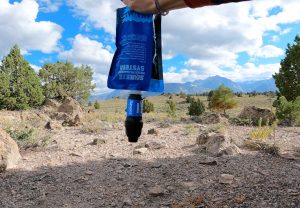 Filter Longevity
Sawyer doesn't list an amount of water this filter can clean. But it comes with a lifetime warranty. So essentially, it is designed to last a very long time and filter A LOT of water. So far, I've used it about 15-20 times while hiking. I've mostly been filtering somewhat clean water, so not too much debris. But the flow rate has stayed consistent and I will update after this filter gets a ton of use as well.
With proper cleaning and maintenance, this filter should last a very long time.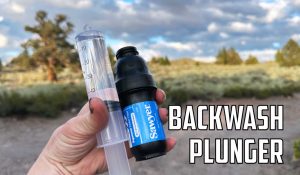 Using The Filter
The whole set up is very straight forward and simple to use. There are multiple ways you can attach and use the filter to different water systems as well. I really liked how fast the flow of the water was through the filter, so it isn't a very time consuming process.
The most difficult part of using this filter is filling up the 32oz pouches with the water source. It isn't too bad in a fast flowing stream or river. But in a lake it takes a few passes to get the pouch full. The opening to the pouch is just very small, so it takes a bit to get it complete full.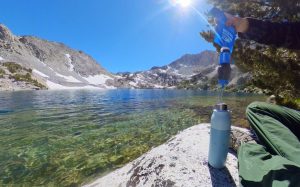 If you have a larger container to pour water into the pouch it is much easier.
The pouches also don't stand up very well on their own until they are full of water. So filtering one pouch into the other can be a bit challenging. I preferred to use one pouch with the unfiltered water, and filter it into my water bottle that is easier to have stand on its own.
Overall
The Sawyer Squeeze Water Filter is a great lightweight option for camping, backpacking, or traveling. It is easy to use and comes at a pretty affordable price point as well. It can integrate into water systems you already use like a water bottle, water reservoir, or gravity bag. I love that it comes with a lifetime warranty and a very long filter life. The absolute micron rating is great as well, so you know the quality of filtration will always be accurate.
If this review of the Sawyer Squeeze Water Filter helped, we'd appreciate if you:
Sawyer Squeeze Water Filter Images
Sawyer Squeeze Water Filter User Reviews
Where To Buy
80% of outdoor sports products are not listed or sold online.
Our team has relationships with hundreds of local snowboarding and outdoor sports shops.
We'll call the shops and email you a list of stores along with pricing and availability.
---
Not sure what to buy?
Get custom advice from Good Ride editors James and Steph.

Get Advice
If you can't buy through the links above, you can support the site with: