Sawyer Insect Repellent Lotion Review By Steph
Sawyer Insect Repellent Lotion 2024 - 2023 Review by The Good Ride
Sawyer Insect Repellent Lotion Video and Written Review
This is a review on the Sawyer Insect Repellent Lotion. We tested this bug repellent lotion on multiple hikes throughout the summer.
Ethics Statement: We don't get paid by the manufacturer to write these reviews.  We do make money from the "Where To Buy" links, but this is our best attempt at an honest and objective review from an average camper's perspective.
How This Review Happened: Sawyer sent us this insect repellent to test out and review.
Testers: Steph
Size: 4oz
Picaridin
An insect repellent similar to Deet. But Picaridin is safe to use on skin and clothes. And this insect repellent lotion also doesn't have any smell or odor either. This is probably one of my favorite things about this product
Testing Conditions
I tested this Sawyer insect repellent lotion on multiple day hikes throughout the summer, as well as on a 3 day backpacking trip. We have had an unusually buggy summer due to a lot of moisture and snow melt this season. We had plenty of mosquitos to test this lotion with.
I mostly used this on just exposed skin areas, and used their bug spray on my gear/clothes.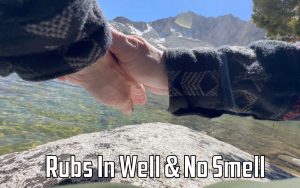 Application
The lotion rubs in well, and leaves little to no feeling of having lotion on your hands. I didn't feel like it affected my grip on my hiking poles or anything either. The great part about having bug repellent lotion, is coverage is guaranteed. Sometimes with spray, you may miss a spot or two. But this lotion covers really well.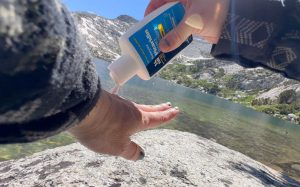 Effectiveness
I found this bug repellent very effective. Again, I used it in combination with Sawer's fabric treatment and bug spray depending on the situation. I felt it was just as effective, if not more effective than deet bug repellent I've used in the past.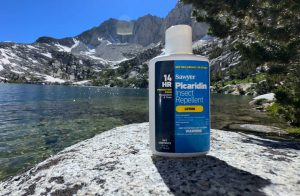 If this Sawyer Insect Repellent review helped, we'd appreciate if you:
Sawyer Insect Repellent Lotion Images
Sawyer Insect Repellent Lotion User Reviews
Where To Buy
80% of outdoor sports products are not listed or sold online.
Our team has relationships with hundreds of local snowboarding and outdoor sports shops.
We'll call the shops and email you a list of stores along with pricing and availability.
---
Not sure what to buy?
Get custom advice from Good Ride editors James and Steph.

Get Advice
If you can't buy through the links above, you can support the site with: