RightOnTrek Vegan Shepherds Stew 2020 Review
RightOnTrek Vegan Shepherds Stew 2023 - 2022 Review by The Good Ride
RightOnTrek Vegan Shepherds Stew is a hearty meal full of potatoes, peas, mushrooms and other goodies that will definilty fill anyone up. It is simple to cook, takes 14oz of water, and is ready in 10 minutes.
Ethics Statement: We don't get paid by the manufacturer to write these reviews.  We do make money from the "Where To Buy" links, but this is our best attempt at an honest and objective review from an average camper's perspective.
How This Review Happened: We were sent this meal to test out and review.

Testers: Steph
Weight: 4.5oz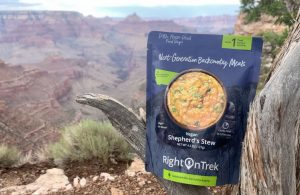 Price
One Person Serving – $7.99
Two Person Serving –  $13.99
Four Person Serving – $25.99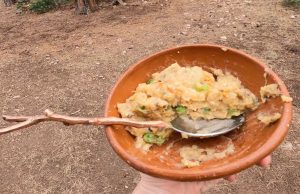 Taste: The taste of the Shepherds Stew was great. It was nicley seasoned, I could detect all the ingredients including the peas, mushrooms, and black pepper.
Re-hydrate Time: I cooked this meal at 7,000 ft. The cook time was accurate and it only took 10 minutes. Everything in the meal was re-hydrated fully.
Add-Ons: I really like that RightOnTrek includes options for add-ons to personalize the meal a bit more to your liking. Some of these are free, and some cost a little extra. The add-on options for the Vegan Shepherds Stew are: Tamari Soy Sauce, Cholula Hot Sauce, and an extra packet of Organic Olive Oil if you'd like one. The Soy and Hot Sauces are both free of charge, and the extra Olive Oil packet would be $0.75.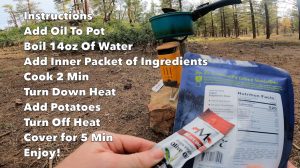 Overall
There aren't very many tastey and healthy meals out there for vegans or vegetarians in the backcountry. This is a nice option, and a good change of pace from the go to rice dish that is normally always offered as the vegetarian dish in backpacking meals.
The Vegan Shepherds Stew has a lot of potatoes. I think personally, I would enjoy this meal accompanied by a side dish of something. It was very filling, and tasted great. I like that there is plenty of protein in the meal, and that it really does taste like a home cooked meal. There are a few extra steps involved with making this meal whe compared to the types of backcountry food that you just pour hot water into a bag and wait. But it is worth it.
RightOnTrek Vegan Shepherds Stew Images
RightOnTrek Company Information
RightOnTrek Vegan Shepherds Stew User Reviews
Where To Buy
No obligation, but these links & ads support the site.
If you can't buy through the links above, you can support the site with: