RightOnTrek General Tsoys Mountain Rice 2022 Review
RightOnTrek General Tsoys Mountain Rice 2023 - 2022 Review by The Good Ride
The RightOnTrek General Tsoys Mountain Rice was a very tasty and filling meal. This meal is vegan and gluten free. It has a lot of add-on options as well to customize the taste to your personal preference. This meal has 22g of protein and 590 calories per serving. You do need to dirty some dishes to make it, but it is worth it. It only takes 9oz of water and 10 min to cook.
Ethics Statement: We don't get paid by the manufacturer to write these reviews.  We do make money from the "Where To Buy" links, but this is our best attempt at an honest and objective review from an average camper's perspective.
How This Review Happened: We were sent this meal to test out and review.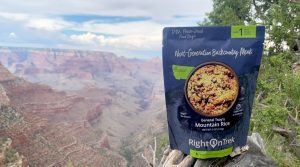 Testers: Steph
Weight: 5oz
Price
One Person Serving – $7.99
Two Person Serving –  $13.99
Four Person Serving – $25.99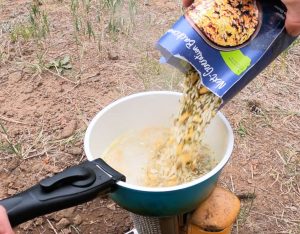 Re-hydrate Time and Cooking: I cooked this meal at 7,000 ft. The cook time was accurate and it only took 10 minutes. Everything in the meal was re-hydrated fully. It was fairly simple to cook. And doesn't require too much water either.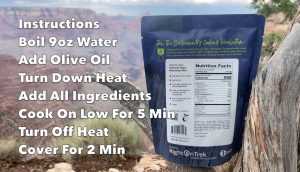 Taste: I was suprised at the taste and textures that this meal had. It has just enough spice and sweetness to make the meal interesting, but isn't overdone on one end or the other. There are options to add more spice to the meal as well if you are looking for more heat. The rice also comes with a generous amount of soy protien pieces that mimic the texture of chicken. This adds protein and makes the meal very filling. There are also a few pieces of pinnaple to add some extra sweet bits. The rice without any of the added extras had penty of flavor and was very satisfying.
Add-Ons: The General Tsoys Mountain Rice has quite a few add-on options to customize the meal to your taste preferences. I used most of them, except for the chili flakes and the hot sauce, as the mild heat the rice had already was just perfect for me.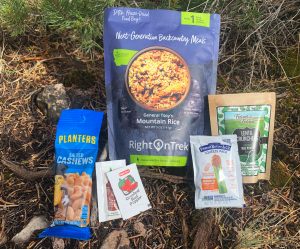 Here are the add on choices
$0.00 – Crushed Red Pepper
$0.25 – Hot Sauce Packet
$0.60 – Peanut Butter Topping Packet – 4g protein and 120 calories
The peanut butter really added to the flavor of this dish. It melds all the spice and sweetness together and I really liked how it changed the meal's flavor. I would definitly pack some peanut butter with this next time I bring it with me.
$1.00 – Salted Cashews – 8g protein and 240 calories
The cashews add some salty crunch to the dish and also up the protien value of the meal.
$3.00 – Dill Pickle Lentil Crunchers – 14g protein and 200 calories
Yes they are and extra $3.00, but the Lentil Crunchers were probably my favorite add on. They also come in a generous size pouch that has enough for adding to at least two meals. They taste like pickles,  but add a very interesting flavor to dishes and also a good amount of protein.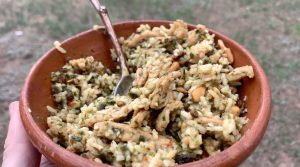 Overall
The General Tsoys Mountain Rice from RightOnTrek may have been my favorite meal that I tested from them. It was hearty, and delicous and would definlty hit the spot in the backcountry. I liked how it didn't taste like all the other rice dishes out there that I've tried. And that it comes with the added soy protein pieces as well. I was happy that it wasn't too heavy on the spice, and that they let you choose how much spice you'd like by offering the red pepper flakes or hot sauce as an add-on. It does require a few more steps when compared with meals that cook in a bag. But honestly, I think it is worth it. The meal tastes like real food and it is simple to cook. Yes there will be a couple extra dishes to wash but in my opinion it is worth it.
RightOnTrek General Tsoys Mountain Rice Images
RightOnTrek General Tsoys Mountain Rice User Reviews
Where To Buy
No obligation, but these links & ads support the site.
| | | |
| --- | --- | --- |
| Loading Amazon Results... | | |
If you can't buy through the links above, you can support the site with: