RightOnTrek Backcountry Chili Review By Steph
RightOnTrek Backcountry Chili 2024 - 2022 Review by The Good Ride
RightOnTrek Backcountry Chili Video and Written Review
RightOnTrek Backcountry Chili is a hearty meal that would be great for a colder evening on the trail. It comes in a large serving size, with 640 calories and 29g of protein per package. This chili is also vegetarian and gluten free.
Ethics Statement: We don't get paid by the manufacturer to write these reviews.  We do make money from the "Where To Buy" links, but this is our best attempt at an honest and objective review from an average camper's perspective.
How This Review Happened: We were sent this meal to test out and review.

Testers: Steph
Weight: 5.9oz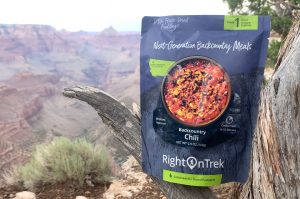 Price
One Person Serving – $7.99
Two Person Serving –  $13.99
Four Person Serving – $25.99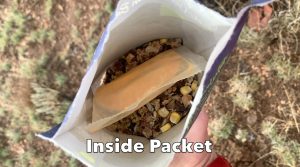 Re-hydrate Time and cooking: I cooked this meal at 7,000 ft. The cook time was accurate and it only took 10 minutes. Everything in the meal was re-hydrated fully. I was very simple to cook and only requires 12oz of water. I added a couple oz too many and had to cook just a bit longer to get the right consistency but that was my error.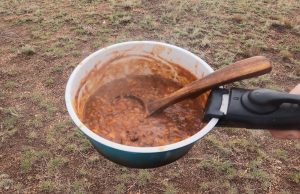 Taste: The Backcountry Chili tasts great. It tastes like Chili. It comes with pieces of sweet corn, rice, and beans. I was a bit worried because the description on the RightOnTrek website lists this chilly as spicy. The package itself doesn't say spicy anywhere. Turns out it has just enough spice to add some warmth. But not too much to be overpowering for those who don't like spciy food. The chili was hearty and tasty, and definitely had enough quantity to fill a very hungry hiker up. It also has 640 calories and 29g of protein per serving.
RightOnTrek offers a few add-on possibilites with the Backcountry Chili to help customize the chili to your prefereed taste.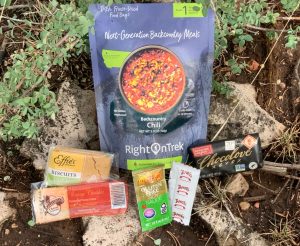 Here are the Add-On Options
$1.00 – Wisconsin Vintage Cheddar: This adds 100 calories and 6g of protein. It made a great addition to the Chili, and had a nice strong cheddar flavor.
$1.50 – Corncakes: These add 160 calories and 2g of protein. The concakes fit very well with the chili. Who doesn't like cornbread and chili? They did get a little crushed, but that's to be expected. They have a slightly sweet flavor and added some nice crunch to the meal.
$0.00 – Hot Sauce Packet: I didn't add this, as the chili had a good amount of spice for my liking. But it is nice to be able to decide if you want to add more heat or not.
$1.75 – 70% Strong Dark Chocolate: This added 190 calories and 3g of protein. The chocolate made for a great dessert to the Backcountry Chili meal. It was a bit deformed from being partialiy melted in my bag. But again, that's totally normal for a backpacking trip. Doesn't change the flavor at all. And I am a strong believer of bringing chocolate on the trail.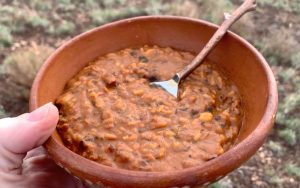 Overall
RightOnTrek Backcountry Chili makes for a great meal for a colder evening on the trail. It has a lot of calories and protien for being a vegetarian trail meal. The serving size was generous and honestly I would end up sharing that amount of food, or splitting it up into two smaller bags for me. I loved that the spice wasn't overbearing and the sweet corn added some nice flavor.
If this MoonShade Awning review helped, we'd appreciate if you:
RightOnTrek Backcountry Chili Images
RightOnTrek Backcountry Chili User Reviews
Where To Buy
80% of outdoor sports products are not listed or sold online.
Our team has relationships with hundreds of local snowboarding and outdoor sports shops.
We'll call the shops and email you a list of stores along with pricing and availability.
---
Not sure what to buy?
Get custom advice from Good Ride editors James and Steph.

Get Advice
If you can't buy through the links above, you can support the site with: