REI Base Camp 6 Tent Review for 3 to 4 Season Campers
REI Base Camp 6 2020 Review by The Good Ride
REI Base Camp 6 Tent Video and Written Review
Here we have the REI Base Camp 6 Review from a car camper with an exceptionally objective perspective.
The REI Base Camp 6 doesn't have as much functional interior space of the Kindom 6. It is however, warmer and has much better wind resistance. I used this tent a few more times after the vid review above and it keeps growing on me. We camped near Mt. Hood again and then Hells Canyon. It is a great tent for those that need more warmth and wind resistance. It worked great in light rain, temps down to the high 30's and warmer nights in the 50's to 60's. Well…warm for where we camped. This is a great shoulder season camper.
A Break Down of How this Tent Camps and Who Its For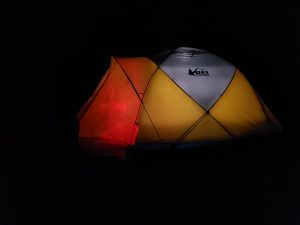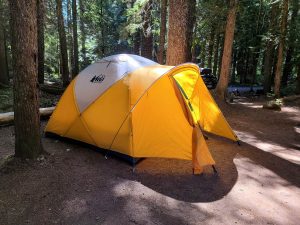 Camps: 5 two to three day camps.
People: Two Parents and two Kids under 10
Temps: Lows of 50-30 degrees Fahrenheit.
Set Up
The REI Base Camp 6 was super easy to set up. Everything is color coded and I didn't even need instructions. The only mistake I made putting on the vestibules backwards. I suck at setting stuff up so this is really good for me. It only took 18 minutes including some break time to sip my drink and snack a little.
Construction
The REI Base Camp 6 tent poles aren't super sturdy but there are many of them and the design is much more wind friendly than the much taller Kingdom 6. It feels well built and didn't move in 10-20mph winds on another camp adventure. With other tall tents we could see them start to sway by that. This thing handled 40-50mph winds in Death Valley pretty well with the storm shelter up and all the stakes in. We got a little sketched though and took the tent down before the winds got to 70mph gusts.
Warmth
With the REI Base Camp 6, the sleeping bags felt like their rating system. For example, a 40 degree rated sleeping bags felt like 40 degree bags for my wife and this is never the case. I run warm and they felt warmer. Now I'm not as worried as I used to be about my wife and son feeling cold. My daughter is warm like me but still we can bring less blankets too. It isn't a burly winter tent but we could all sleep in 30 degree weather and stay warm with t
Ventilation
The REI Base Camp 6 is not the best tent for really hot weather camping but it can do pretty well if you take the vestibule off. You still have a lot of privacy too as only the top is mesh. You can zip up the good sized mesh vents on both doors and also zip up the triangles on the bottom that allow side venting/air to rise from the bottom so it leaves the top.
Interior Space
The square shape inside doesn't line up bags as easy as the Rectangular REI Kingdom 6 Tent or my Big Agnes Big House 6. Those do a much better job but if you consider this a 4 person tent then it won't be as big of a deal. Especially if the wife and I like to go for extra comfort and bring wider sleeping pads/bags. Still it is fine and with two doors it's pretty easy to get in/out at night when others are sleeping. There is also still a little room for bags n such on the floor.
Interior Pockets
There are pockets everywhere they can place them and I love that about the REI Base Camp 6.  I have never felt awkward reaching for keys, a flashlight etc. There was always one next to me wherever I slept.
So overall, The REI Base Camp 6 isn't ideal for super cold or super hot camping but its a great tent for people that camp in mild to cooler climates like me. Keeping my family warm at night makes these trips soo much easier. Especially with a younger kids in the mix.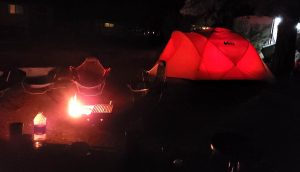 If this review helped, we'd appreciate if you:
REI Base Camp 6 User Reviews
Where To Buy
80% of outdoor sports products are not listed or sold online.
Our team has relationships with hundreds of local snowboarding and outdoor sports shops.
We'll call the shops and email you a list of stores along with pricing and availability.
---
Not sure what to buy?
Get custom advice from Good Ride editors James and Steph.

Get Advice
If you can't buy through the links above, you can support the site with: