Oneill Psycho Tech 5-5-4 Plus Hooded Wetsuit Review
Oneill Psycho Tech 5-5-4 Plus Hooded Wetsuit 2020 Review by The Good Ride

The O'Neill Psycho Tech 5/4 Plus Hooded Wetsuit is an incredibly stretchy wetsuit for those who want the easiest wetsuit to move in. It isn't cheap and it isn't the warmest but I haven't found this kind of freedom of movement with a wetsuit that is almost a 6/5mm in any other wetsuit. It just makes surfing in really cold water much easier. I ended up buying this and found that it is a great wetsuit except for the neck area feels colder.
O'Neill Psycho Tech 5/4 Plus Hooded Wetsuit- How it surfs and who its for
Days: 30+
James' Specs
5'10" 185 lbs
Chest: 43.5"
Arm Length (pit to wrist) 19.5"
Neck: 16″
Torso Length (collarbone to pant line) 23"
Shoulder Width 19" wide
Inseam 30"
Waist 32-33
Hips 40"
Upper Thigh 23.5"
Middle Thigh 21.5"
Calves 16.5"
Warmth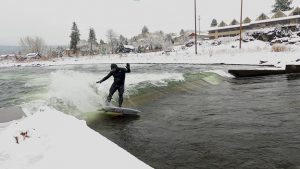 I have surfed O'Neill Psycho Tech 5/4 Plus on a weird wave in water temps of 34F to 50F and everything in between as winter transitioned into spring. Because you aren't in the water the whole time like you are ocean surfing you can surf in colder water than you normally would. It is not the warmest wetsuit in comparison to similar wetsuits from Patagonia, Hotline and Feral but it is far from horrible. That is the price you pay though for exceptional flexibility. One thing I didn't like was the area where the neck transitions into the traps/upper part of the shoulders is much colder than the rest of the wetsuit. It turns out it is much thinner material there. As you get to the collar bone it warms up. In temps you would normally surf you can feel the chill there and I really wish it was thicker there. Especially on windy days.
Fit
As you can see from my specs above it is never easy to get a wetsuit to fit me well. The O'Neill Psycho Tech 5/4 Plus LS is a little short and a touch tight but it works really well for my build. XLS was too big. I would like to try a large but most likely it might be a bit to long for my short arms and legs. It also might be too long in the neck.
Flexiblity/Paddle Power
I haven't experienced a wetsuit as easy to move in as the O'Neill Psycho Tech 5/4 Plus. No company I have tried has this much of an easy flex to it. It is a paddling dream. Not that I paddle much but I have paddled up against the current of the river to see how it works and this doesn't feel like a 5.5/4.5. It feels more like a stretchy 4/3.
Construction/Durability
Where I surf isn't tough but also isn't easy on wetsuits and they wear out in different places than my ocean wetsuits did before I moved to the mountains. So far it's held up well though for the 30+ odd days I surfed before it got too warm. You pay a little price in durability for this much flexibility but for many it will be worth it. It dries pretty fast too but not as fast as the Feral 5/4/3 we had.
Overall, I really like the O'Neill Psycho Tech 5/4 Plus and the only real complaint is the thinner material in the upper shoulders and neck. If they could fix that it would go from being a great to exceptional wetsuit.
Oneill Psycho Tech 5-5-4 Plus Hooded Wetsuit Images
Oneill Company Information
Oneill Psycho Tech 5-5-4 Plus Hooded Wetsuit User Reviews
Where To Buy
No obligation, but these links & ads support the site.
If you can't buy through the links above, you can support the site with: