Oakley Canopy Review And Buying Advice
Oakley Canopy 2017 - 2012 Review by The Good Ride
The Oakley Canopy is a pretty large goggle but it still can fit a medium face like Peter and I have. It has Oakley's great foam that is the standard for all other goggle foam out there.  In terms of size, this is larger than the Airbrake and smaller than the Flight Deck. It's not for small faces. It fits Peter and our Medium faces pretty well but as you can see from the vids it's on the big side and we just barely fit into em.  It's mainly for the big-headed rider….not in ego but just in pure head size. If you want an even bigger and wider field of view then it's the flight deck.
Ethics Statement: We don't get paid by the manufacturer to write these reviews.  No one is perfect and we do make money from the "Where To Buy" links below, but this is our best attempt at an honest and objective review from an average riders' perspective.
Here is how it looks on my face with a helmet on.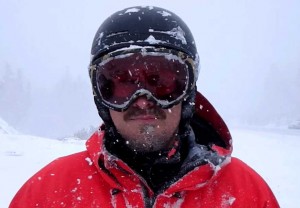 Oakley Canopy Past Reviews
Oakley Company Information
Oakley Canopy User Reviews
---
---
Oakley Canopy Review And Buying Advice
SKU
UPC
Model
Update Prizm Review
Dec 17, 2015
by
Tim Abenath
Ability Level: Advanced •
Riding Style: All Mountain •
Days You Ride A Year: 30 days
This is my secound review on this page over these goggles !
I tested them in the snow and all I can say is : PERFECT !!!!!
I never had a better view even under very cloudy low light conditions !!!! I was able to see every little Detail in the snow like HD view...
I can really highly recommend these Prizm lences !
For the next test I will try the prizm rose lense witch is made for real bad weather but even there the jade Iridium did a great Job ....All in all : From bright sunlight to cloudy low light it was a perfect view and what else is more important to see where you ride ;-)

---
Superb fit
Nov 05, 2015
by
Tim Abenath
Ability Level: Advanced •
Riding Style: All Mountain •
Days You Ride A Year: 30 days
I just got myself these goggles with the jade Iridium prizm lense after e mailing with the good ride team.:-) They convinced me to try these new prizm technology. I tried different oakley goggles from Airbrake over Crowbar,Splice to Canopy and ended with these. The fit for my face together with the helmet I use was superb an for me the jade Iridium prizm witch is good for a wide range of light conditions was perfect .....Can´t wait to test it in snow but even under non snow conditions this goggle is a lightyear better view then my current highend Alpina Quatroflex polarized one. Thanks for the help James.....you have been right again !!!

---
Where To Buy
No obligation, but these links & ads support the site.
If you can't buy through the links above, you can support the site with: