Oakley Canopy Review And Buying Advice
Oakley Canopy 2017 - 2012 Review by The Good Ride
The Oakley Canopy is a pretty large goggle but it still can fit a medium face like Peter and I have. It has Oakley's great foam that is the standard for all other goggle foam out there.  In terms of size, this is larger than the Airbrake and smaller than the Flight Deck. It's not for small faces. It fits Peter and our Medium faces pretty well but as you can see from the vids it's on the big side and we just barely fit into em.  It's mainly for the big-headed rider….not in ego but just in pure head size. If you want an even bigger and wider field of view then it's the flight deck.
Ethics Statement: We don't get paid by the manufacturer to write these reviews.  No one is perfect and we do make money from the "Where To Buy" links below, but this is our best attempt at an honest and objective review from an average riders' perspective.
Here is how it looks on my face with a helmet on.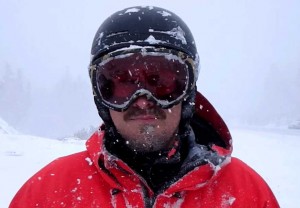 Oakley Canopy Past Reviews
Oakley Company Information
Oakley Canopy User Reviews
If you can't buy through the links above, you can support the site with: