Nemo Stargaze Recliner Luxury Chair Review
Nemo Stargaze Recliner 2022 - 2020 Review by The Good Ride
Turn Ons/Swipe Right: Great balance of comfort and portability
Turn Offs/Swipe Left: Best with a stool. Cup holders have an awkward angle. Expensive.
Summary
The Nemo Stargaze Recliner isn't perfect but it is the best balance between comfort and portability with a unique reclining and rocking feature. With a foot stool and a pair of binoculars I can just lean back and geek on the stars all night if I want to.
Ethics Statement: We don't get paid by the manufacturer to write these reviews and this is our unfiltered opinion. We do make money from the "Where To Buy" links, but this is our best attempt at an honest and objective review from an average riders' perspective. 
Nemo Stargaze Recliner Luxury Chair Review- How it sits me and who its for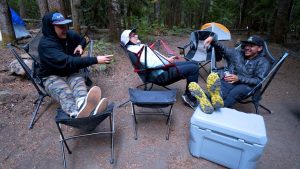 How This Review Happened:
Precious Good Ride dollars were spent to buy this and review it.

How It Was Tested
I've used these chairs over 1.5 years in my back yard and more camping trips I can remember. Last summer I ordered and returned about 15 other chairs before finally keeping these. Some of them are the old Nemo Reclining Chair, Big Agnes Mica Basin Chair, Big Agnes Big Six Armchair, Nemo Moonlight, Helinox Sunset Chair, Laufma Reclining Chair, Alps King Kong Chair, Alps Escape Chair, Alps Lay-Z Lounger, GCI Free Form Zero Gravity Camp Chair, GCI Comfort Pro Chair and some random purchases on Amazon. 
Cup Holder
So the Cup Holder of the Nemo Stargaze Recliner has an odd angle that works ok with beer and other canned drinks but it doesn't do well at all with open cups. If you want to do mixed drinks you need them sealed. I just now drink out of my coffee cup that has a sealed lid. This is just the compromise you have to make to have this rocking and reclining feature. 
Reclining
The Nemo Stargaze Recliner is not as good as a big Zero Gravity chair you would get for your back yard or porch but with a good stool it gets close. If you compare anything else with this much packabilty nothing else I can find is close. I can't find anything more comfortable with this portability and I love that rocking/reclining feel vs. any other camp chair. 
Packability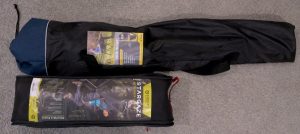 So there are many camp chairs that pack up much smaller but they are soo uncomfortable. But in comparison to many portable chairs like the GCI Comfort Pro Chair and the many other chairs like it I can fit almost 2 Nemo Stargaze Recliners vs. one. If you compare it to most comfortable rockers it is even better. 
Assembly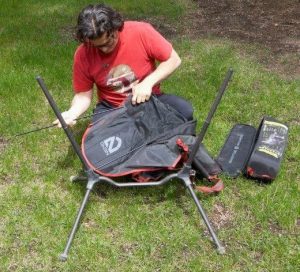 Check the video review but everything is very easy to assemble and the only thing that can be a touch tricky are the poles that reinforce the back seat. 
Getting in and Out
So I personally haven't had any real issues getting in and out of the Nemo Stargaze Recliner but I put my hands on each handle before getting up. Especially if I've had a few. Davey, Nick and my wife have had issues though on occasion. This is more of a chair you sit in and stay in. It isn't one for getting up and down like we often have to do with my kids needing something. 
Conclusion
So this Nemo Stargaze Recliner isn't cheap but I haven't been able to find anything better. These work for camping and chilling in my back yard. I love posting up with some 2x or 4x binoculars with a wide field of view and watch satellites go by. They are also great for just sitting by the fire when the kids are asleep with the wife. Hanging with Davey, Nick and the boys at Mt. Hood and snowboarding is a hell of a time too. The only thing that would make these camp chairs better is if Nemo made a complimentary stool to go with it. 
Nemo Stargaze Recliner Images
Nemo Stargaze Recliner User Reviews
Where To Buy
No obligation, but these links & ads support the site.
If you can't buy through the links above, you can support the site with: