Nemo Aurora 2P Tent Review
Nemo Aurora 2P Tent 2020 Review by The Good Ride
Swipe Right: Great Ventilation. Footprint Included. Dual Vestibule. Good Headroom Inside
Swipe Left:  Not the best for cold nights. Doors only have 1 zipper so they are hard to get in and out of.
Summary
The Nemo Aurora 2P Tent is only has one zipper per door but offers a pretty complete summer camping companion at a reasonable price.
Ethics Statement: We don't get paid by the manufacturer to write these reviews.  We do make money from the "Where To Buy" links, but this is our best attempt at an honest and objective review from an average riders' perspective.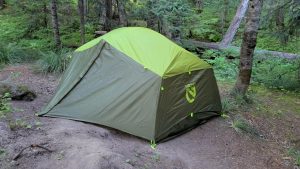 How This Review Happened: We spent our precious Good Ride dollars to buy this and review it.
Size: 2 Person
Days: 2
Conditions: 75-85 degrees during the day. 30-35 degrees at night.
Ventilation
The Nemo Aurora is great for warm weather camping. With the Vestibule off it's all about keeping it cool. Even with the vestibule on you can roll the doors up and get good ventilation
Construction/Usability
You have a lot of features for a $250 price point. The Nemo Aurora isn't going to be ideal if heavy winds hit the smaller more boxy ends but it is a nice balance between being roomy and ready for some wind..well with the vestibule on. Not a fan of one zipper per door and you have zip it all the way to get in and out. It is very light but not in that fragile zone either. Very easy to set up too.
Interior Space
There is a good amount of space inside and it has lots of room as a 1 person tent. Like all 2 Person tents it will be tight with 2 people but doable. The double vestibule has a good amount of space between the mesh at the top and then a good bit under each door. It makes the tent feel less claustrophobic when it's on.
Warmth
What makes the Nemo Aurora Tent feel so spacey also makes it cold. It took me a lot longer to warm this tent up. For a snowboarder who camps in the shoulder seasons near the mountains this doesn't work for me. But if you camp in places with warm nights this is a great tent.
Portability
Pretty light for this price point and you could do a lot worse here.
Nemo Aurora 2P Tent Images
Nemo Aurora 2P Tent User Reviews
Where To Buy
No obligation, but these links & ads support the site.
If you can't buy through the links above, you can support the site with: