Moonshade Awning Review By Steph
Moonshade Awning 2024 - 2023 Review by The Good Ride
MoonShade Awning Video and Written Review
This is a look at the portable vehicle awning from MoonShade. This 8lbs shade offers a 9ft x 7ft coverage. It is designed to attach to many different types of vehicles, vans, and trucks. MoonShade has multiple different types of anchors to make this shade as versatile as possible when it comes to set up.
Ethics Statement: We don't get paid by the manufacturer to write these reviews.  We do make money from the "Where To Buy" links, but this is our best attempt at an honest and objective review from an average camper's perspective.
How This Review Happened: MoonShade sent us the Awning to test out and review.
Testers: Steph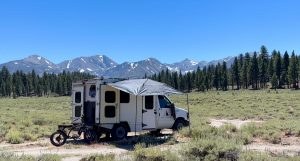 Testing Conditions
I tested this awning with my box truck set up. I also used it during some breezy sunny days to see how well it held up in the wind.
Weight: 8 lbs
Packed Measurements: 28″ x 6″
Awning Measurements: 9′ x 7′
Material: 420D ripstop polyester with UV protective treatment on the fabric
The awning material seems heavy duty enough to hold up to normal wear and tear without being too heavy or bulky. It is mostly designed for creating shade and also a reflective umbrella at night. But could double as a rain awning, however the material is not waterproof and does not have a DWR coating on it. Here's what MoonShade Says about the awning in the rain:
"The MoonShade is not technically "waterproof," it will shed rain in much the same way as an umbrella does. That is, there isn't a waterproof membrane or coating and the seams are unsealed, but the 420D ripstop polyester fabric is water-resistant and will shed rainwater off the sides and away from what's beneath it."
Poles
It comes with aluminum poles for tensioning the awning and also the legs. The leg poles had adjustable height as well.
Set Up
Even with minimal instructions included in the box, the MoonShade Awning is still pretty self explanatory to set up. They do have an in depth video instruction on their website, but you would need service to view it and good camping spots aren't always in the best cell service locations.
It can be set up with one person easily, as long as it isn't too windy out. The shade acts like a sail if the wind catches just right and I almost went for a ride one day when an unexpected gust came along before I had the shade attached to my van. But it is super easy to set up alone on a normal day.
The top of the MoonShade has two tensioning rods that work similar to setting up a dome tent.
Then you just choose which anchors work best for your set up and attach those to the ideal spots on your vehicle.
The corners of the awning come with attached carabiners to clip onto the anchors to keep the shade attached to your vehicle. I used the giant suction cups on my truck because my box truck isn't metal. But on a metal vehicle, the magnet anchors would be super easy to use.
Then you just attach the leg poles to the corners of the awning, adjust their height, and tether the MoonShade down with the stakes, guy lines, and any other anchors you want to use.
Anchors
MoonShade has endless options on their site when it comes to anchors. Magnets, adhesive, suction cups, permanent anchors….. there is most likely a solution to any type of set up out there.
I mostly used the suction cups with my truck. The suction cups worked great, as long as I wasn't being lazy and cleaned the surface of my truck before attaching them. They have a very strong attachment. So strong, that I actually used them to pull out a dent in the top of the cab of my truck. We had a very big snow storm last winter that indented my roof, and the suction cups had enough suction to pull out the dent!
Versatility
I love that there isn't one way to use the MoonShade. You can set this awning up long ways, or short ways as well depending on your preference. I also really like that I didn't have to attach anything permanently to my truck. And that I could move the shade around to different locations on my truck depending on where the sun was hitting.
The multiple anchor options also can double as various tie down points for securing the awning. I used the magnet anchors on my doors to help tether the awning on windy days.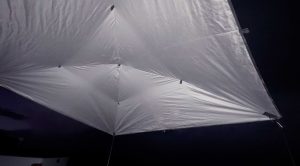 Reflective Fabric
A unique feature to the MoonShade, is the reflective underside of the awning. At night, this reflective fabric helps illuminate the space under the awning. It works really well, even if the light source is quite small.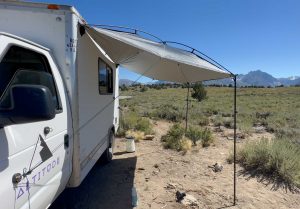 Overall
The MoonShade Awning is a very versatile gear option that is compatible with a lot of different vehicle set ups. I really liked that I could move the awning early around my truck into different positions, and that it held up pretty good in wind too. (As long as it was tethered well).
The different anchor options make this awning really adaptable, and the reflective coating on the bottom of the awning means it serves a purpose even at night. It packs down into a pretty compact carrying bag, so it doesn't take up too much cargo room either.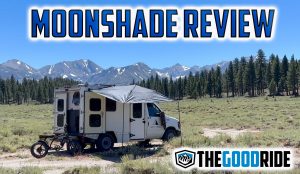 If this MoonShade Awning review helped, we'd appreciate if you:
Moonshade Awning User Reviews
Where To Buy
80% of outdoor sports products are not listed or sold online.
Our team has relationships with hundreds of local snowboarding and outdoor sports shops.
We'll call the shops and email you a list of stores along with pricing and availability.
---
Not sure what to buy?
Get custom advice from Good Ride editors James and Steph.

Get Advice
If you can't buy through the links above, you can support the site with: