Membrane Solutions Water Filtration Straw 2022 Review
Membrane Solutions Water Filtration Straw 2023 - 2022 Review by The Good Ride
We are looking at the Membrane Solutions Water Filtration Straw. This is a personal water filter that is lightweight, very easy to use and can filter up to 5,000 liters.
Ethics Statement: We don't get paid by the manufacturer to write these reviews.  We do make money from the "Where To Buy" links. But this is our best attempt at an honest and objective review from our perspective.
How This Review Happened:  We were sent this for an extended demo. We took the Water Filter Straw along for a 3 day backpacking trip to test it out.
Testers: Steph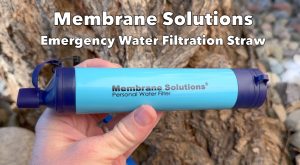 Weight: 2 oz
Measurements: 1.18 x 1.18 x 6.69 inches
Membrane Solutions Water Filtration Straw Fast Forward Markers & Timecodes
00:00 – Intro 00:35 – Water Filter 00:41 – Coarse Filter Screen 00:47 – Cotton Fiber 00:53 – Activated Carbon 00:59 – Ultrafiltration Membrane 01:06 – Filters Up To 5,000 Liters 01:12 – Cleaning 01:37 – Interchangable Filters 02:25 – Using The Straw 03:28 – Weights
Water Filter
This Water Filtration Straw uses an ultrafiltration membrane to filter out 99.99999% of bacteria and other harmful substances that might be in the water.
It has a coarse filter screen, double layer pp cotton fiber, coconut shell activated carbon, and the hollow fiber ultrafiltration membranes. It can filter up to 5,000 liters.
The activated carbon filter is removable and can be replaced to help extend the filter's lifespan.
Cleaning The Filter
Cleaning out the filter is simple. You can use a small syrenge to backlash the filter 2-3 times to clean it out.
To store the filter, clean it out, and let it air dry before storing it.
Interchangable Filters
The filter can also be used with other Membrane Solutions filtration systems as well. It can be used with their Water Filtration Bottle as well as the Gravity Filtration Systems.
Using The Straw
It is very simple to use. Just uncap the top and bottom of the filter, place the bottom of the filter in the water you want to drink from, and drink the water through the straw end.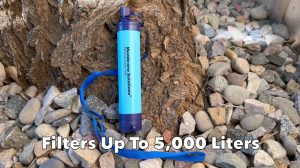 Overall
The Membrane Solutions Water Filtration Straw is a lightweight and easy to use personal filter. It could be good for emergency situations, or if you want to go ultralight on the filtration system while hiking or camping.
Membrane Solutions Water Filtration Straw Images
Membrane Solutions Company Information
Membrane Solutions Water Filtration Straw User Reviews
Where To Buy
No obligation, but these links & ads support the site.
If you can't buy through the links above, you can support the site with: