Membrane Solutions Filtered Water Bottle Review By Steph
Membrane Solutions Filtered Water Bottle 2024 - 2022 Review by The Good Ride
Membrane Solutions Filtered Water Bottle Video And Written Review
This is a look at the Membrane Solutions Filtered Water Bottle. This water bottle can be used to drink out of fresh water sources on hikes or while camping. It comes with a filter straw or normal straw option for the bottle.
Ethics Statement: We don't get paid by the manufacturer to write these reviews.  We do make money from the "Where To Buy" links. But this is our best attempt at an honest and objective review from our perspective.
How This Review Happened:  We were sent this for an extended demo. We took the Filtered Water Bottle along for a 3 day backpacking trip to test it out. I also used it for everyday use for about a month.
Testers: Steph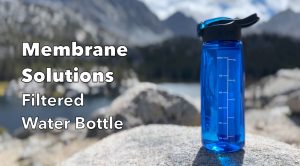 Weight: 7.36 oz
Measurements: 3 x 3 x 9 inches
Carabiner and Cleaning Syrenge
The bottle comes with a cleaning syrenge and a carabiner for attaching the bottle to a backpack or whatever you want.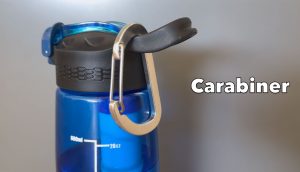 Flip Up Straw Cover
I like the flip up cover that protects the straw from getting dirty. This is great for hiking, especially if the bottle is in an outside pocket on the backpack.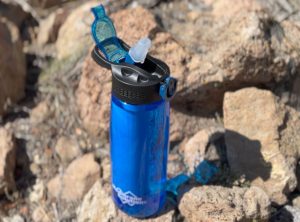 Cleaning The Filter
To clean the filter, you can use the syrenge to backflush the filter to wash it out or remove any debris that might be in the filter.
Filter
This system uses a hollow fiber ultrafiltration membrane that filters out 99.99999% of aquatic bacterialand 99.99% of aquatic protozoa that might be in the water. It also has a replacable coconut shell carbon fiber filter as well as a coarse filter screen.
Filter Attachment
The first time I connected the filter to the bottle I pushed it up too far and it was difficult to get water through the straw. It doesn't take much pressure to fully connect the fitler to the lid of the bottle and it works great when it is connected properly.
Storing The Filtered Water Bottle
To store the filter and bottle, first backflush the filter, air dry it, and then you can store it away.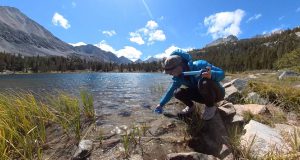 Overall
The Membrane Solutions Filtered Water Bottle is a simple filtration system that can be used with fresh water sources. It is reccomended to change the filter once a year. This bottle could be good for everyday use, hiking, backpacking or travel.
If this review helped, we'd appreciate if you:
Membrane Solutions Filtered Water Bottle Images
Membrane Solutions Filtered Water Bottle User Reviews
Where To Buy
80% of outdoor sports products are not listed or sold online.
Our team has relationships with hundreds of local snowboarding and outdoor sports shops.
We'll call the shops and email you a list of stores along with pricing and availability.
---
Not sure what to buy?
Get custom advice from Good Ride editors James and Steph.

Get Advice
If you can't buy through the links above, you can support the site with: