Membrane Solutions 6L Gravity Fed Water System 2022 Review
Membrane Solutions 6L Gravity Fed Water System 2023 - 2022 Review by The Good Ride
This is a look at the Membrane Solutions 6L Gravity Water System. The system weighs 11.64 oz and can filter up to 5,000 liters with one filter.
Ethics Statement: We don't get paid by the manufacturer to write these reviews.  We do make money from the "Where To Buy" links. But this is our best attempt at an honest and objective review from our perspective.
How This Review Happened:  We were sent this for an extended demo. We took the Gravity Filter along for a 3 day backpacking trip to test it out. I also used it on a couple other day hiking trips.
Testers: Steph
Membrane Solutions 6L Gravity Water System Fast Forward Marker Timecodes
00:00 – Intro 00:36 – Storage Bag 01:27 – How To Use 02:23 – Hose Attachment 04:00 – Interchangable Filters 04:51 – Lifespan of Filter 05:00 – 4 Stage Filtration 05:31 – Weight 05:43 – Overall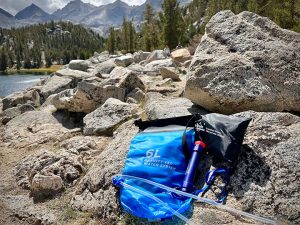 Weight: 11.64 oz
What's Included
Storage bag, 6L gravity bag, hanging strap, attachment hose with shut off clamp, water filter, attachment for a water bottle so you can backflush the system with a bottle, or filter water into a water bottle. There are threads on both sides of the water filter to allow a bottle attachment on either end for different purposes.
How To Use
This system is very simple to use. You just fill up the gravity bag, attach the hose to the filter, and let it do it's thing. The flow of water is not very fast, but there is a constant small stream of water as it filters through.
The first time I filled the bag up, I got a bit of sand in there because the water was really shallow. And it clogged the fitler quickly. I brought a backup filter with me, and refilled the bag with cleaner water, and it worked great. So when choosing a water source, it's best to find water with as little sediment in there as possible.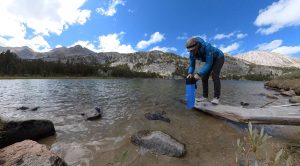 Interchangable Filters
The filters used with this system can be interchanged with other Membrane Solution water systems like the Filtered Water Bottle. The filter can also be used as a personal water filter straw to drink water directly from the water source.
Lifespan Of Filter
The Membrane Solutions website says the filter that comes with this system is good for up to 5,000 liters. The bag came with a chart that also stated if you get water out of clean water sources the filter should last 100-500 bags. And from dirty water sources it could last 30-120 bags.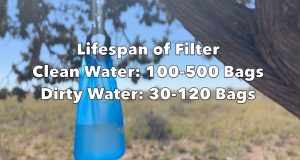 Filter
This filtration system uses an ultrafiltration membrane filter. This filter has a coarse filter screen, PP fiber filter, granular activated carbon filter, and a hollow membrane ultrafiltration membranes.
Overall
The Membrane Solutions 6L Gravity Water System could be a good item to bring alon on backpacking trips, hiking, or travel. It isn't the most compact or lightweight filtering system out there. But it is very simple to use and gets the job done. The 6L Gravity Water System would be good for larger group trips and can provied clean water out of fresh water sources.
Membrane Solutions 6L Gravity Fed Water System Images
Membrane Solutions 6L Gravity Fed Water System User Reviews
Where To Buy
No obligation, but these links & ads support the site.
| | | |
| --- | --- | --- |
| Loading Amazon Results... | | |
If you can't buy through the links above, you can support the site with: