Klymit USB Rechargeable Pump Review By Steph
Klymit USB Rechargeable Pump 2024 - 2023 Review by The Good Ride
uKlymit Rechargeable Air Pump Video and Written Review
This is a review on the Rechargeable Air Pump from Klymit, This air pump inflates the Klymit Static V air mattress in 45-60 seconds. I was able to inflate the Klymit Static V pad 65 times on one charge.
Ethics Statement: We don't get paid by the manufacturer to write these reviews.  We do make money from the "Where To Buy" links, but this is our best attempt at an honest and objective review from an average camper's perspective.
How This Review Happened: Klymit sent us this Air Pump to test out and review.
Testers: Steph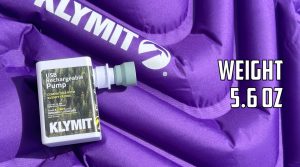 Weight: 5.6 oz
Dimensions: 3.25 x 2.5 x 2 in / 8 x 6 x 5 cm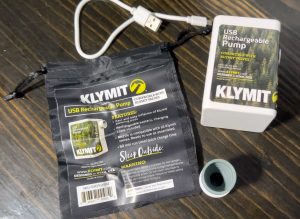 What's In The Box?
The air pump set comes with one rechargeable air pump, a charge cable, attachment nozzle, and a storage bag.
Battery
I was able to get 65 inflations out of one battery, that equaled 52 min and 46 sec of run time.
It took a while to recharge though. The air pump took 4 hrs and 47 min to recharge it fully.
It comes with a charge indication light that lets you know when it is fully charged.
Compatible With Any Inflatable Klymit Sleeping Pad
You can use this air pump with any Klymit sleeping pad, and really it should work on any pad that has a similar air inlet as well.
The nozzle makes it easy to use, but you have to hold the nozzle in place or it will not stay put. It would be nice if you could attach it and walk away, especially for a larger pad that will take more time to fill. Luckily the sleeping pad I use only took about 45 seconds to fill up.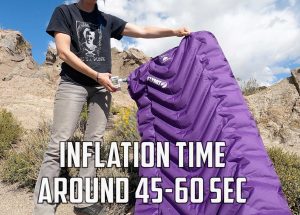 Overall
The Rechargeable Air Pump works great to quickly inflate a sleeping pad. It saves time and has a great amount of battery life. It would be great to bring along for a car camping trip, but is a bit big for me to bring along on a backpacking trip. There are smaller and lighter air pumps out there on the market, but they do have smaller batteries so would not last quite as long as the Klymit Air Pump.
This air pump is very easy to use, and gets the job done. I do wish it filled up the pad with a  bit more psi. I still had to top off the sleeping pad manually. But the air pump did most of the work and would be great to have if you had a larger sleeping pad to fill up as well.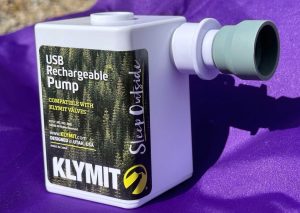 If this MoonShade Awning review helped, we'd appreciate if you:
Klymit USB Rechargeable Pump Images
Klymit USB Rechargeable Pump User Reviews
Where To Buy
80% of outdoor sports products are not listed or sold online.
Our team has relationships with hundreds of local snowboarding and outdoor sports shops.
We'll call the shops and email you a list of stores along with pricing and availability.
---
Not sure what to buy?
Get custom advice from Good Ride editors James and Steph.

Get Advice
If you can't buy through the links above, you can support the site with: