Kammok Python 10 Review By Steph
Kammok Python 10 2024 - 2022 Review by The Good Ride
Kammok Python 10 Hammock Straps Video and Written Review
These Kammok Python 10 Hammock Straps provide a simple and lightweight way to set up a hammock.
Ethics Statement: We don't get paid by the manufacturer to write these reviews.  We do make money from the "Where To Buy" links. But this is our best attempt at an honest and objective review from an average hiker's perspective.
How This Review Happened:  We were sent these straps for an extended demo and returned it to them.

Testers: Steph
Weight: 8.2 oz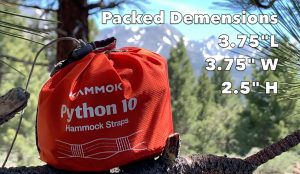 Kammok also offers an ultralight version of these straps that weigh only 3.2 oz if you are looking for something lighter.
The Python 10 Straps come in 10′ and 15′ lengths.
Combined Weight with the Hoo Double Hammock: 26.2 oz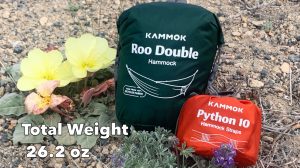 Weight Capacity
The Python 10 Straps can hold up to 500 lbs. Which matches up with the Roo Double weight capacity as well.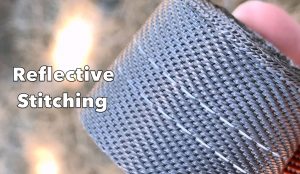 Reflective Stitching
A nice feature of the Python 10 straps, is the reflective stitching throughout the straps to add visibility in low light conditions.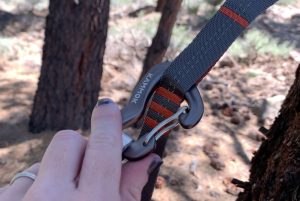 Daisy Chain
Each strap has 20 daisy chain loops for many different points to attach the hammock to. Kammok uses Nanoweave™ technology to weave the daisy chain in a way that creates a stronger strap as well as saves on weight.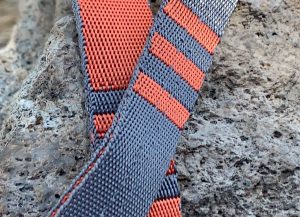 Weight Saving Shape
The Python 10 straps are wider at the part that goes around the tree, and thinner where the daisy chain is to save on weight but still protect the trees. This is probably my favorite feature of the straps.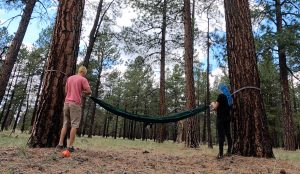 Set Up
The straps make for a very simple and quick hammock set up. They give a lot of length options and help protect the trees as well.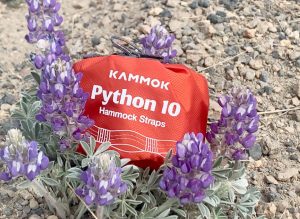 Overall
The Kammok Python 10 Hammock Straps make setting up a hammock very quick and easy. They don't add much weight to the hammock system and are pretty compact. I tested them with the Roo Double hammock, but they would work with any hammock you might have.
If this review helped, we'd appreciate if you:
Kammok Python 10 User Reviews
Where To Buy
80% of outdoor sports products are not listed or sold online.
Our team has relationships with hundreds of local snowboarding and outdoor sports shops.
We'll call the shops and email you a list of stores along with pricing and availability.
---
Not sure what to buy?
Get custom advice from Good Ride editors James and Steph.

Get Advice
If you can't buy through the links above, you can support the site with: