Hyperlite Mountain Gear 3400 Southwest Review By Steph
Hyperlite Mountain Gear 3400 Southwest 2024 - 2021 Review by The Good Ride
The Hyperlite Mountain Gear Southwest 3400. is an ultralight no nonsense pack full of all the features you need and nothing you don't.
Ethics Statement: We don't get paid by the manufacturer to write these reviews.  We do make money from the "Where To Buy" links, but this is our best attempt at an honest and objective review from an average hiker's perspective.
How This Review Happened:  Steph owns this pack.
Testers: Steph
Size Tested: SM
Steph's Specs:
Height: 5'3"
Chest: 29"
Upper Chest: 32"
Arm Length (pit to wrist) 20"
Neck: 12.5″
Torso Length (collarbone to pant line) 18"
Shoulder Width 16" wide
Weight: 1.98 lbs or 31.7 oz
The Smaller 2400 Southwest 40L pack weighs 1.88 lbs or 30.1 oz. I chose the larger of the two because the 3400 Southwest has 15L more capacity and only weighs a couple ounces more. For me it was worth the extra capacity.
Capacity: The 3400 Southwest is a 55L pack. But, the option to roll the top down to a much smaller pack makes it very versatile.
Fabric: Hyperlite uses Dyneema® fabric to make their packs. This offers a very durable and extra lightweight material that is also waterproof.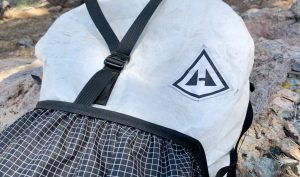 Waterproof: I love that the pack is basically fully waterproof already. So for one, I don't need to to carry a rain fly when I use this pack, and there's no need to stop and put on the rainfly when hiking if it starts to rain. This saves space, weight, and time while hiking.
Durability: I've used this pack for well over a year now. I use it when backpacking, but also for traveling. So far it has held up great. The white fabric shows signs of use and is a bit dirty looking. But there are no signs of damage or significant wear. So far I expect the 3400 Southwest to hold up for many more years and adventures.
Hydration: The pack comes with an inner hydration pocket, and a small opening to pass through the hydration hose.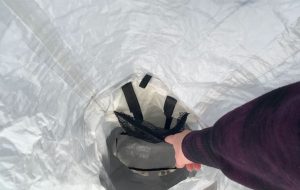 Removable Back Supports: There are two supports located inside the pack, running vertically alongside the hydration pocket. These supports are removable in case you want to save on weight or just don't need them.
Shoulder And Waist Straps: The shoulder straps come with a nice amount of padding as do the waist straps. They are pretty comfortable and support the packs weight nicely. The waist straps come with pockets on both sides that also have taped zippers. They are big enough to carry trail snacks and also have enough space to put a phone.
Comfort/Fit: I was worried that the pack wouldn't fit my specs when I first purchased it. But it is pretty comfortable even for my smaller frame. I usually have issues with the waist straps fitting properly. However, the 3400 Southwest was a surprise, especially since it is a unisex sizing. Even when fully weighted the pack wears really well.
Things I Wish It Had: The velcro closure at the top of the pack is functional, but tended to get in the way of things. It snags on a lot of things as I fill the pack or take things out. It isn't a deal breaker though. One other thing I think would add a lot of functionality is some way to get to the lower portion of the pack. This is something that I use a lot in my other packs and I found myself missing while using the 3400 Southwest.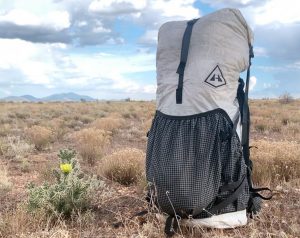 Overall: The Hyperlite Mountain Gear 3400 Southwest would be good for someone looking for ample capacity but still wants a very lightweight pack. I searched around and could not find another 55L pack lighter than the 3400 Southwest.  The Southwest has a lot of great features, but no bells and whistles that add weight and aren't needed. This pack is durable, waterproof and will get the job done.
Hyperlite Mountain Gear 3400 Southwest Images
Hyperlite Mountain Gear 3400 Southwest User Reviews
Where To Buy
80% of outdoor sports products are not listed or sold online.
Our team has relationships with hundreds of local snowboarding and outdoor sports shops.
We'll call the shops and email you a list of stores along with pricing and availability.
---
Not sure what to buy?
Get custom advice from Good Ride editors James and Steph.

Get Advice
If you can't buy through the links above, you can support the site with: