HDTS Emergency Stick 2022 Review
HDTS Emergency Stick 2023 - 2022 Review by The Good Ride
This is a look at the Emergency Stick from HDTS. It is a lightweight and compact stick that is packed with features to help out in emergency situations.
Ethics Statement: We don't get paid by the manufacturer to write these reviews.  We do make money from the "Where To Buy" links. But this is our best attempt at an honest and objective review from our perspective.
HDTS Emergency Stick Fast Forward Markers & Timecodes
00:00 – Intro 00:36 – Weight 00:45 – Measurements 01:11- Directions / Info 01:29 – Features 03:11 – Waterproof Level 03:42 – Light 04:35 – SOS Light 04:49 – Hand Warmer 05:54 – Charging 06:44 – Power Bank 07:12 – Arc Lighter 09:28 – Water Filter 10:45 – Breaking Hammer 12:24 – Overall
How This Review Happened:  We were sent this for an extended demo. We took the Emergency Stick along for a 3 day backpacking trip.
Testers: Steph
Weight: 14.08 oz
Measurements: 15.98″ L x 1.5″ W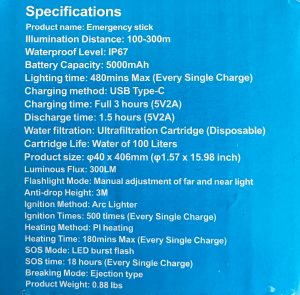 Charging
A full charge from totally empty to full takes around 3 hrs. There is a red light that blinks when it is charging, and stops blinking when it is full. It charges via a  usb-c port.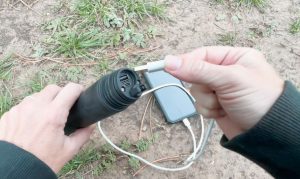 Battery Pack
This is a great feature of the emergency stick. It has a 5000mAh battery that you can use to recharge anything with a usb cable. All the other electronic features pull off the same battery. So it depends on what features are used to determine how many charges you could get out of the battery pack. However, the battery did last a lot longer than I expected when I was testing everything out. I brought along a solar charger to re-charge the stick on trail as well. That way, we weren't confined to only one charge.
Waterproof Level
It has a waterproof rating of IP67. When I looked that up, I read that it is good for up to 1 meter under water, and will last for about 30 min.
Light
There is a pretty strong flashlight at the top of the stick. It has an adjustable field of view, where you can toggle the light between 100 and 300 meters. It was a lot brighter than I was anticipating. And you can use the light while you use any other electronic features as well.
SOS Light
The flashlight also has an SOS setting that can run up to 18 hrs on a full charge.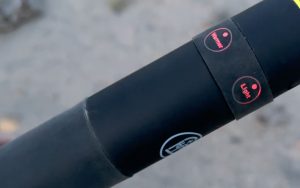 Hand Warmer
The middle section of the stick has a hand warmer. It heats up pretty quickly, and with the battery size, it can stay on for up to 180 min. Would be great if you are stranded somewhere and need your fingers to work in cold weather.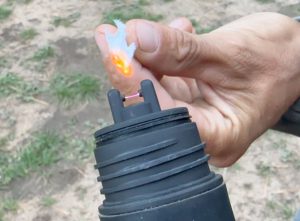 Arc Lighter
There is a lighter with an electrical current that is great for lighting a camp stove, camp fire, or whatever else you might need it for. The specs say that it can light in winds up to Grade 8 (39-46mph) I didn't have winds quite that strong, but I did test it against a normal lighter on a pretty breezy day. The arc was much more reliable to light something than the lighter was. Definitely a cool feature.
The arc is located next to the charging ports. This made me a little nervous when lighting my camp stove. I was worried the flame might come up and damage the ports because the stick has to be pretty close in order to light something.
Water Filter
The disposable filter is really simple to use, and pretty easy to drink water from. You can either drink through the straw, or turn the filter upside down and use it like a gravity filter. It is good up to 100 Liters, and HDTS will have replacements availible on their site. It uses an Ultrafiltration Cartride that has a filtration accuracy of 0.01-0.1 Micron.
Breaking Hammer
The end of the stick comes with a breaking hammer. This would make the Emergency Stick a great option to have in the car. I didn't have a window to test it on, but I found some old glass lids. It is pretty amazing how fast the breaking hammer works. It is almost instant. And it breaks the entire glass surface. All it needs is a little and the hammer ejectsa and does the rest of the work.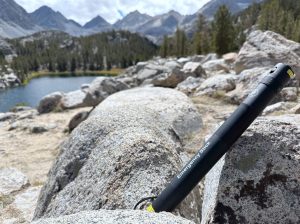 Overall
The Emergency Stick from HDTS has a ton of really great survival features. It is small and lightweight but also very durable. It could be good for hiking, camping, travel, or to keep around just in case. I like that it has features that can be used in normal situatiions like the battery charger, flashlight, and hand warmer. Love that it is water resistant and also has a drop rating of 3 meters. Everything functioned really well in all our tests, and it is amazing how many things fit into such a compact stick.
HDTS Emergency Stick Images
HDTS Emergency Stick User Reviews
Where To Buy
No obligation, but these links & ads support the site.
If you can't buy through the links above, you can support the site with: