Grand Trunk Evolution 20 Down Hammock Review By Steph
Grand Trunk Evolution 20 Down Hammock 2024 - 2023 Review by The Good Ride
 Grand Trunk Evolution 20 Down Hammock Video and Written Review
This is a review on the Grand Trunk Evolution 20 Down Hammock. This sleep system includes a 650+ down sleeping bag, a hammock and an under quilt all integrated into one piece of gear. It is very simple to set up, very warm and extremely comfortable too.
Ethics Statement: We don't get paid by the manufacturer to write these reviews.  We do make money from the "Where To Buy" links, but this is our best attempt at an honest and objective review from an average hiker's perspective.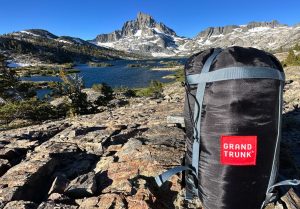 How This Review Happened: Grand Trunk sent us the Evolution Hammock to test out and review.
Testers: Steph
Weight: 4.2 lbs
Tested With: Grand Trunk 10′ Hammock Straps
Hammock Strap Weight: 12 oz
Insulation: RDS Certified 650+ down fill
It also comes in a synthetic version, but we tested the down version.
Packed Measurements: 13 x 7 x 7 inches (I got the 13″ down to about 9″ after compressing the bag)
Full Size Measurements: 126 x 66 inches (10.5′ x 5.5′)
This is a very roomy hammock that can accommodate a taller person for sure. It was extremely roomy for me. I'm 5'3″ so I had plenty of room while sleeping. It would be super rad if Grand Trunk made an Evolution Hammock in a smaller size for us smaller hikers to save a bit of weight and space in the pack as well. But the regular size still worked great for me.
Material
TrunkTech™ 40D Nylon Diamond RS 290 WR
Grand Trunk says the hammock material is weather proof. Not sure specifically what that means. But water did seam to roll off of the hammock material a bit so it may be slightly water resistant. Water did not roll off the sleeping bag material really though. However, the hammock kept me extremely warm in a lot of wind. I did not feel the wind pass through the insulation of the Evolution Hammock while I was sleeping so that was great.

Testing Conditions
Steph tested this hammock out on a few backpacking trips with lowest temps ranging from 34 F – 45 F at night. She also used it while car camping a couple times as well around the Eastern Sierra Mountains in California.
Set Up
One of the best things about this sleep system is there is only one thing to set up. You just find the right set of trees, put the straps around the trees, and hang the hammock. No sleeping pads, tents, sleeping bags, etc. When backpacking I was always the first to finish setting up, and the first to be completely packed. This is one of my favorite things about the Evolution Hammock.
Warmth
I slept in this hammock in temps down to around 34F. But it was also windy a handful of those nights as well, so there was a bit of a wind chill. The wind did not pass through the insulation of the hammock, and I stayed warm all night.
Because the hammock is so roomy, it took a bit longer for my body heat to warm up the space in the Evolution Hammock. Once the space was warmed up, it kept me very comfortable all night.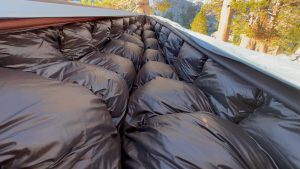 My favorite part was when I woke up in the middle of the night, and my feet were warm. My feet are NEVER warm when I sleep outside. So that amazing. I also really enjoyed that the sleeping bag part fit over the top of my head while I slept. But because it is attached to the sides of the hammock, the insulation didn't rest on top of my face so there was breathing room. And the opening at the top made for great ventilation to help prevent condensation inside the bag at night. Obviously the condensation probability would increase in colder temperatures, but it worked great for my summer camping excursions.
You can also zip up the sleeping bag at the bottom for a foot vent if needed.
Because the sides of the sleeping bag are attached to the hammock walls, the insulation gets pulled up at the sides and away from my body. This didn't change the warmth of the sleep system, just the comfort. I preferred sleeping in the Evolution Hammock with one extra sleeping bag liner or a light weight down quilt. This way it felt more like a bed.
Packability
I compared the Evolution Hammock to my normal hammock sleeping system. Normally, I bring a 20F bag, and the hammock and straps. I don't usually use an under quilt or anything else. Above is an image of the two set ups side by side. (I keep my hammock straps inside my hammock storage bag). The size is similar. But the weight of my set up is about 1.2lbs lighter. However, my personal hammock system is colder than the Evolution system because I don't use an under quilt and the Evolution hammock has one built in. So if I wanted to make both systems equal in warmth, I would have to add an under quilt to my current system and this would bring the pack size and weight of my set-up much closer to the Evolution's specs.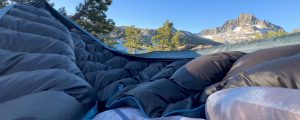 Overall
The Grand Trunk Evolution 20 Down Hammock makes for a warm, comfortable, and simple to set up sleep system. It isn't the lightest or most compact system on the market. But it is extremely comfortable and is probably the most simple. I was very impressed by the warmth it provided on cold windy nights about 9,000 ft.
If this Grand Trunk Evolution 20 Down Hammock review helped, we'd appreciate if you:
Grand Trunk Evolution 20 Down Hammock Images
Grand Trunk Evolution 20 Down Hammock User Reviews
Where To Buy
80% of outdoor sports products are not listed or sold online.
Our team has relationships with hundreds of local snowboarding and outdoor sports shops.
We'll call the shops and email you a list of stores along with pricing and availability.
---
Not sure what to buy?
Get custom advice from Good Ride editors James and Steph.

Get Advice
If you can't buy through the links above, you can support the site with: