GoPro Hero 6 Black Review from a Snowboarders Perspective
GoPro Hero 6 Black 2018 Review by The Good Ride
The GoPro Hero 6 is a very good 4k camera and there are more reviews out there than I can count.  However, I was prompted by some readers to write up my take on this and how it compares to my Sony FDR X3000 for snowboarders.  What it really came down to for me with the Sony was image stabilization and battery life but Hero 6 had a lot of strong points that almost made me choose the Go Pro Hero 6.  Instead, Steph is using it and she actually prefers it over my Sony.
Here is how I set things up to film.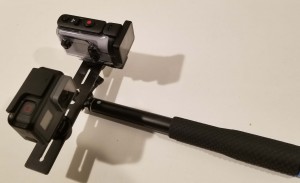 As a snowboard gear reviewer shooting videos became a necessity so I've been geeking on cameras for many years now. I pretty much carry a cam with me almost all the time to get a few shots before using other cameras for the actual review. I'm far from anything that resembles a professional camera guy but I just thought I'd share what's important to me when I film.
Ethics Statement: We don't get paid by the manufacturer to write these reviews.  No one is perfect and we do make money from the "Where To Buy" links below, but this is our best attempt at an honest and objective review from an average riders' perspective.
I mainly shoot in 4k 30p and then compress it to 1080p to save space.  I found that compressing 4k to 1080p is much better than actually shooting in even the best 1080p formats out there but for this test, I uploaded in 4k.  Both cameras were set to 4k 30p with their best image stabilization.
Video Quality
I found that the GoPro Hero 6 Black had a little better image quality at 4k 30p but both were pretty close.  The 4k 60p feature is pretty nice but for me, I'm personally not into slow-mo.  Who wants to see a bunch of us average guys do something average slower but it would be funny to do a slow-mo of us eating shit or something like that. It was less likely to pixelate but the one thing I didn't like was the color of the ProTune settings.  Everything seemed to be a little on the yellow side.  The Sony seemed to be more on the blue side but it seemed to better represent the colors I saw that day but it's all personal preference.  It is cool for those that have time to edit a lot to shoot flat and then color it as you see fit but for me, I like image quality that is usually ready for prime time out of the camera.
Sound
The sound is soo much Better with the GoPro Hero 6 Black.  It's never too loud and doesn't get to wind affected. It also makes it sound better than it did in real life.  It takes real world sharp/annoying sounds like scraping snow and makes them sound pretty of good.  The Sony is way too loud and wind effected when the protective case is off but when it's on it's way too quiet.
Image Stabilization
The GoPro Hero 6 Black is a huge improvement over the Hero 5 Black but it still felt a little jerky compared to the Sony.  Sony was smoother and I liked the way it filmed through bumps better.  Sure you could get a Gimbal but then it's kind of hard to use on a monopod like this and it's a shit ton of money.
Battery Life
The GoPro Hero 6 Black was done about the time the Sony was a little less than halfway done. I can usually shoot almost a full day of riding and for me, that's about 4hrs.  If I had the GoPro then I would always have to bring 2 batteries and possibly miss getting some good shots with it shutting off mid-filming. That happened one day at the Bird in some deep stuff which was pretty frustrating.  If you want to film on a whole day you probably need 3 batteries and I would suggest changing them out at 1 bar so you don't miss the good part on a run.
Ease of Use
I love the screen on the GoPro Hero 6 Black and it's much easier to change a setting as well as help you frame the shot. There is more of a chance I will use things like the Zoom feature following.  Sony is a pain in the ass with the app.  When your phone connects to so many other devices it's not always easy in cold weather to connect it.  It's also very light and easy to hold when snowboarding compared to Sony.
So, ass a snowboarder, filming my friends and myself on a monopod is most important. For me, the Image Stabilization and Battery Life was a deal breaker.  I would like to see the image stabilization improve as well as battery life in the next model. If so this might be the camera I can use.
GoPro Hero 6 Black Images
GoPro Company Information
GoPro Hero 6 Black User Reviews
Where To Buy
No obligation, but these links & ads support the site.
If you can't buy through the links above, you can support the site with: