Get Out Gear Down Puffy Blanket 2022 Review
Get Out Gear Down Puffy Blanket 2023 - 2022 Review by The Good Ride
This Get Out Gear Down Puffy Blanket only weighs 17 oz, has 650 Fill Down insulation and is made with a 20D Ripstop Nylon shell. It is very lightweight, and is suprisingly warm. It also comes with 3 snaps so you can convert the blanket into a poncho, and has 2 thumb/hanging loops as well.
Ethics Statement: We don't get paid by the manufacturer to write these reviews.  We do make money from the "Where To Buy" links. But this is our best attempt at an honest and objective review from an average hiker's perspective.
Get Out Gear Down Puffy Blanket Fast Forward Markers and Timecodes 00:00 – Intro 00:29 – Weight 00:37 – Down Fill 00:50 – Stuff Sack 01:16 – Fluff It! 01:29 – Dimensions 01:43 – Plastic Snaps 01:57 – Poncho Time 02:34 – 2 Thumb Loops 02:56 – DWR Coating 03:18 – Added Warmth 04:04 – Machine Wash Or Hand Wash 04:16 – Blanket Material / Shell 04:30 – Warmth 04:43 – Re-Stuff Into Stuff Sack 05:06 – Durability
How This Review Happened: We were sent this down puffy blanket to test out.
Testers: Steph
Size Tested: Single
Weight: 17 oz (Inlcuding stuff sack)
Dimensions
Puffed up: 77″x50″
Un-puffed: 80″x54″
Stuff Sack: 5″x12″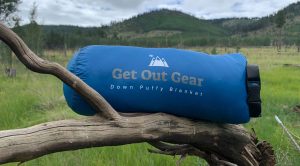 Shell Material
20D Ripstop Nylon with a DWR coating
Stuff Sack
This Down Puffy Blanket comes with a easy to stuff, stuff sack with a roll top closure and a hanging loop on the back. It is also very easy to pack back into the stuff sack.
Fluff It!
Right out of the stuff sack, the blanket is a little compressed, and it takes a bit of fluffing to get the down to puff up. But once it is fluffed, the blanket is super comfy and lightweight.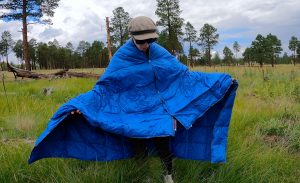 Poncho Time
There are 3 plastic snaps along the hem of the blanket. These convert the blanket into a poncho so you can be warm and have your hands free to do whatever you need. On a personal preference, I would prefer metal snaps. They just seem to work smoother. But I get that plastic snaps save weight. And on a blanket geared towards being super lightweight, the plastic snaps make sense.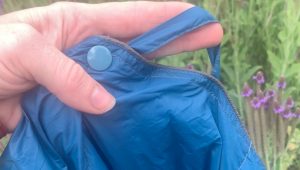 Thumb Loops
There are 2 loops located near the top two corners of the blanket. These allow you to wrap the blanket around your shoulders without using the snaps. Or you can hang the blanket up to dry, or attach it to something like a hammock, or sleeping pad so it stays in place.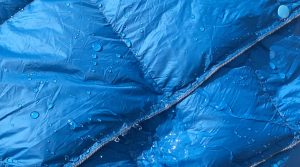 DWR Coating
The Down Puffy Blanket does come with a water resistant coating. This is nice so that the down fill has a better chance at staying dry if there is an unexpected rain storm, or an accidental spill. I tested this a bit with water, and the water rolled off the blanket pretty quickly. I also rubbed the water in a bit, and it still didn't saturate the fabric. The DWR coating should do well for most light moisture situations.
Pet Hair Resistant
I don't have a pet to test this with. But the Get Out Gear website mentions this blanket being a good option if you have pets. It is supposed to resist pet hair, and be durable enough to be used with pets while camping or traveling or whatever. If I get lucky, and find a friendly dog somewhere I'll give this a test and will update the reveiw.
Washing
I really like that this blanket is machine washable, or also hand washable. This makes using it outdoors or with pets a bit easier so there's no worry about getting it overly dirty and not being able to clean it.

Warmth
I used this as a single insulation sleep layer in the summer. The temps didn't get below 45 degrees and I was plenty warm. I was pretty suprised at the heat this blanket provided given how light it feels. This would be a great hammock top quilt, or an additional layer for a sleep system or sleeping bag. Get Out Gear states that the blanket adds about 15 degrees to an existing sleep system. I'll definilty be bringing this along with me on backpacking trips this fall in case there is an unexpected drop in temperature.
Durability
The only thing I noticed while using this Down Puffy Blanket, that I think could use some improvement, is some of the stitches didn't get finish correctly on the blanket. There are only a few of them that this happened with. It seems like the machine that sewed the stiches missed the back stitch. So with a slight tug, the thread comes free. This happeneed with only 2 of the finishing stitches on my blanket. The rest are backstitched correctly and should stay for a long time.
Overall
The Get Out Gear Down Puffy Blanket is lightweight, warm, and functional. The poncho feature is a great addition to the blanket, making it very versitile. The blanket is super warm, and comes in a lot of fun colors as well. I like that it has a water resistant coating, and that it is packable and easy to take along on any adventure.
Get Out Gear Down Puffy Blanket Images
Get Out Gear Company Information
Get Out Gear Down Puffy Blanket User Reviews
Where To Buy
No obligation, but these links & ads support the site.
If you can't buy through the links above, you can support the site with: