GCI Outdoor Kickback Rocker Review By Steph
GCI Outdoor Kickback Rocker 2024 - 2022 Review by The Good Ride
GCI Outdoor Kickback Rocker Chair Video and Written Review
This is a look at the GCI Outdoor Kickback Rocker Chair. This chair comes with spring loaded shocks that let you rock back and forth on the chair.
Ethics Statement: We don't get paid by the manufacturer to write these reviews.  We do make money from the "Where To Buy" links. But this is our best attempt at an honest and objective review from an average hiker's perspective.
GCI Outdoor Kickback Rocker Fast Forward Markers & Timecodes
00:00 – Intro 00:29 – Cupholder and Phone Pocket 01:03 – Spring Action Rocker 01:49 – Ripstop Polyester Fabric 02:21 – Armrest 02:43 – Powder Coated Steel Frame 02:55 – Carrry Strap / Loop and Peg Closure 03:44 – Weight and Weight Capacity 04:13 – Wild Mustang Intermission 04:50 – Folded Up 5:00 – Overall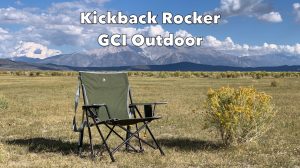 How This Review Happened:  We were sent this for an extended demo.
Testers: Steph
Weight: 10.06 lbs
Weight Capacity: 250 lbs
Folded Measurements: Height 39″ / Width 5.9″ / Depth 7.9″
Full Size Measurements: Height 31.7″ / Width 32.5″ / Depth 27.2″ / Seat Height 17.1″
Cup Holder and Phone Pocket
The Kickback Rocker comes with a standard size cup holder, and a phone pouch attached to the armrest. The phone pouch held my iPhone X and still had a lot of extra room, so could accomodate a larger phone as well.
Fabric
The chair fabric is a ripstop polyester, and it has some sort of coating on the back that looks like it adds to the durability of the fabric. GCI does state on their website that the fabric is not weatherproof. So it is not meant to be stored outside or left outside in the weather. The chair will last longer if it is stored inside.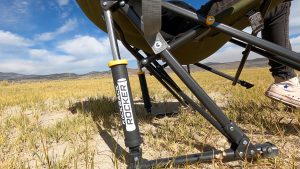 Frame
The Kickback Rocker comes with a steel, powder coated frame that seems like it should hold up for a long time. It is a solid frame that feels really sturdy when sitting in it, and can hold up to 250lbs.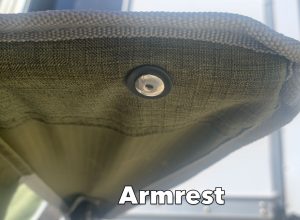 Armrest
The armrest is securly attached to the frame. I like this, because I have had camp chairs in the past, where the armrest is constantly slipping off and moving around. I did find myself wishing it had more of a downward angle towards the back of the armrest but they were still comfortable.
Rocker
This chair comes with Spring Rocker Technology, the rocker seems to adjust to the weight of the person sitting in the chair. It takes a little pressure to rock back but not too much. It is a pretty smooth feeling rocker movement and definitly adds to the comfort of the chair.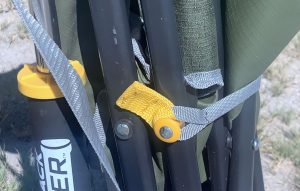 Packability
The Kickback Rocker comes with a closure strap that loops around the chair to hold it together. There is a carrying strap as well so you can swing it over your sholder while carrying it. I do think some sort of carrying bag would be a nice addition. When the chair was in my car, the legs kind of got caught up on other things back there. But overall, it compresses down to basically the same size as your standard camp chair. And is fairly easy to carry around.

Overall
This GCI Outdoor Kickback Rocker makes a great car camping chair, or just a chair to have on hand for whatever adventures you have in mind. It is a bit on the heavy side, so better for activities that you don't have to carry it too far. The rocking feature of the chair adds a lot of comfort over the standard camp chair. I like how simple it is to set up and also fold up. I like that the arm rests are secured to the actual frame so they won't slip off or get moved around. It is very stable to sit in, even on weird uneven ground.
If this review helped, we'd appreciate if you:
GCI Outdoor Kickback Rocker Images
GCI Outdoor Kickback Rocker User Reviews
Where To Buy
80% of outdoor sports products are not listed or sold online.
Our team has relationships with hundreds of local snowboarding and outdoor sports shops.
We'll call the shops and email you a list of stores along with pricing and availability.
---
Not sure what to buy?
Get custom advice from Good Ride editors James and Steph.

Get Advice
If you can't buy through the links above, you can support the site with: