Epic Water Filters Nalgene Outdoor OG Woodsman 2020 Review
Epic Water Filters Nalgene Outdoor OG Woodsman 2020 Review by The Good Ride
The Epic Filters Nalgene Outdoor OG Woodsman 32 oz is a water filtration bottle that filters as you drink through the straw. This filtration system is very easy to use. Depending on the filter you buy, it is good enough around town or even backpacking water sources.
Ethics Statement: We don't get paid by the manufacturer to write these reviews.  We do make money from the "Where To Buy" links. But this is our best attempt at an honest and objective review from an average camper's perspective.
How This Review Happened: This product was sent to us for a review.
Testers: Steph
Weight: 10.2 oz
Functionality: The Epic Filter system is very easy to use. You simply plug the filter into the bottom of the straw and suck the water through.

You have two filters to choose from. The Everyday Filter ($27.95) is meant to be used with general tap water and filters out everything that might be unwanted there. It can filter up to 75 gallons of water.
The Outdoor Adventure Filter ($29.95) is a sub-micron filter that removes biological pathogens like bacteria and viruses on top of everything that the Everyday Filter takes out. It can filter up to 100 gallons of water. So this one would be best for camping or backpacking.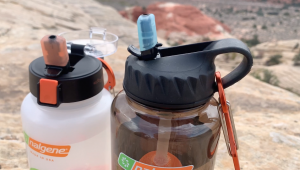 The OG Woodsman is a little more difficult to suck the water out of than the squeezable OG Ultimate Travel Bottle. And the OG Woodsman doesn't have the flip cap like the OG Travel Bottle does. So the straw is easier exposed to whatever environment you are in.
The only downside to these bottles, is you would need a different filtration system for sharing water, or gathering water for cooking in the backcountry. The only way to get filtered water out of the bottle is through the straw. So they are strictly for drinking.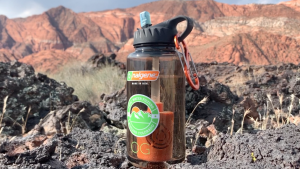 Overall: If you are looking for a simple and durable personal water filtration system, the OG Woodsman from Epic Filters is a good product to look into. If you are a nalgene bottle fan then you will probably like these filtration bottles. They are very simple to use, and easy to switch out between different filtration options depending on your adventure.

Epic Water Filters Nalgene Outdoor OG Woodsman Images
Epic Water Filters Company Information
Epic Water Filters Nalgene Outdoor OG Woodsman User Reviews
Where To Buy
No obligation, but these links & ads support the site.
If you can't buy through the links above, you can support the site with: