Drop Dyad Snowboard Goggle Review
Drop Dyad 2021 Review by The Good Ride
Drop Dyad Snowboard Goggle Video Review Fast Forward Markers
0:00 – Intro, 0:21 – Summary, 0:53 – Straps, 1:01 – Foam, 1:13 – Magnetic Lens, 1:55 – Lenses, 2:14 – Anti-Fogging, 2:38 – Fit & Field Of View, 2:49 – Conclusion, 3:04 – About our reviews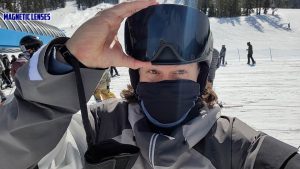 James Head Specs
Medium with Most Helmets
Oval face shape with a medium sized nose
Tested with the Smith Maze Helmet
The Drop Dyad has a magnetic lens pops off too easy for my taste but it is a very reasonably priced goggle with really good fitting foam.
Straps
There is a good reliable strap that doesn't have any clips. It does have silicone though and it holds well to the helmet.
Foam
The Drop Dyad has dual density foam but it seems like it has a 3rd layer where it comes in contact with your face. Whatever it is I would say it is very comfortable.
Magnetic Lens
The magnetic lens is super easy to change out but comes off too easy too. Every time I reached for it with one hand in the lift line it popped off. You have to train yourself to lift it off with two hands. There is nothing worse than dropping your lens on the snow and getting the inside wet.
Lenses
There aren't many options with the Drop Dyad
Anti-Fogging
I pretty much fog up every lens I have tried except for the high end Smith Goggles. The Drop Dyad is no exception. It didn't fog up too quickly though and I have fogged up many other goggles faster. So very good for the price point.
Fit & Field Of View
The Fit is excellent for my face. The field of view isn't that wide but it does pretty well for the frame size. It is made to fit medium to smaller faces so you have to compromise there a bit.
Conclusion
So other than the magnets releasing too easily with a one handed grab, the Drop Dyad is a pretty good goggle.
Where To Buy
No obligation, but these links & ads support the site.
| | | |
| --- | --- | --- |
| Loading Amazon Results... | | |
If you can't buy through the links above, you can support the site with: