Canyon Coolers Outfitter 22L Review
Canyon Coolers Outfitter 22L 2022 - 2021 Review by The Good Ride
Turn Ons/Swipe Right: Very durable and almost verticle walls.
Turn Offs/Swipe Left: Lid won't stay open or open all the way up.
Summary
The Canyon Coolers Outfitter 22L has a lid that won't open up all the way but it has a very modular and durable day cooler.
Ethics Statement: We don't get paid by the manufacturer to write these reviews and this is our unfiltered opinion. We do make money from the "Where To Buy" links, but this is our best attempt at an honest and objective review from an average riders' perspective.
The Canyon Coolers Outfitter 22L Cooler Review- How it works for day trippers.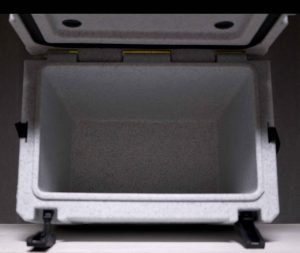 How This Review Happened
Precious Good Ride dollars were spent to buy this and review it.
Days: 5+ days and 4 outings.
Conditions: Highs ranging from 105F to 65F and lows from 70F to 50F.
How It Was Tested: I mainly did 1 day runs but I did an almost 2 day trip. 

Construction
The Canyon Coolers Outfitter 22L has that same great vertical wall shape. This is what brought me to this brand over all the other coolers. It's soo modular and such a good use of space when you pack it in a car. The overall build quality is pretty well done. I just don't like how the lid won't open all the way or stay open. There is a great use of interior space as well thanks to those steep walls.
Ice Retention
On a day trip the Canyon Coolers Outfitter 22L does a great job. On warm to hot days it is best to keep it under the 24hr mark. I tried once to take it on a road trip to Chelan to surf the City Wave up there. Man that is fun…but I digress. I wanted to see how it could keep my food warm for a little longer than 1.5 days. There high was almost 105F and low only got to about 70F. I put in 4 Lunch box sized Shock Cooler ice packs. One on the bottom, 2 on the sides and one on the top. It made it a little past 24hrs before the temp started to warm up inside. It was a pretty considerable drop from my Outfitter 35L which can handle a weekend camping trip pretty well with the same ice packs. I think I would prefer the soft cooler to get better ice retention.
Conclusion
So overall, the Canyon Coolers Outfitter 22L is a really good solution for anyone who needs a reasonably priced and sturdy day cooler. As an overnight cooler in warmer conditions it didn't work for me but was great when I cruised out with the family to a lake for the day or something like that. I thought I might be able to get more out of it but Canyon Coolers was pretty honest in setting the expectation level on their site. If you need more than a day then you need the Scout Cooler or the Nomad 20 or Nomad 30.
Canyon Coolers Outfitter 22L Images
Canyon Coolers Outfitter 22L User Reviews
Where To Buy
80% of outdoor sports products are not listed or sold online.
Our team has relationships with hundreds of local snowboarding and outdoor sports shops.
We'll call the shops and email you a list of stores along with pricing and availability.
---
Not sure what to buy?
Get custom advice from Good Ride editors James and Steph.

Get Advice
If you can't buy through the links above, you can support the site with: