Burton AK Clutch Mitt Review
Burton AK Clutch Mitt 2022 - 2021 Review by The Good Ride
Turn Ons/Swipe Right: Stretchy Leash, Good Snot Wipes, Warmer than a glove, More Dexterous than a Mitten.
Turn Offs/Swipe Left: Not a lot of insulation/warmth for the price.
Summary
The Burton AK Clutch Mitt is a glove I end up using most days when I ride. It isn't super warm but works for me in all but the coldest days at Mt. Bachelor. They have held up well over the years and 
Ethics Statement: We don't get paid by the manufacturer to write these reviews and this is our unfiltered opinion. We do make money from the "Where To Buy" links, but this is our best attempt at an honest and objective review from an average riders' perspective. 
Burton AK Clutch Mitt Review- How it wears and who it's for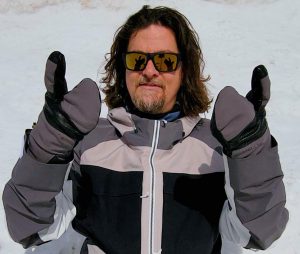 How This Review Happened:
Precious Good Ride dollars were spent to buy this and review it. But then I kept using em cuz I love them.
Size: Medium
Days: 100+
Riders: James (Size 9, 5'10" 185-190lbs)
How It Was Tested
Just about every type of weather you see on the hill from pissing rain to light cold dry snow.
Fit
James' Glove Specs
Medium with Most Large with some
Wrist to Middle Finger: 19 cm
Circumference around Knuckles: 22.5 cm
The Burton AK Clutch Mitt fit my hands perfectly.
Leashes
Most leashes don't stretch like the Burton AK Clutch Mitt so eventually they break off where they are attached to the gloves. After 100+ days of using them they still are completely functional. They also cinch around your wrist really well too.
On & Off
Very easy on and off. The insides never come out when you pull them off.
Waterproofing
I haven't had a time yet where a rainy day soaked through the Gore-Tex membrane. The outer part of the Burton AK Clutch Mitt does get pretty wet but it never gets through. It dry's pretty fast too.
Snot Wipes
These are key! I don't know what it is but I'm always more snotty on the hill and these soft nose wipes do a great job. It is hard to get a glove that doesn't have these.
Warmth
This is very subjective. I run a bit on the warm side and these mitts work way better than my AK Clutch Gloves for warmth. I can use these well below the 20's depending on wind chill. When it gets really cold I use a mitt with more insulation.
Durability
I lost track of how many days I've used these but its been 2 seasons and I ride 80-100+ days a year. They are a little worn after two seasons as my primary glove but I'm impressed at how well they have held up.
Conclusion
Overall, the Burton AK Clutch Mitt is the glove I use the most. I love having one finger out of the mitt for dexterity. In comparison to other full on mitts this works really well. It's a perfect compromise between Mitts and Gloves.
Burton AK Clutch Mitt Images
Burton AK Clutch Mitt User Reviews
Where To Buy
80% of outdoor sports products are not listed or sold online.
Our team has relationships with hundreds of local snowboarding and outdoor sports shops.
We'll call the shops and email you a list of stores along with pricing and availability.
---
Not sure what to buy?
Get custom advice from Good Ride editors James and Steph.

Get Advice
If you can't buy through the links above, you can support the site with: